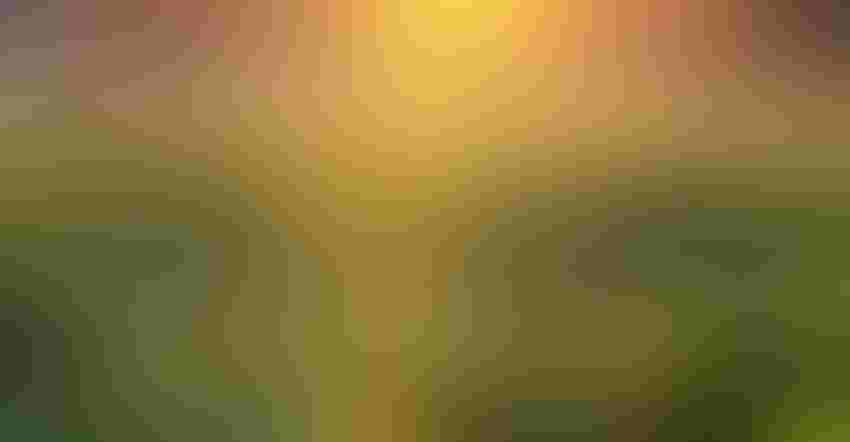 Submitted by Bayer Cropscience LP
Now that it's time to complete annual training for applying dicamba to Roundup Ready® Xtend Crop System crops, Bayer has you covered. The company recently launched a flexible and easy-to-use online training platform. Approved in 30 of 34 regulating states, the Bayer dicamba training program offers a simple and efficient way for growers to meet the EPA training requirement, no matter how many states you farm in.
"The system is smart; it covers the states you need it to," says Becca Waller, dicamba product manager at Bayer, "and you can choose whether to go through the course at your own pace or log on for a guided webinar with live instruction."
The EPA requires that certified applicators be trained annually for application of dicamba products, in an effort to enhance overall industry stewardship and label compliance. Note that this dicamba-specific required training is different from certified applicator training. It does not replace the requirements to become a certified applicator or to maintain a certified applicator's license.
While Bayer experts present the training, it covers everything applicators and growers need to know to apply dicamba in the Roundup Ready® Xtend Crop System, including the following approved, restricted use pesticide, products: Bayer's XtendiMax® herbicide with VaporGrip® Technology; BASF's Engenia® Herbicide; and Syngenta's Tavium® plus VaporGrip® Technology.
Topics covered in the course include: application timing, record keeping, sprayer cleanout, using required volatility reducing adjuvants, determining buffer distances, application conditions specific to certain states, dicamba restrictions, checking for Pesticide Use Limitations Areas on the EPA Bulletins Live! Two website, reducing the potential for drift and best management practices for dicamba application.
The self-guided course typically takes less than an hour, and growers need only a strong internet connection and an updated browser. (Chrome, Firefox or Safari are recommended.) Take it any time that is convenient for you – 24 hours, 7 days a week. Once you click to begin the course, you have 24 hours to complete it, and you do not have to complete it all at once. Simply register for the course, and you may begin it immediately.
As another option, Bayer provides guided online webinars every Wednesday from 9:30 to 11:00 am central time. These live webinars, conducted by Bayer subject matter experts and scientists, allow more interactive instruction, and offer attendees the opportunity to ask questions and request more information as needed, in a virtual class setting. Pre-registration is required for the guided online webinars.
The training program is designed so that growers and applicators can complete their required training for more than one state at a time. Specify the states for which you are applying, and the program will adjust to include requirements specific to those states. Once you have completed the program, you will receive a printable certificate for proof of training – including each state for which you selected.
Currently, 34 states have dicamba registrations for these dicamba products, and Bayer's training has been accepted in all but five states. Alabama, Florida, Georgia and North Carolina require state-provided training, which you can find through each state's pesticide regulatory agency. (Find contact information for specific state agencies at the National Pesticide Information Center website.) Check RoundupReadyXtend.com/training for updates. The website will be updated as state registrations and training allowances are received.
Of course, Bayer welcomes and encourages growers and applicators from these states to take the training as part of their commitment to stewardship and compliance.
"We're committed to positioning growers and applicators for success in 2022 and beyond, and we know making it as easy as possible for them to educate themselves and meet the requirements for certification is a critical first step," says Waller.
Access Bayer's dicamba training – self-guided courses as well as webinars – by visiting roundupreadyxtend.com and clicking on Training & Stewardship to register.
XtendiMax® herbicide with VaporGrip® Technology is part of the Roundup Ready® Xtend Crop System, is a restricted use pesticide and must be used with VaporGrip® Xtra Agent (or an equivalent volatility reduction adjuvant). For approved tank-mix products (including VRAs and DRAs), nozzles and other important label information visit XtendiMaxApplicationRequirements.com.

ALWAYS READ AND FOLLOW PESTICIDE LABEL DIRECTIONS. XtendiMax® is a restricted use pesticide. Not all products are registered for use in all states and may be subject to use restrictions. The distribution, sale, or use of an unregistered pesticide is a violation of federal and/or state law and is strictly prohibited. Check with your local dealer or representative for the product registration status in your state. Bayer, Bayer Cross, Roundup Ready®, VaporGrip® and XtendiMax® are registered trademarks of Bayer Group. All other trademarks are the property of their respective owners. For additional product information call toll-free 1-866-99-BAYER (1-866-992-2937) or visit our website at www.BayerCropScience.us. Bayer CropScience LP, 800 North Lindbergh Boulevard, St. Louis, MO 63167. ©2022 Bayer Group. All rights reserved.
Subscribe to receive top agriculture news
Be informed daily with these free e-newsletters
You May Also Like
---