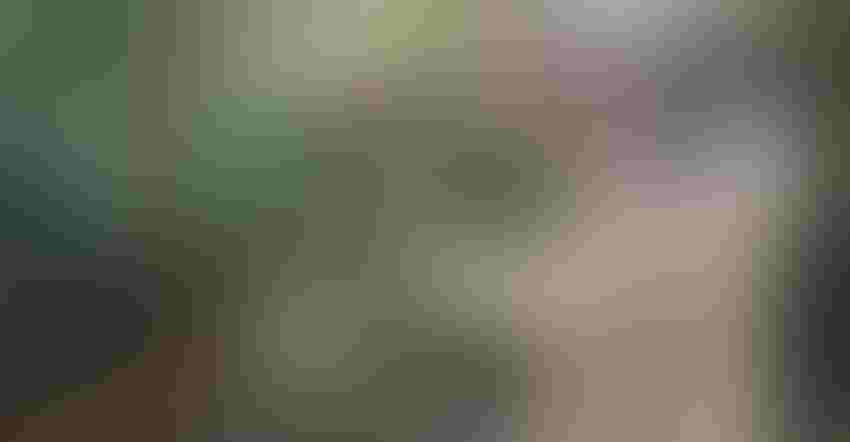 PEST ANALYSIS: Robert Orpet, a graduate student in Washington State University's Department of Entomology, found evidence that earwigs can help control woolly apple aphids.
Courtesy of Washington State University
Just as weeds are a plant out of place, the crops or livestock raised on your farm or ranch dictate what you consider to be a pest. Integrated Pest Management combines effective and environmentally sensitive approaches to suppress pest populations below the economic injury level. It's essential to thoroughly understand how pests interact with other insects and wildlife to understand which cause damage to crops and livestock, and which are beneficial natural predators for the pests.
That's what researchers are finding as they take a closer look at the issue. And they're learning plenty about life-cycle interactions on the farm. We offer a look at two cases in point.
In Washington state, woolly apple aphids — small, sap-sucking insects — affect the apple crop. Robert Orpet, a graduate student in Washington State University's Department of Entomology, researched how earwigs — nocturnal insects with pincers and membranous wings — prey on woolly apple aphids. During his fieldwork, apple growers told Orpet that they didn't like earwigs because they damaged apple fruits.

PEST COUNTS: Robert Orpet uses rolls of cardboard in apple trees to count earwig populations.
Are earwigs good or bad?
Orpet decided to answer two questions with his research: Do earwigs cause fruit damage, and do they prey on woolly apple aphids? "I found clear evidence that with more earwigs, you had very low levels of woolly apple aphid," Orpet reports. "And then with the fruit damage, you often do see earwigs on damaged apple fruits.
"What I saw [in my research] was a lot of cracked apples, which commonly occurs when they ripen, due to physical or abiotic reasons that cause the apple to grow at different rates. But the incidence of cracks was similar, regardless of the amount of earwigs in different areas."
Orpet concluded that earwigs shelter in previous wounds on apples, because of their natural tendency to move into tight spaces. "Earwigs might expand previous cracks," Orpet explains, "but it is not considered economic damage because earwigs didn't cause the crack."
Earwigs are omnivores and dine on small, soft insects as well as plant leaves and fungi. In addition to woolly apple aphids, earwigs eat codling moths, rosy apple aphids and green apple aphids.
"Because they're omnivores, earwigs are always present," Orpet says. "They can continually help keep the aphid population low."

FEED CHALLENGE: European starlings eat with dairy cattle at the feed bunk. That feeding has been found to decrease feed quality significantly. 
European starlings: Do they bother dairy cattle?
Across the WSU campus, Amber Adams-Progar had questions about pest birds — mainly European starlings — and if they cause damage to dairy cattle. Adams-Progar is a University Extension dairy management specialist, and to answer this question she went directly to dairy farmers.
"We had a 50% response rate from farmers to our pest bird survey," Adams-Progar reports. "We asked what kind of pest birds they have, the deterrence methods they use, and the damages they see. Farmers reported up to $200,000 a year per dairy in pest bird damage."
Farmers mainly shoot or poison birds to remove them from their farms. But 88% of farmers also reported that these methods were only somewhat effective.
After the survey, Adams-Progar and her research team completed daily bird counts at 10 dairies during peak pest bird season — from October to March.
"Some farms saw over 1,000 birds per day, and that's just within a given time in the evening or morning count," Adams-Progar says.
Her team also measured how starlings affect the nutrition content of cattle feed. First, they cataloged the nutrition value of fresh feed before it was delivered to feed bunks. After delivery, the birds were allowed to eat at the bunks for 30 minutes. Another nutrition test was completed on the feed before the dairy cows arrived back at the bunks from milking. 
"Of corn silage, 26% of the feed's net energy was lost to the birds in 30 minutes," Adams-Progar reports. "To reduce this loss, farmers can put out feed only when cattle are present, because the birds prefer to eat from the bunks when they don't have competition."
But cattle also don't like to eat where birds have already landed on the feed. "We saw more cow-to-cow aggression when birds took up space at the feed bunk," Adams-Progar says. "Instead of pushing out the birds, cows would displace each other."
Of starling fecal samples from feed bunks, 39% were positive for E. coli bacteria. The researchers were surprised to find no salmonella present in the samples; only one was positive for campylobacter, which was the jejuni strain that causes abortions in cattle.
The value of predators
The data collected shows pest birds do cause damage to dairy cattle. Adams-Progar and her research team now experiment with deterrence methods to find what's more effective than poison and shooting. Though expensive, bird netting is useful — but also not feasible for some dairy configurations.
"As we counted birds," Adams-Progar says of another option, "we noticed the farms with resident native raptors — like a hawk, owl or falcon — had lower pest bird numbers."
The team hired a professional falconer to fly his raptors over a dairy with pest birds to cement this observation. "The falconer was very efficient and effective in chasing off pest birds," she says. "But starlings are very smart. They quickly learned what the falconer's truck looked like. Even though he came at different times to not be predictable, as soon as he drove onto the farm all the pest birds would leave. When his truck left the farm, they would all fly back."
It would be beneficial to have wild raptors live full time at the farm. This autumn, Adams-Progar will build nest boxes and perches to encourage raptors to live on and near dairies. She will then monitor the results on the pest birds.
Hemken writes from Lander, Wyo.
Subscribe to receive top agriculture news
Be informed daily with these free e-newsletters
You May Also Like
---