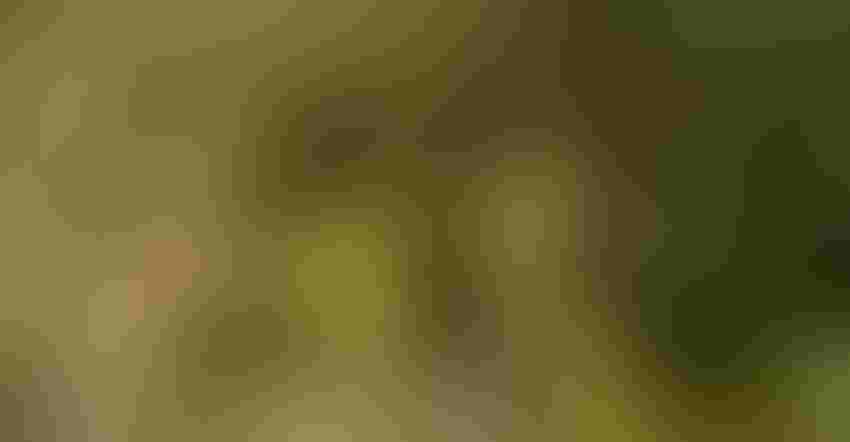 LODGING BEANS: Farmers growing soybeans in high-fertility, high-population environments are more likely to see lodging, which can reduce yields.
Tom J. Bechman
The first signs of fall harvest are starting to appear in the Mid-Atlantic and Northeast. Apples are starting to be harvested and even some early corn silage is being chopped.
But there are concerns over lodging in soybeans and the dreaded "D" word — drought —is starting to appear in crop reports.
Corn height is averaging 92 inches in Pennsylvania, according to Monday's Crop Progress Report by the National Agricultural Statistics Service, which is right around average for this time of year. About 20% of the crop has reached dented stage.
Apple harvest has started with 28% of the crop in bins, just ahead of the five-year average of 20%, and 58% of peaches have been harvested, which is right on average.
Jeff Graybill, Extension educator in Lancaster County, says corn is ahead of schedule by a week with husks turning color and lower leaves starting to dry. Even silage chopping has started on some farms.
Tobacco also looks good.
"We've had very little hail with these storms, which is a big plus for the tobacco crops," Graybill says. "Most growers feel that the crop coming out of the field is excellent. Excessive humidity and rain can reduce the quality as it cures in the barns, but only time will tell us about that."
But Graybill is also starting to see some lodging in soybeans.
"The beans seem to be prodded up nicely, but many fields are lodging, which can reduce light into the canopy and increase disease pressure, resulting in lower yield," he says.
Other crop reporters say it's getting too dry.
"For the most part the county is pretty dry unless you happen to be lucky to be getting (a) shower every now and then, but then there are parts of the county that aren't getting any rainfall," according to Judy Behney, a crops reporter in Adams County. Behney adds that corn and soybeans are starting to see drought stress.
"Corn is drying up from roots up and turning brown, and corn and soybean stalks are rolling from the heat and dryness," she says. "Hay continues to be made but regrowth isn't happening in areas of the county that are dry."
"Some corn and soybean fields are showing drought stress symptoms while others appear to be moving along. Due to the lack of rainfall in some areas, double-crop soybeans are struggling," says Liz Bozak, a crops reporter in Dauphin County. "It is time to keep a look out for spider mite flares at soybean field edges with this hot, dry weather."  
Too dry on Delmarva
The heat and lack of rain has likely decreased yields across Delmarva.
"Non-irrigated corn was hurt bad by dry, hot spells," says Harry T. Hudson III, a crops reporter in Sussex County, Del. "Soybeans have a chance if Sussex keeps getting rain."
Corn height is averaging 78 inches, shorter than the average 84 inches. Apples are 15% harvested, behind the five-year average of 26%.
Peaches are 78% harvested, ahead of the five-year average, while tomatoes — 70% — and watermelons — 84% — are ahead of schedule.
Rain has also been at a premium in some areas of Maryland. Corn height is averaging 89 inches and 6% of the crop has reached dent stage, behind the average 16%.
"All grain and forage crops are starting to show drought stress. It will definitely affect pod and kernel fill, but more so pod fill," says Matt Morris, a crops reporter in Frederick County. "Hay and pasture is starting to go into hard dormancy."
Silage chopping has started in central Maryland according to Charles Schuster, a crops reporter for Howard and Montgomery counties. But some areas are too dry.
"Pasture forages are showing effects of the temperature and lack of soil moisture where not well-managed," he says.
Mixed bag in New York
New York farmers are still trying to catch up from the cold, wet spring.
"Corn remains in various stages, ranging from excellent to just starting to tassel, and uneven heights," says Jennifer Doty, a crops reporter in Cortland and Tompkins counties. "Small grain harvest has begun. Unplanted fields getting prepped for possible fall plantings."
Third-cutting alfalfa — 34% cut — and other hay — 20% — are behind their five-year averages.
Only 31% of oats are headed, well-behind the 59% five-year average.
Soybeans are also behind with only 59% of the crop blooming, well-behind the five-year average of 80%.
"Ontario County received pop-up showers and some heavy downpours at times," says Joann Rogers, executive director of Ontario County FSA. "Conditions of the soybean and corn crops are improving with recent rains and heat."
According to Farm Service Agency, Ontario County was one of the areas most affected by prevented plant acres this spring, with 19,143 prevented plant acres.
Subscribe to receive top agriculture news
Be informed daily with these free e-newsletters
You May Also Like
---