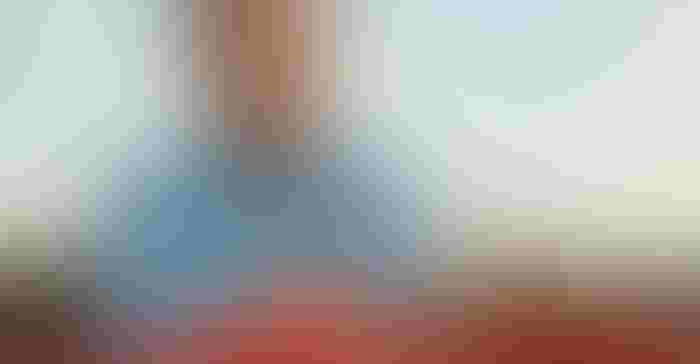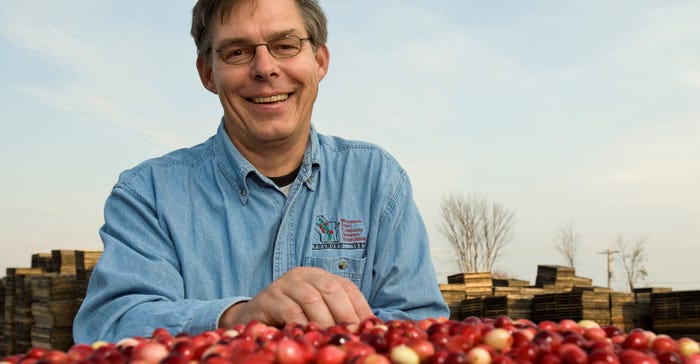 Wisconsin cranberry growers will lead the nation in cranberry production for the 28th consecutive year in 2022, and won't be giving up that title anytime soon, according to the state's top cranberry official.
Tom Lochner, longtime executive director of the Wisconsin State Cranberry Growers Association, says Wisconsin's 250 cranberry growers harvested an estimated 5 million barrels of cranberries this year. That is up considerably from 2021 but still less than early-season production projections. A pair of hailstorms and an extended period of hot weather in the state's primary cranberry-growing areas restricted plant growth and resulted in somewhat smaller berries than normal, Lochner says, but production is greater than in 2021, when the crop was somewhat of a "disaster" due to a number of factors.
"Overall, we're going to come in with a little bit below a normal crop in Wisconsin — but a lot better than last year," Lochner says.
Top cranberry state
Wisconsin has led the nation in cranberry production every year since 1995, when the Badger State overtook Massachusetts. Wisconsin produces about 5 million barrels of cranberries per year. Massachusetts is now a distant second, producing about 2 million barrels per year.
The second-largest growing region in the world is Quebec, where about 2.5 million barrels of cranberries are grown per year.
Wisconsin produces between 60% and 65% of the U.S. cranberry crop each year, and about half of the world's crop, Lochner says.
"Wisconsin is the best place to grow cranberries for a whole bunch of reasons," he explains. "Wisconsin is a farm state, and Massachusetts and New Jersey [No. 3 in production] aren't. We have the infrastructure here to support agriculture; we have very progressive growers, and we don't have the population pressure that they have in the East."
Wisconsin cranberry acreage has leveled off at about 21,000 acres on farms in 20 counties. The top five cranberry-growing counties are Wood, Monroe, Jackson, Juneau and Adams, with about two-thirds of the state's cranberries grown in the central part of the state. A northern tier of counties from Eagle River to Manitowish Waters is the next most prolific region.
The sand and peat marshes in central and northern Wisconsin create the perfect growing conditions for cranberries, agriculture officials say.
Upgrading marshes
Lochner, who has been with the WSCGA for more than 33 years, says the state's cranberry growers have slowly been updating their cranberry marshes over the years by planting new varieties in some of their bogs. It is often a difficult decision for growers to tear up existing cranberry beds to plant new ones when the older varieties produce indefinitely, and it can cost between $25,000 and $40,000 an acre to start over.
After a new crop is planted, it generally takes about three years before a crop can be harvested and five years before plants are in full production mode.
Still, because new varieties are generally more productive than the old ones, some growers are updating their bogs incrementally, Lochner says.
"We are not seeing a lot of new beds, but there have been quite a few renovations, with the older varieties being taken out, newer varieties planted, and the beds being reshaped to today's standards," he says. "If the beds are at uniform width, it allows growers to more efficiently use their irrigation and harvesting equipment and manage water and fertilizer better."
Cranberry growers here and in other states are using research being conducted in Wisconsin, New Jersey and elsewhere to determine which hybrids are the most productive, Lochner says. Wisconsin has a cranberry research station near Millston in Jackson County where variety trials on about 3,800 selections are being conducted.
The Wisconsin Cranberry Board funds some of the research being conducted across the country, with an annual budget of between $400,000 and $500,000, collected from a grower assessment of 10 cents per barrel of cranberries.
The average Wisconsin grower manages between 80 and 90 acres of cranberries, Lochner says, while in Massachusetts, operations are smaller, with the average marsh consisting of about 35 acres.
Higher returns
The good news for U.S. cranberry growers this year is returns are up after somewhat of a market adjustment in recent years, Lochner says.
"Five years ago, we had growing inventories, especially on juice concentrate, and as a result, the prices growers were receiving were below the cost of production," he says. "A federal marketing order was used to manage the supply, and that helped clean out some of the inventories. Mother Nature took care of some of that, too, and with increasing consumer demand, we're back to a point where growers have better returns.
"We still have challenges with inflation and supply chain issues, but we're in much better shape than we were five years ago."
Cranberry product sales were especially strong during the throngs of COVID-19, Lochner says, as sales of shelf-stable juices went up dramatically.
"When I went into grocery stores during the peak of COVID, the juice aisles looked almost like the toilet paper aisles," Lochner says. "They were pretty well picked over."
More than 1,000 food and beverage products contain cranberries, according to the WSCGA website, but the staples of juice and dried cranberries still lead the way when it comes to sales. Only about 5% of the crop is sold as fresh fruit.
"The advent of dried cranberries has provided us with a product we can incorporate into other food products," Lochner says. "That's one reason we see a growth in overseas markets. We're selling cranberries as an ingredient rather than a stand-alone product. We're also seeing some new formulations of juice drinks, trying to match up our product with what the market is looking for."
About 35% of the nation's cranberry crop is exported, Lochner says, to long-established markets in Europe and Canada, and newer markets in Mexico, South Korea and China.
U.S. households now consume about 80 million pounds of cranberries every year during the week of Thanksgiving, according to cranberry marketer Ocean Spray, which is 20% of the country's total yearly appetite for the red fruit. On average, 200 cranberries are needed to create a single can of sauce, and it takes more than 4,000 cranberries to produce 1 gallon of juice.
Fresh cranberries can be stored in the refrigerator in their original plastic bag for up to a month. While fresh cranberries are harvested in the fall and usually only available at local grocery stores from October through December, cranberries can be frozen for up to a year, according to cranberry officials.
For a list of cranberry recipes, visit wiscran.org.
Massey lives in Barneveld, Wis.
Subscribe to receive top agriculture news
Be informed daily with these free e-newsletters
You May Also Like
---