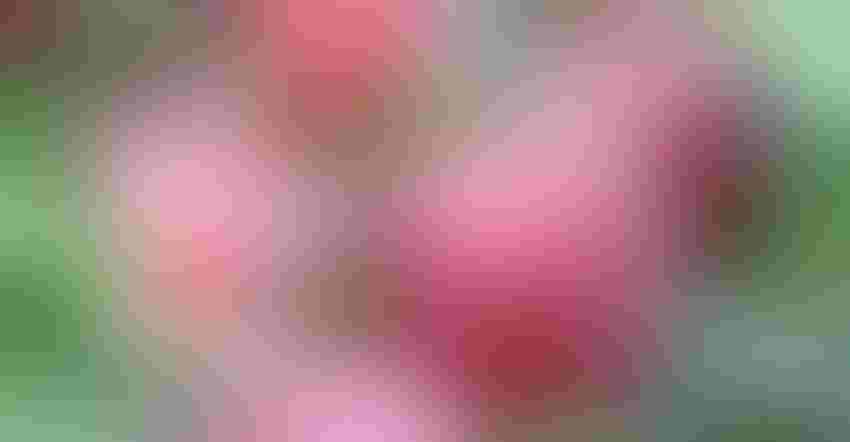 COMING SOON: Developed by Washington State University the Cosmic Crisp apple is being released to orchards in 2017, and will hit the retail market in 2019.
Washington State University
By Melissa Hemken
An apple is red. This is learned at a young age, and Washington State University apple breeders carefully kept that color in their new apple: Cosmic Crisp. After 16 years of development, the first Cosmic Crisp apple trees will leave nurseries for Washington state orchards in spring 2017. Tests showed consumers like the Cosmic Crisp's sweetness, juicy tang and the crunch you expect when eating an apple. Growers are excited for its 12-month storage ability, and the fruit and trees' resistance to disease and pests.
The Cosmic Crisp is a cross between the Honeycrisp apple from the University of Minnesota and the Enterprise from Purdue University. The Honeycrisp is a consumer favorite, but is difficult to grow in Washington state, and loses its sugar and starch content in storage quickly. "We wanted to create a better apple for our growers," says Albert Tsui, business development specialist at WSU College of Agriculture, Human and Natural Resources Sciences. "The Enterprise's good storage quality combined with Honeycrisp flavor brings the best qualities of both to the Cosmic Crisp. Commercial producers and packers are excited the Cosmic Crisp can be in cold storage for one year and come out just as good as picked from the tree."
There are 2,500 known apple varieties grown in the United States. The top 10 apple varieties sold are Gala, Red Delicious, Fuji, Granny Smith, Honeycrisp, Golden Delicious, McIntosh, Cripps Pink, Braeburn and Jazz. The Honeycrisp apple tree demands extra care and requires cold climes, such as Minnesota, Michigan and upstate New York. Consumers in love with the Honeycrisp sweet snap willingly pay higher prices in the fruit aisle, because it is not produced in large quantities.
"People have a changing taste palette these days and want sweeter, more flavorful apples with crunch," says Kathryn Grandy, director of marketing and operations for Proprietary Variety Management, and contracted by WSU to commercialize the Cosmic Crisp. "The Cosmic Crisp has those qualities, and from a grower's standpoint, it's an easy-to-grow, hearty apple. And its storage friendliness is significant, as we want to supply apples throughout the year."
Launching a star apple
Washington State growers are banking on the Cosmic Crisp rocketing to become one of the nation's favorite apples. They have ordered 600,000 Cosmic Crisp trees for 2017 delivery, 5 million in 2018 and are already asking for 3 million in 2019 — before the Cosmic Crisp apple has even hit the public market. WSU is limiting Cosmic Crisp tree sales to in-state growers for 10 years; its rollout is the largest of any new variety in the United States.

CONSUMER PREFERENCE: The Cosmic Crisp apple was bred to brown very slowly when sliced.
"There are specialty apple varieties that are delicious," Grandy says. "Those apples have limited releases, and it takes growers several years to produce a large volume. With the Cosmic Crisp, participation of most of the growers in the state — I would say 90% — will provide a large yield in a few years. After three leafs [growing seasons], Cosmic Crisp fruit will be shipped for retail sale in fall 2019 and spread quickly to grocery stores."
Washington state grows 42% of the apples in the U.S., annually producing 100 million 40-pound boxes of apples. Most of these are Red Delicious (34% of the crop); the second-highest-produced variety is Gala at 19%; and Honeycrisp is in a 3%, three-way tie for last place with Cripps Pink and Braeburn. WSU's research and testing, and growers' enthusiasm for the Cosmic Crisp, will likely raise it to Washington's No. 1 apple.
"The Cosmic Crisp was tested in WSU orchards," Tsui says, "and then sent to eight commercial growers for feedback from the industry. It's an exceptional eating apple with a large fruit size, attractive appearance— and the trees produce high yields. It is also extremely slow to brown when cut."
Three focus groups in Pullman, Yakima and Seattle named the apple Cosmic Crisp for its taste, lineage and the bursting lenticels (porous fruit skin tissue) on the apple's surface, bringing to mind outer space and the cosmos. WSU and growers placed their stakes on consumers wanting a new sweetly crisp, non-browning, large red apple.
"Whether you're growing apples or beef, wheat or berries," Grandy says, "there is always a risk. We've gone through the rigors as best we can, and all roads lead to a successful launch of the Cosmic Crisp. But farming and ranching — it's all a gamble, right? You never know until you put it in the consumers' hands. When we get it on shelves and consumers keep purchasing it, then it's a win."
Go GMO or stay traditional?
While Cosmic Crisp apples go from nursery to orchard in 2017, Okanagan Specialty Fruits of Summerland, British Columbia, Canada is beginning a stepped retail launch of its GMO apples. Arctic Golden, Arctic Granny and Arctic Fuji are touted for their non-browning abilities, and were recently commercially approved by the USDA. Okanagan uses existing, open apple varieties like Granny Smith and Fuji, and applies ribonucleic acid (RNA) interference in the biological process. This inhibits gene expression through polyphenol oxidase (PPO), which is what happens when slicing ruptures apple cells.
Unlike the Arctic apples, Cosmic Crisp does not raise GMO concerns with its non-browning attributes, and many Washington apple producers view it as a better alternative. "For WSU, our breeding program focuses on traditional cultivation," Tsui says. "We bred the Cosmic Crisp to have anti-browning qualities based on its lineage through the classic breeding process, not the GMO route."
Hemken writes from Lander, Wyo.
Subscribe to receive top agriculture news
Be informed daily with these free e-newsletters
You May Also Like
---