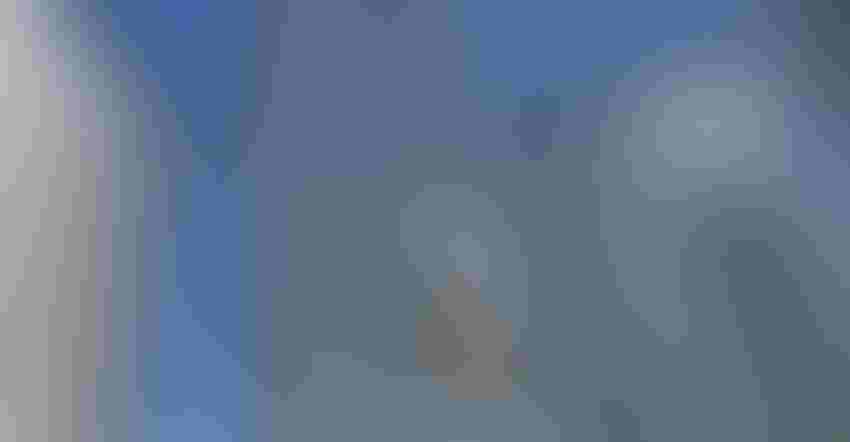 FACTOR IN GRAIN MOISTURE: If you know you stored grain in these bins at 16%, holding them into mid or late summer without proper care is risky, Gary Woodruff says.
Tom J Bechman
Suppose you binned corn at 15% to 17%, expecting to sell it by April or May. With recent changes in corn price trends, now you want to hold it into summer. Can you keep it in condition?
"Grain binned at that moisture may store until April or May if it was cooled into the 30s for winter," says Gary Woodruff, district sales manager and grain conditioning expert for GSI. "However, it will be much more susceptible to going out of condition if kept into the summer. I do not recommend storing grain at that moisture into the summer."
Would a better option be hauling it to an elevator and putting it on storage? That is a better alternative with no grain condition issues. Weigh the costs involved against possible gains in price.
Would running corn from bins you want to keep until August back through a dryer and into empty bins make sense? This also is a viable alternative that large commercial sites do more often. The right moisture to allow grain to store until just before next harvest is 14%. Each dryer will vary on how well it can handle taking out 1 to 3 points, but many can accomplish the task. It takes time and labor, so weigh costs against other alternatives.
What if a producer doesn't do anything and just holds it? What is likely to happen? Chances of grain going out of condition go up dramatically. Grain can't be kept cold through the summer, as condensation and frosting on the bin walls, in the augers and handling equipment during warm weather has its own issues.
So, if the decision is made to take the risks as the ambient temperatures warm up, it will be necessary to keep grain within 5 to 10 degrees F of the average ambient temperature, stopping at 50 degrees [F]. Then either through timely manual aeration or an automated aeration control — the better choice — hold at 50 degrees for as long as possible. Condensation at higher temperatures are much reduced. Keeping grain at 50 degrees for as long as possible helps grain stay in condition.
Should a producer change monitoring of grain going into summer? It will be important to monitor grain very carefully. At least weekly physical checks must be made whether temperature cables are used or not. Carbon dioxide monitoring presently is the most effective way to catch problems early. Most university websites have information on how to do this with handheld testers.
Some grain monitoring systems, such as GSI's Bullseye, have CO2 sensors that constantly monitor the grain. At the first sign of any irregularity, such as a musty smell, detected heating of the grain, crusting at the surface or increase in CO2 emissions, it will be important to at least start aeration to see if it can maintain grain quality. More likely it will be necessary to remove grain from the bin until the problem areas are exposed.
That likely means marketing grain, using commercial storage or other paper positions to maintain ownership of the grain. If a quick response to any problem is not made, losses could be substantial.
Subscribe to receive top agriculture news
Be informed daily with these free e-newsletters
You May Also Like
---