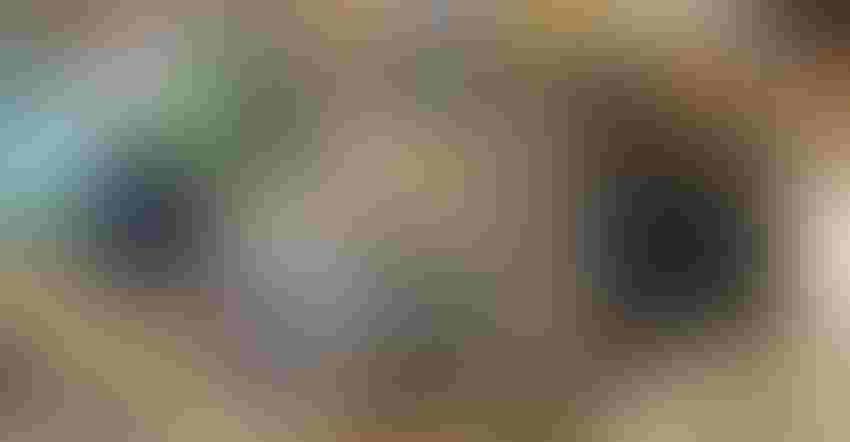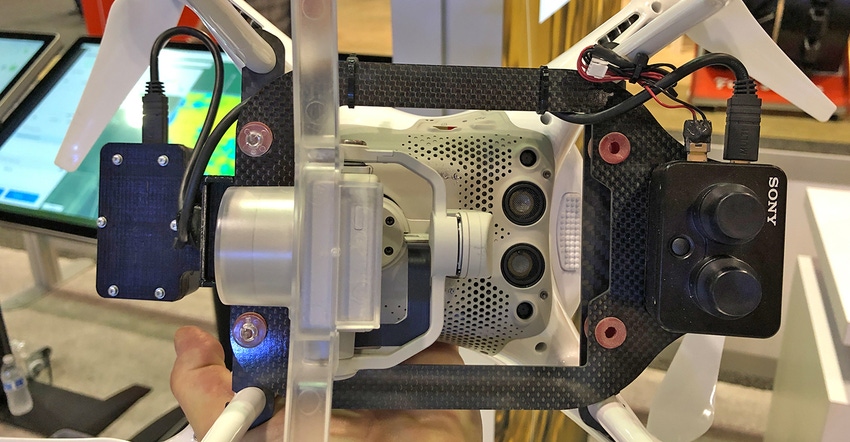 DRONE BOOST: The black bracket under this DJI Phantom 4 drone holds two pieces of tech from Sony. The GPS sensor (left) includes a visible light reader. The multispectral camera (right) captures red, green and blue visual imagery, and Normalized Differential Vegetative Index imagery.
Unmanned aerial vehicles continue to have the potential to help farmers manage in-season issues more precisely, but will it be farmers or retailers doing the flying? That question is still being sorted out, but one company is pushing ahead with new tech and a new relationship.
Syngenta announced that it is partnering with Sony to offer agronomists Sony's Smart Agriculture Solution for 2019. Available on a limited basis through select retailers and agronomists, the company will offer the new system in the field.
"We're working with Sony as a first step," says Jack Brodshaug, Syngenta product lead, global digital ag. "This will be Sony's first work in agriculture and offers some new technology to the industry."
Adding a camera to a drone may not be perceived as big news, but Sony is a global leader in high-end imagery. And with this new relationship, the company is bringing along some extra tech.
In addition to the "standard" multispectral camera, there's another box on the drone. Brodshaug explains that this one is a GPS antenna and a light sensor. That light sensor will manage the images captured by the camera.
One challenge with drone imagery is changing light conditions. That light sensor may help normalize imagery to overcome challenges of clouds that can change what the camera sees. Exposure management is one tool to enhance images.
Cloud-connected
Many farmers may not know that Syngenta has satellite imaging software called FarmShots. This system uses Sentinel satellite imagery, which has 10-meter resolution, and captures most of the world every three to five days.
On the AgriEdge Excelsior platform, which Syngenta has long been developing, this match of satellite and drone imagery will enhance the information farmers have for making decisions. The Sony Smart Agriculture Solution has been adapted to send drone imagery into the FarmShots system to enhance field imagery. It's a more precise imagery layer.
"With the Sony program and the drone, we'll capture higher resolution imagery," Brodshaug says.
Essentially the satellite images will help agronomists target the best locations to fly the drone. It also will determine field issues and help guide the agronomists to any field issues more quickly.
The Sony system can use sensor fusion and fast-stitching technology to quickly generate whole field maps. For the agronomist in the field, that means images are available quickly, allowing for more efficient decision-making if trouble appears. Maps can be completed on demand without a network.
An observer would notice the Sony system involves a bracket and two boxes — GPS sensor and dual sensor camera — as well as wiring. That can add weight, but Brodshaug says there's little loss of flight time for the system.
"On average, we can cover 160 acres on a charge," he says. "That can be challenged by field conditions like wind, but we're not seeing a loss of flight time because of this system."
The company is also working with Sony on lower flight altitudes for more precise imagery. That's a task to be determined during the pilot program, too.
And this is just the start. Brodshaug notes that Sony is working on a range of other ag-focused technology for the market. Stay tuned.
About the Author(s)
Subscribe to receive top agriculture news
Be informed daily with these free e-newsletters
You May Also Like
---