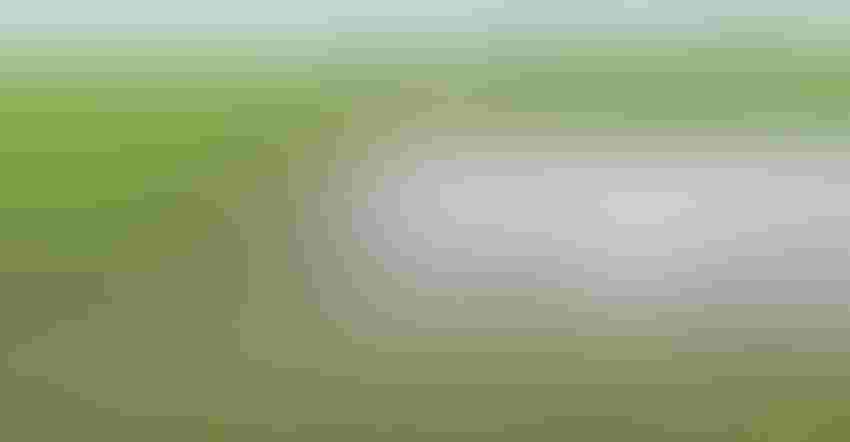 CROP STRESS: Whether it's too much rain or not enough, stress on crops can lead to subsequent nutrient deficiencies, which can limit yield potential.
Farmers in Iowa are seeing a disparity in growth stages based on variable weather conditions. Many in northern parts of the state are facing crop stress from weather challenges, including pervasive rains. Crop stress can lead to subsequent nutrient deficiencies, and if left untreated, can limit yield potential come harvest.
Generally, it's easy to see when stress has taken a toll on crops. But determining what's causing unhealthy plants sometimes requires extra detective work. Micronutrient deficiencies, for example, are hard to diagnose based on visual symptoms alone.
Mark Herz, agronomist for WinField United, provides the following tips to diagnose micronutrient deficiencies when scouting fields:
• It might not be insect damage in alfalfa. Boron deficiency is more common in alfalfa than in any other row crop. Since boron is an immobile nutrient in plants, signs of deficiency will show up in new growth first. You'll often see yellow-reddish leaves near the top of the plant, while older leaves remain green. Boron deficiency is sometimes misdiagnosed as leafhopper damage due to similar plant symptoms. One differentiator is that boron deficiency causes bunched leaves and shorter internodes, whereas leafhopper damage does not.
• Watch for manganese deficiency in soybeans. Of all the micronutrients, manganese seems to be the most limiting for soybeans. Symptoms of manganese deficiency include yellow tissue between veins on new plant leaves, followed by brown, dying tissue. If the deficiency isn't corrected, there could be yield loss due to lack of green leaf area. Symptoms of manganese deficiency look similar to other nutrient deficiencies and agronomic problems, so good scouting is key.
• Your corn might be missing zinc. The micronutrient most likely lacking in your corn crop is zinc. Deficiencies can show up early in the season due to cold, wet soil conditions, or later in the season if the deficiency is severe. Deficiency symptoms generally appear in the newest leaf tissue, since zinc isn't mobile in plants. To identify if your corn might be suffering from a zinc deficiency, look for yellow or white streaking on the leaves, which may not be uniform across the width of the leaf.
• Scout and sample. "The best way to definitively diagnose a micronutrient deficiency is by soil and tissue sampling," Herz says. "Micronutrient deficiencies are rarely consistent across a field, so it's important to target plants that are displaying symptoms to ensure you're getting an accurate snapshot of your crop's health."
He recommends that you combine scouting with tissue and soil sampling to help diagnose problems. Then follow up with appropriate fertilizers in-season as needed, and talk to your local agronomist for help diagnosing micronutrient deficiencies.
Source: WinField United
Subscribe to receive top agriculture news
Be informed daily with these free e-newsletters
You May Also Like
---