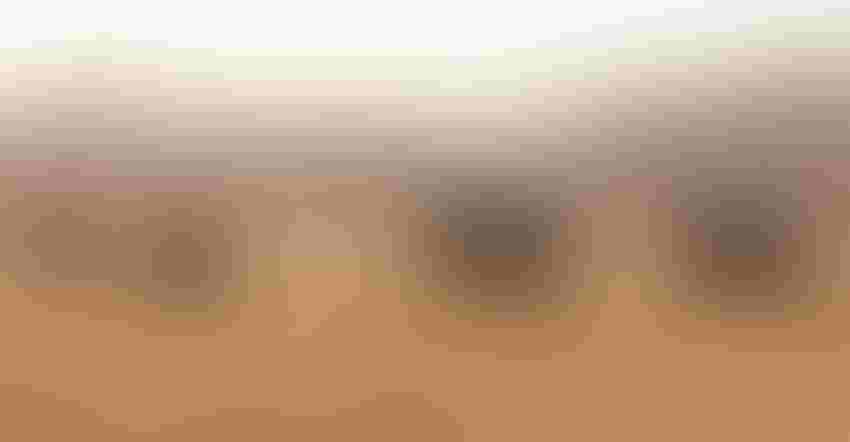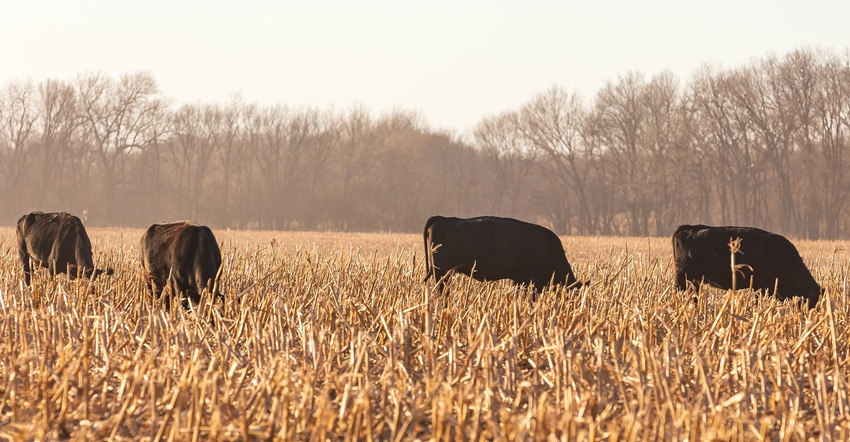 GRAZING FERTILITY: Drought had many cattle producers seeking opportunities to graze cattle on cornstalks, or to buy baled cornstalks to get them through the winter. But corn farmers should be mindful of what nutrients they may be losing by exporting those stalks from their fields and account for that in their fertility programs.
Courtesy of K-State Research and Extension
Overwhelming drought had cattle producers looking for alternative feedstocks this fall as they prepared for winter. Many turned to grazing or baling cornstalks.
That's all well and good for now, but don't forget that you're exporting nutrients off that field, experts say. And you'll need to account for that in your future fertilizer rates.
The trade-off
Greg McClure, Kansas State University Research and Extension agriculture agent for Riley County, writes that dry years with scarce and expensive feed have many cattle producers eyeing corn or sorghum stalks as an opportunity. He advises farmers to remember two things.
Leave some residue if you can to protect the soil from wind erosion and to conserve any precipitation you might get this winter.

If you're selling cornstalk bales, remember to price the value of the nutrients you're taking from your field in those bales. "They have high value, and the producer needs to get more than just the cost of swathing and baling if they're sold off the farm. At today's rates, 1 ton of baled corn residue has a value of about $42.63 in nitrogen, phosphorus, potassium and sulfur.
McClure ran the numbers, and a 100-bushel corn crop would leave about 4,000 pounds of leaves, husks and stalk residue. "If we baled that 2 tons of residue and moved it off the field, we would be removing about $85 worth of nutrients per acre from the field," he writes. That's something to keep in mind when considering fertilizer purchases in this high-cost environment.
What if a farmer grazes those cornstalks? McClure writes that research from the University of Nebraska says a majority of those nutrients would be deposited back to the field in the form of manure. The data say only 1 to 2 pounds of nitrogen would be removed by grazing, and no phosphorus or potassium would be lost, he adds. Even better, a mineral supplement for cattle on stalks could actually deposit slightly more phosphorus onto the field than what would be grazed.
Planning ahead
Keith Byerly is an agronomist for Mosaic in Bloomfield, Neb. He echoes McClure's warning to corn growers that if they don't usually cut silage or bale their stalks, they need to remember to calculate their fertilizer not just on the bushels of grain removed from the field, but also the biomass as well. Crop consultants, Extension agents and specialists can help them with that, he says.
Drought has its own effects on the corn plant, and on the field, Byerly says. Moisture is a key factor in cycling nutrients from corn stover back into the soil, where microbes and earthworms can make it available for the next crop. "Where we've been short on moisture, a lot of this plant residue is still sitting there fully loaded with potassium," he adds. "It still has the nitrates in it." He says potassium is probably the more mobile of the nutrients that is coming off of the fields in the form of corn stover.
Some other things to keep in mind:
If you cut the crop for silage, what was the moisture content? Byerly asks. Silage at 65% moisture rather than 75% moisture will certainly swing the amount of fertilizer recommended by a calculator, he says.

Cattle don't deposit manure evenly across the field as they graze, he says. Manure tends to accumulate around water tanks and other places where cattle gather. So, be sure to factor that into your soil sampling strategy.

Multiple years of drought has made soil sampling very tough, Byerly says. You may need to use a hydraulic probe. Look at those soil samples with a discerning eye, he warns, and consider that mobile nutrients may not be represented truly in the sample. "Even your pH or phosphates can be really affected by a probe that ends up going in 5 inches instead of 6 inches into the ground," he says.

Drought can do weird things to the soil, he warns — and if we learned anything from 2012, it's that we shouldn't make wild changes in our soil fertility programs on a hunch. Whether you're using a crop removal scenario or a scenario where you're trying to build your soil fertility, stick to that and just be mindful that nutrients may have been more or less mobile.
Last thoughts
Byerly adds that some of the early chopped corn may have had a cover crop planted, whether triticale or wheat or even rye in some areas.
"If that's not what we're normally doing, or maybe it's a first- time experience for folks, we have to think about how those nutrients are cycling through our cover crops," Byerly says. That, too, can change nutrient availability next spring as we terminate our covers and go back to a regular cash crop rotation, he says. Depending on when moisture comes back, there may be a lag in the nutrient cycling.
"So a grower that traditionally doesn't put out a whole lot of nitrogen in the spring and does more side-dress stuff throughout the summer may have to think about adding some free or early nitrogen into that system to make up for the tie-up of nitrogen," he says.
It's good, Byerly adds, to talk to a trusted crop adviser about your specific field's needs and what products are out there that may help you meet your goals.
Demand for feedstocks is great
The Dec. 9 Kansas Direct Hay Report from the Kansas Department of Agriculture Market News reported that demand for hay remains strong in the southwest and south-central regions of the state, where drought has persisted the longest.
Southwest Kansas feedyards reported they paid on average $257.75 per ton on Dec. 1 for alfalfa ground and delivered — that's up $5.24 from November. Usage increased 14% from November as well.
The story in south-central Kansas feedlots is similar. Feedlots paid, on average, $244.29 per ton for alfalfa ground and delivered, which is up $40.21 from November. Usage decreased 24%, though.
"Compared to the last report, demand remained strong and prices were mostly steady, with some alfalfa strengthening in the southwest and south-central regions," the report said. "Producers and brokers report there is a lot of hay moving. They continue to receive lots of calls from folks needing to purchase hay, however, most say that they are only moving hay to their regular customers."
Large square bales of fair to good alfalfa are averaging $250 per ton, while premium in the same package is about $300 per ton in the state. In southwest Kansas, good to premium alfalfa in large square bales ranges from $285 to $350 per ton, depending on delivery and crop year.
Meanwhile, cornstalks in round bales are about $100 per ton in the state. In south-central Kansas, ground cornstalks are selling on average for $226 per ton, delivered, and sorghum in large round bales is $145.53, delivered. In southwest Kansas, cornstalks in large square bales are about $135 per ton, delivered.
To read more, visit the USDA Kansas Direct Hay Report.
About the Author(s)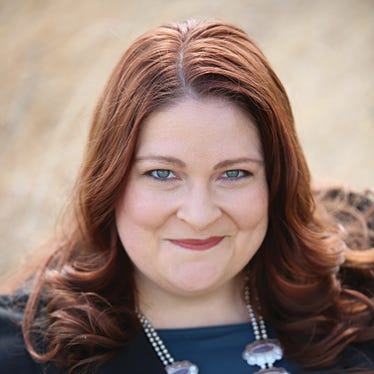 Through all her travels, Jennifer M. Latzke knows that there is no place like Kansas.
Jennifer grew up on her family's multigenerational registered Angus seedstock ranch and diversified farm just north of Woodbine, Kan., about 30 minutes south of Junction City on the edge of the Kansas Flint Hills. Rock Springs Ranch State 4-H Center was in her family's backyard.
While at Kansas State University, Jennifer was a member of the Sigma Kappa Sorority and a national officer for the Agricultural Communicators of Tomorrow. She graduated in May 2000 with a bachelor's degree in agricultural communications and a minor in animal science. In August 2000 Jennifer started her 20-year agricultural writing career in Dodge City, Kan., on the far southwest corner of the state.
She's traveled across the U.S. writing on wheat, sorghum, corn, cotton, dairy and beef stories as well as breaking news and policy at the local, state and national levels. Latzke has traveled across Mexico and South America with the U.S. Wheat Associates and toured Vietnam as a member of KARL Class X. She's traveled to Argentina as one of 10 IFAJ-Alltech Young Leaders in Agricultural Journalism. And she was part of a delegation of AAEA: The Ag Communicators Network members invited to Cuba.
Jennifer's an award-winning writer, columnist, and podcaster, recognized by the Kansas Professional Communicators, Kansas Press Association, the National Federation of Presswomen, Livestock Publications Council, and AAEA. In 2019, Jennifer reached the pinnacle of achievements, earning the title of "Writer of Merit" from AAEA.
Trips and accolades are lovely, but Jennifer says she is happiest on the road talking to farmers and ranchers and gathering stories and photos to share with readers.
"It's an honor and a great responsibility to be able to tell someone's story and bring them recognition for their work on the land," Jennifer says. "But my role is also evolving to help our more urban neighbors understand the issues our Kansas farmers face in bringing the food and fiber to their store shelves."
She spends her time gardening, crafting, watching K-State football, and cheering on her nephews and niece in their 4-H projects. She can be found on Twitter at @Latzke.
Subscribe to receive top agriculture news
Be informed daily with these free e-newsletters
You May Also Like
---