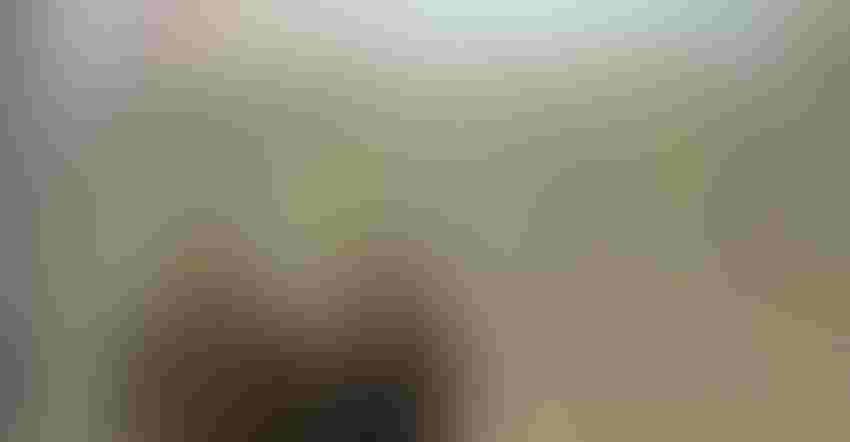 Bob Reiter, Bayer's head of research and development (left), along with Liam Condon, Bayer AG president of Crop Science Division, explain the Outcome Based Pricing program during Future of Farming Dialogue in Germany.
Mindy Ward
Bayer is test driving a new pricing system where the company shares both the upside reward and the downside risk when it comes to crop inputs.
During Bayer's Future of Farming Dialogue in Monheim, Germany, company executives talked about its latest program to partner with corn producers.
Bayer AG Crop Science Division president Liam Condon shared the Outcome Based Pricing system piloted this year in Illinois, Iowa and Minnesota. It combines agronomics and data to predict a yield outcome based on Bayer's hybrid and chemical recommendations.
"In the U.S., corn growers know that on average if they use fungicide they will get a better yield," Condon said. "But in some cases even if they use a fungicide they might get lower yield. Most farmers want to avoid a negative result." Using Climate FieldView data, hybrid performance history and crop protection products, Bayer predicts a yield outcome from one year with fungicide to another without.
There was farmer interest during the pilot year. Of the farmers approached about the new program, 90% wanted to join.
How it works
Farmers must have Climate FieldView in order to participate, explained Sam Eathington, chief science officer with The Climate Corporation, a subsidiary of Bayer. They also must have historical data on how hybrids are managed in those fields—-think planting population, crop protection and specific hybrid numbers.
Eathington says corn growers are given a  recommendation based on that information. If producers have the ability to do variable rate scripting, the program offers that as well. Once a prescription is selected by the farmer, the company offers a certain "guarantee" on yield.
During this pilot phase, Eathington says, farmers chose between levels of protection depending on the level of risk they want to burden.  "Some want a lot of risk protection," he said, "others may want to try to maximize profit. It is up to them which level they choose."
Currently they offered five different price levels for a farmer to join. Each had different costs, different risks and different rewards. Eathington is not sure if all five will be offered moving forward.
Data protection
Climate Corporation has very clear data privacy when it comes to FieldView—the farmer owns the data. Eathington explained the company has said it won't use the data for pricing.
"But of course, outcome based pricing requires us to use the data for pricing," he said. So in this case, Climate Corporation went back to all those farmers in the pilot program and adjusted the data use policy. "We have to use the data," he explained. "We are going to use this data to figure out a price on your farm." And he found farmers were receptive to the change.
Future look
It wasn't exactly the best year to launch such a program. Farmers struggled to get crops into the ground on time due to wet weather. Rain kept farmers from spraying. And acres flooded.
Eathington said it is likely the program will continue in its pilot phase for next year. The company expanded into states like Missouri, Indiana and eastern Dakotas. For now, it is staying with corn only. However, that could change in the future. The logical move will be toward soybeans.
Still, the company remains focused on hearing feedback from farmers. "We are all learning together," he added.
One thing to note is farmers should not look at this Outcome Based Pricing as a substitute for crop insurance.
Eathington views it as a way for farmers to try new crop inputs or new hybrids while reducing the downside risk. Ultimately what the company is looking to offer farmers is prescriptions to get the most out of every acre.
"If I'm wrong, then I pay the price," Eathington said. "But if I'm right, you're sharing a little more value with me."
Subscribe to receive top agriculture news
Be informed daily with these free e-newsletters
You May Also Like
---