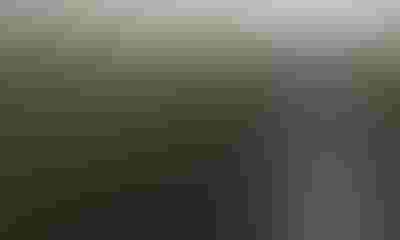 The growing season is well underway, but there still may be opportunities to help this year's crops while improving soil health, conserving water and benefiting water quality, all at the same time. Shannon Zezula, state resource conservationist for the Natural Resources Conservation Service, heads up a team of NRCS experts that put together tips each month that aid conservation efforts, but that are also sound crop management practices.
Other members of the Indiana Conservation Partnership often contribute to assembling this information. Here are five opportunities to help crops and improve natural resources at the same time.
1. How much soil loss are you willing to tolerate?

HELP YOUR CROP: Irrigate efficiently this summer with tips from conservation experts. (Photo courtesy of Natural Resources Conservation Service)
In conservation circles, professionals have long addressed the soil loss tolerance rate, called "T." This is the maximum rate of annual soil loss that will permit crop productivity to be sustained economically and indefinitely; it is expressed as tons per acre.
Zezula and company are now changing the message. What if we no longer tolerated any soil erosion, but built soil instead of simply sustaining it?
Erosion removes the most-productive part of your farm — the topsoil. It's a natural process and happens even in woods and on prairies. Your goal should be zero soil movement by keeping the soil covered and protected 365 days of the year.
Some Indiana farmers are already on the path to that achievement. Working with their local district conservationist, they're reducing soil loss by implementing practices as part of a soil health management system. This system works to minimize soil disturbance such as by no-tilling, maximize soil cover by leaving crop residues on the soil surface using no-till and by seeding cover crops.
These farmers are also increasing biodiversity by adding wheat, hay or cover crops into crop rotations, and providing continuous living roots by planting cover crops before or after harvest. These are key principles to building healthy soil.
2. Efficient water use where crops are irrigated benefits everyone.
If it's been wet lately where you are, you may be wondering how to get some use out of that shiny new pivot you installed last year, or how to get into your fields to apply fertilizer or herbicides. Chemigation may be the answer. Chemigation is the application of agricultural fertilizers, soil amendments and pesticides through irrigation water.
Pivots are programmed to provide precision application of water to your crops. Why not get that same precision with your chemicals and fertilizer? Pivots also provide the ability to get nutrients and herbicides on crops when it's too wet or windy for traditional application. You create less soil compaction, do minimal crop damage, get uniform application, have less human contact with chemicals and apply nutrients based on your crop's need. Less use of fertilizers reduces groundwater contamination and leaching.
A backflow prevention device is recommended to reduce the chances of chemicals getting into your irrigation-water supply. These may be required in your area, so check local regulations.
Zezula also recommends performing a uniformity test, and using a flow monitor to apply only the amount of water and chemical needed. If you're using no-till and cover crops, your soil health may be improving your infiltration and water-holding capacity. You may not need as much water for your crop as you have in the past.
Adapt your irrigation amount and rate as you start irrigating. Contact your local NRCS office for more information and to learn about programs that may be available to you as an irrigator.
3. There's a special need for cover crops after silage harvest.
 Silage harvest leaves little residue on the soil, which can lead to soil erosion and a reduction in organic matter. These factors can attribute to less-productive soils in the future, and the potential for nutrient loss. Earlier harvest with silage compared to grain allows for a larger window to get cover crops planted. These cover crops are your ticket to counteract the concerns of erosion and nutrient loss that can be associated with silage.
Cover crops can also work well if you want to apply manure and hold those nutrients for your next commodity crop. Planting a cover crop along with proper manure application allows you to grow a low-residue crop like silage and still provide a healthy soil environment.
4. Building soil organic matter is critical.
What would you give to increase the soil organic matter on your farm? Zezula says the key to improving the health of your soil is soil organic matter level. Many leaders in the soil health movement are raising their soil organic matter levels within a few years.
How are they doing it? Many are using high-carbon cover crops combined with no-till systems. What cover crops are high in carbon? Most grass-type species such as cereal rye, when allowed to grow to maturity, have a very high carbon-to-nitrogen ratio.
When you plant into green, mature cereal rye and then terminate it with herbicide, you're building soil organic matter levels as well as controlling weed pressure, preserving moisture for crops and controlling erosion. These are just some of the many benefits of planting cover crops.
5. Wheat harvest makes another good opportunity for planting cover crops.
Are you looking to improve soil organic matter levels in your crop fields? Zezula says using a cover crop mix containing a high-carbon summer annual cover crop after you harvest wheat is a great way to improve carbon levels in your soil. Sorghum-sudangrass will produce large amounts of biomass when planted after wheat harvest.
Mowing the cover crop a couple of times after planting will also help drive the roots deep into the soil, breaking up soil compaction layers and building root channels for cash crops to follow. The use of a high-carbon cover crop such as sorghum-sudangrass adds carbon. In return, experts say it builds soil organic matter. What you're building is a healthier soil!
Subscribe to receive top agriculture news
Be informed daily with these free e-newsletters
You May Also Like
---