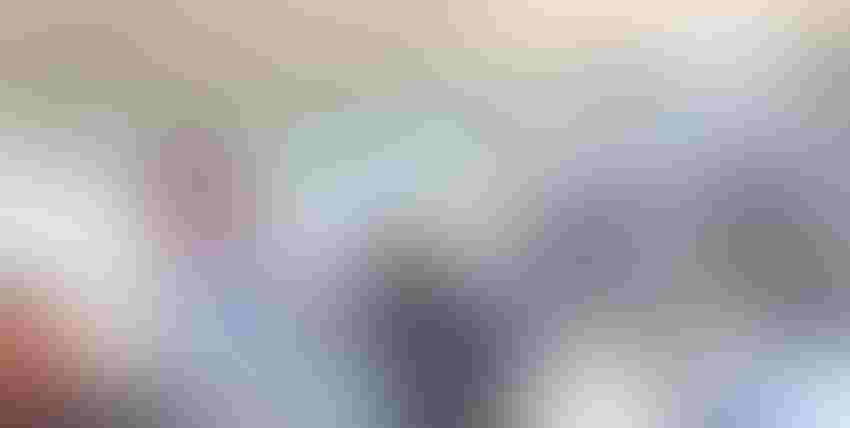 Alan York provides an update on the dicamba situation in North Carolina during the Blacklands Farm Managers Tour in Columbia, N.C.
Despite all the issues of dicamba drift that have plagued the Mid-South this year, Alan York hopes the new technology will continue to be available because farmers need every possible tool to battle Palmer Amaranth and other troublesome weeds.
Speaking at the Blacklands Farm Managers tour at Green Valley Farms in Columbia, N.C. Aug. 2, York, weed specialist and William Neals Reynolds professor emeritus of crop science at North Carolina State University, said registrations for the dicamba systems of Engenia and Xtendimax are time limited. Registration with the Environmental Protection Agency expires in November 2018.
"At that point, EPA can extend it or they can let it die. Obviously, there's been a change in politics in Washington, and that's got to be figured into what's going happen. On the other hand, we can't ignore 1,300 complains coming out of the Mid-South area," York said at the Blacklands field day.
York said he believes dicamba will still be available next season. He said he doubts EPA will pull the registration this winter, but the question still remains if EPA will renew the registration. "EPA can either extend it or not. Their words when they gave us those labels were if off-target deposition is at unacceptable frequencies, they're probably going to pull it," York said, noting that EPA did not define "unacceptable frequencies."
"I don't know what they're going to do. I don't know if we're going to be able to keep them with some additional restrictions. I don't know. I hope we don't lose it. In spite of some of the issues we had, we need every tool we got," he said.
As he spoke at the Blacklands field day, 13 official dicamba drift damage cases were filed with the North Carolina Department of Agriculture and Consumer Services. "We know there are a lot more cases than 13 out there. What we don't have any grasp on is what kind of acreage are we talking about. There is a lot more acreage affected than those 13 complaints are letting us know," York said.
York urged farmers to continue to practice good stewardship when using the dicamba technology and he also urged resistance management.  "We're running out of tools, and we don't see a lot of new tools coming. Resistance management should be at the forefront of all of your planning."
Again, York stressed the importance of following label guidelines when applying dicamba to avoid drift. He said most of the drift complaints in North Carolina come from tobacco farmers. Tobacco is highly susceptible to dicamba damage.
"We need to be more careful. I think there were some situations where common sense was not used this year," York said.
Subscribe to receive top agriculture news
Be informed daily with these free e-newsletters
You May Also Like
---