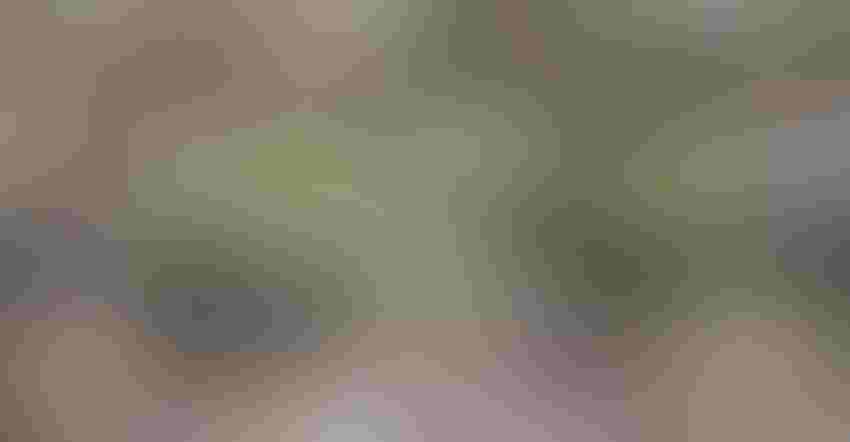 DUST-OFF: Generic seed treatments often do not stick to the seed as well. This means less of the treatment makes it on the seed, leading to a loss of effectiveness.
Harvest signals the end of a season, but it's also an important time to consider your plan for next year.
With low commodity prices, you may feel tempted to pinch pennies when it comes to soybean seed treatments. However, seed treatments are an investment that has been proven to maximize yield potential and minimize risk. They not only protect high-value genetics and traits in seeds, but also allow you to plant earlier even in less-than-ideal soil conditions and still achieve healthy, vigorous stands.
While many soybean growers are using seed treatments, they may not be using the right one. While many seed treatments are colored red, they vary in performance and ease of use. And just because a seed is treated, doesn't necessarily mean it provides optimal protection from early-season insects and diseases. Also, it may not contain important formulation additives, which are necessary to provide uniform seed coverage and prevent interference with the operation of a planter.
"It's important that growers ask their seed treaters or resellers: What's on my seed? What are the active ingredients? At what rates?" says Dean Grossnickle, agronomic service representative at Syngenta based at Gilbert, in central Iowa. "If you're only concerned with the color of your seed and not the active ingredients on it, you're opening yourself up to a lot of risk early in the season."
Generic blend seed treatments
Generic blend seed treatments are becoming increasingly common, because while they look the same as branded seed treatments, they're cheaper in cost. However, the lower cost usually comes with decreased field performance and increased risk:
Dust-off. Generic blends often do not stick to the seed well. This dust-off means less of the treatment makes it onto the seed, leading to a loss of effectiveness. Also, dust off can result in off-target movement, staining clothes, skin and equipment.
Equipment clogging. Generic blends are not tested as thoroughly as branded products and have a higher likelihood of clogging not only the treater's equipment, but also on-farm equipment, such as planters.
Incompatible mixtures and product separation: The active ingredients in generic blends are not optimized for proper mixing, which can result in uneven coverage of the seed. Inadequate rates of active ingredients can lower protection against early-season insects and diseases.
Custom-blend seed treatments
While custom-blend seed treatments may also appear the same on the surface, they don't always meet expectations in the field. Custom blends can fall short when it comes to seed flow and spotty coverage of the seed. They can also result in heavy product buildup in the treater, which means less of the product is available to protect the seed in the field. Similar to generic blends, custom blends often produce more dust-off, which leads to more of the product wasted on the ground or equipment than on the seed.
"Seed flow and dust off are important differentiating factors that set proven seed treatments, like CruiserMaxx Vibrance Beans seed treatment, a combination of separately registered ingredients, apart from custom blends," explains Grossnickle. "The formulation of a seed treatment impacts plant stand, root health, plant vigor and ultimately, yield."
Visit knowmoregrowmore.com.
Source: Syngenta
Subscribe to receive top agriculture news
Be informed daily with these free e-newsletters
You May Also Like
---