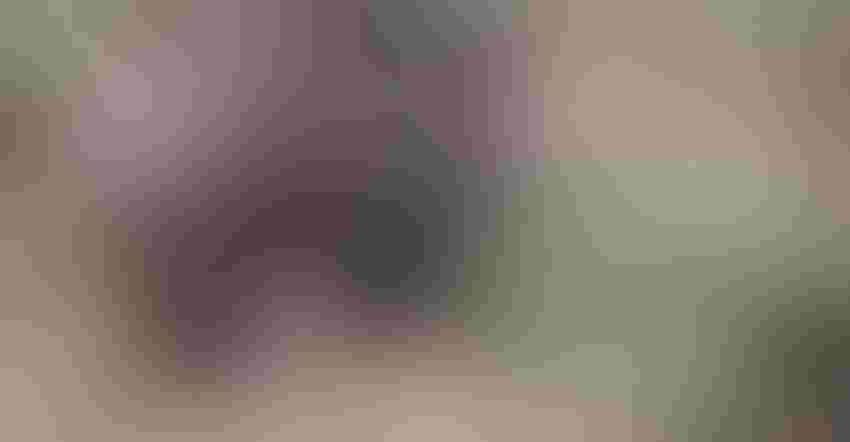 Toxicants are being tested as a means of controlling feral hogs.
Wild pigs keep expanding their territory and have now been detected in "areas where they're not supposed to be," says Glen Gentry, resident coordinator, LSU AgCenter, Clinton, La.
He says pigs probably got into those unexpected areas "going 65 miles per hour in the back of a pickup. We've done it to ourselves."
Gentry, during a presentation to the recent Louisiana Agricultural Technology and Management Conference in Marksville, La., showed a map depicting where habitat is favorable for wild hogs to thrive, including potential expansion up the west and east coasts. But their primary haunt remains the Deep South, including Louisiana and Texas, where damage to agriculture tallies into the millions, counting crop damage, rangeland destruction and control measures.
Some estimates put annual losses across the country as high as $1.5 billion in crop and property loss and control costs. Significant damage occurs across the crop spectrum with soybeans accounting for the biggest loss.
Significant challenge
Gentry said controlling the pests poses a significant challenge. Typical approaches include hunting, trapping, and in some locations, hunting from helicopters.
"We can't shoot our way out of the feral hog problem," Gentry says. Feral pigs breed so fast hunting cannot remove enough animals even to contain the population, and experts say to put a lid on population growth, remediation efforts need to remove between 70 and 75 percent of a population annually. He says hunting removes an average of one pig per day.
"We've got to find some other type of remediation."
Helicopter hunts, he adds, have resulted in higher kill rates, and are considered the best option in some states, but they are not legal in all states and work best in open terrain, "like some areas of Texas and New Mexico, with less tree density."
He said helicopter hunts also work best with heavy feral hog pressure. Cost is a factor as well. He says the practice is much more economical in Texas, where cost of removing one pig with a helicopter hunt is $20 a pig. In Louisiana, the cost is $150 per pig.
Trapping can be effective and is considered one of the best management practices. "We can capture an entire sounder," he says. "But pigs are smart and learn to avoid the traps." A recent study of trap efficacy shows 59 percent trap success, with an average of 11 pigs per capture, less than numbers needed to remove 70 percent of the population.
A contraceptive, he says, "is the best option for mass population control," but a workable product, specific to hogs, has not been developed or approved. "Researchers have tried to find a contraceptive for dogs and cats for decades," he says, without success. Finding a contraceptive that would be effective in the wild poses an even bigger challenge.
Toxins
Which brings us to toxins. Recent tests with sodium nitrite might offer a solution. Sodium nitrite is used as a food preservative. "Humans are much more tolerant than pigs," Gentry says. "If a pig consumes enough sodium nitrite it will die." He says if humans eat too much sodium nitrite, "they will go the way of the pigs."
He adds that the threat of secondary poisonings is low. "The half-life of the toxin is short." Threat to scavengers is also low, but it works well on feral swine. Feral pigs succumb to the toxin relatively quickly at a dose of 120 to 210 milligrams. "Pigs will die in two-and-a-half to three hours," Gentry says.
Getting the toxin to the pig in a product it will eat and through a system that prevents other animals from consuming it has been a sticking point. Encapsulation of the toxin is a possibility, but degradation has been an issue. It may liquefy, for one thing. Gentry says pH may be a key to degradation, and adding a buffer may improve stability.
Other products, such as zinc phosphine, used for other nuisance species, have also been considered. Zinc phosphine may kill off target species, and the pig may not die for 24 to 36 hour. "The animal can travel a long way in that time."
Another product, Kaput, contains warfarin, but pigs do not die for four or five days.
"Products come and products go," he says.
Gentry says one issue with developing a successful feral hog toxin is putting it in a palatable bait. Possibilities include "earthworm flavored bait. Yes, that is a flavor," says Gentry. Other options include marshmallow, strawberry, popcorn and corn.
Pig palates
"Billy Higginbothom from Texas (AgriLife Extension wildlife and fisheries specialist) says pigs need calories," Gentry says. In a trial to evaluate the pigs' palates, researchers found they prefer dehydrated bass over corn. Gentry says using a sport fish for pig bait could run afoul of game laws. "We found that pigs like dehydrated big-headed carp, too," he says.
Gentry says the sodium nitrite product may be the best option currently available, but getting it to the pig without exposing the toxin to other species remains an issue.
"We need a species-specific feeder," Gentry says, so that availability is limited to the pigs. Several designs have been developed, including one tabbed the Hog Annihilation Machine (HAM). Another device uses sound activation to expose the bait. The sensor responds to sounds specific to swine. Reliability has been an issue.
A product using visual recognition software "has worked well." Other designs include products that make the bait available when the hog steps on a trigger mechanism.
One problem yet to be solved is preventing black bears from consuming the toxin. "Black bears tore all three systems up," Gentry says, and that's an issue that cannot be ignored in Louisiana. "We need a system that prevents access to black bears."
Gentry says a study on a peanut butter-based bait in feeders is ongoing in Texas and Alabama.
About the Author(s) Senior Content Director, Farm Press/Farm Progress
Ron Smith has spent more than 40 years covering Sunbelt agriculture. Ron began his career in agricultural journalism as an Experiment Station and Extension editor at Clemson University, where he earned a Masters Degree in English in 1975. He served as associate editor for Southeast Farm Press from 1978 through 1989. In 1990, Smith helped launch Southern Turf Management Magazine and served as editor. He also helped launch two other regional Turf and Landscape publications and launched and edited Florida Grove and Vegetable Management for the Farm Press Group. Within two years of launch, the turf magazines were well-respected, award-winning publications. Ron has received numerous awards for writing and photography in both agriculture and landscape journalism. He is past president of The Turf and Ornamental Communicators Association and was chosen as the first media representative to the University of Georgia College of Agriculture Advisory Board. He was named Communicator of the Year for the Metropolitan Atlanta Agricultural Communicators Association. More recently, he was awarded the Norman Borlaug Lifetime Achievement Award by the Texas Plant Protection Association. Smith also worked in public relations, specializing in media relations for agricultural companies. Ron lives with his wife Pat in Johnson City, Tenn. They have two grown children, Stacey and Nick, and three grandsons, Aaron, Hunter and Walker.
Subscribe to receive top agriculture news
Be informed daily with these free e-newsletters
You May Also Like
---