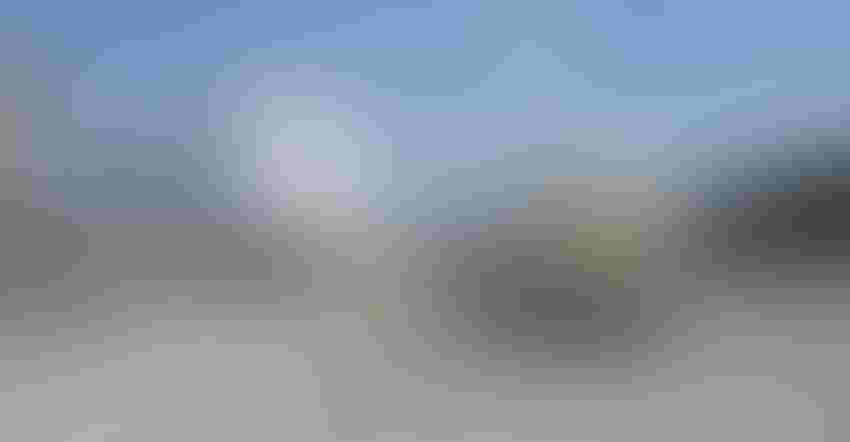 WATER QUALITY MATTERS: A grower fills spray tanks with water at a local dealership. Agronomists say it's important to know the pH and hardness of any water source.
Tom J. Bechman
Key weed control strategies for 2022 will include saving herbicides like glyphosate and glufosinate for your most critical weed control applications. Multiple industry experts indicate these are the two herbicide active ingredients most likely to be in short supply during the 2022 spraying season.
If something is in short supply, you certainly want to get the most effective use possible when you do apply it. Luke Schulte, a field agronomist with Beck's, says there are relatively inexpensive ways to help get maximum performance from these herbicides.
"Be mindful of what you're adding to the tank with them and how you're applying them," he says. His goal, when he speaks with farmers, is helping them understand how to give these herbicides the best chance to perform successfully.
Here are some simple tips:
Correct hard water. Most well water across the Midwest contains high amounts of positively charged ions, such as calcium and magnesium. "Hard water" is generally defined as anything over 120 parts per million as calcium carbonate. At this level, Schulte says herbicide performance can be significantly impeded.
"You don't want calcium ions tying up glufosinate ions from Liberty, for example, rendering it ineffective," he explains. "The challenge is to treat the water to offset the possible effects of these hard water ions."
Fred Whitford, director of Purdue Pesticide Programs, developed a publication several years ago titled The Impact of Water Quality on Pesticide Performance. The publication discusses how water hardness and pH can impact spray solutions, and what you can do. The publication notes that the first step is to know what the herbicide label says about pH and water hardness. Recommendations can vary by herbicide. 
Apply enough adjuvant. If you're using ammonium sulfate as a water conditioner, be sure to have an adequate volume of sulfate to account for water hardness. Schulte says it's particularly important to the performance of Liberty, glyphosate and Enlist herbicides.
"We've found in our trials that low use-rate liquid AMS products do not supply enough sulfate to truly occupy all the hard water ions, reducing herbicide performance," he explains.
Increase spray volume. To get maximum effectiveness from Liberty, bumping up from 15 total gallons of spray volume to 20 gallons per acre is huge, Schulte says. "You simply need more total spray volume when applying Liberty," he says.
"It's a key step to getting top effectiveness from Liberty, and this is certainly a year when you can't afford a do-over."
Consider conditions. Bill Johnson, Purdue University Extension weed control specialist, says if you can spray either Liberty or glyphosate based on crop tolerance, and it's cool and cloudy, consider glyphosate.
"Liberty is even more sensitive to cool, cloudy weather," he says. "Spray Liberty when it's sunny in the heat of the day."
Schulte adds that it's important to spray Liberty before weeds exceed 4 inches tall for best performance. Since Liberty is a contact herbicide, not systemic, weed height becomes more critical to optimize performance.
Pay attention to labeled height guidelines for weeds on all herbicide labels.
Subscribe to receive top agriculture news
Be informed daily with these free e-newsletters
You May Also Like
---