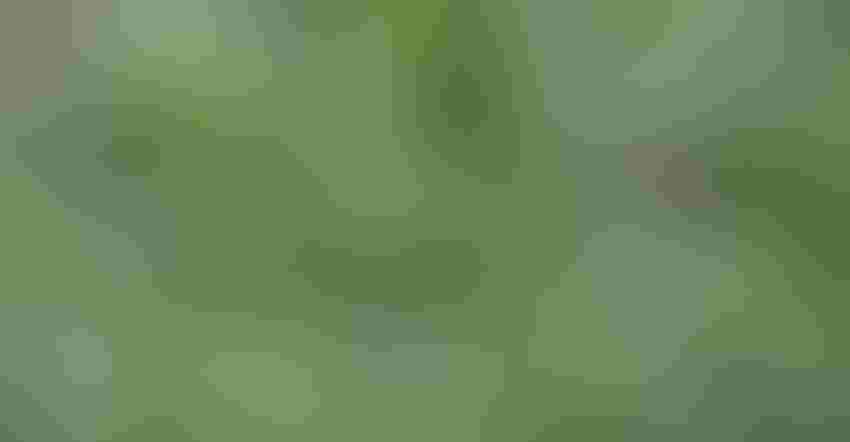 DATA NEEDED: Minnesota soybean farmers and other stakeholders hope to find answers to explain the alleged dicamba damage in soybean fields in more than 40 counties this growing season.
Bruce Potter, University of Minnesota
The state's dicamba task force, organized by the Minnesota Soybean Growers Association in late August, recently met for the first time.
MSGA formed the group in response to widespread reports of dicamba drift damage to soybean fields planted with varieties not genetically engineered to resist the herbicide.
In Minnesota, as of mid-September, 249 complaints were filed alleging dicamba drift damage.
The America Soybean Association noted in September that farmers in 21 of 30 soybean-growing states registered 2,242 complaints affecting 3.1 million acres of soybeans. It is not known how many acres in Minnesota have been affected.
Soybean farmer and task force chairman Bob Worth, Lake Benton, says representatives from Monsanto, BASF, DuPont, Syngenta, the Minnesota Department of Agriculture, the University of Minnesota, cooperatives and farm organizations were in attendance at the first meeting.
"We had a good discussion," Worth says. "We couldn't stress enough that we need this chemistry to help us [with weed management] because it does work. We need to figure out what the issues were in Minnesota."
The task force boiled discussion down to three key issues: product labeling, more education on product use and data access.
"We need to make sure that data and proper use are on the label on the container," Worth says. This past growing season, dicamba was approved late, and farmers were directed to get updated product information on company websites.
More education is needed, Worth says, since this particular chemical requires a higher level of knowledge to handle it properly. For example, growers must know wind speeds during application and the appropriate way to clean out tanks.
And having access to company data to know what scenarios caused this year's drift damage events would help circumvent future issues.
"We need data from the chemical companies," Worth says. "If there were off-target issues, we need to know. We need to know if there was vapor drift or straight drift. Knowing data will help us make the right decisions."
No timetable has been set yet for releasing a task force report, Worth says. Ideally, a report would be issued in early December so growers can make 2018 planting decisions.
As additional data is received from chemical companies and the university, it will be shared with MDA, and then the task force will make recommendations.
Worth notes the task force also was quite clear that it did not want the dicamba issue to pit neighbor against neighbor when making decisions about technology use.
"We do not want a farmer to have to choose seed to protect his crop from what a neighbor sprays," he says. "We want a farmer to be able to choose what is best for his farm."
The EPA last year conditionally approved the postemergence use of new dicamba products from Monsanto and BASF on genetically engineered soybeans and cotton. DuPont received EPA approval earlier this year.
MDA approved use of the herbicides on dicamba-tolerant soybeans until Dec. 31. At that time, the product registrations will expire. MDA officials are closely reviewing data from this growing season to make a decision on dicamba registration for 2018.
Says Worth: "We want to use science-based data to make our decisions."
Subscribe to receive top agriculture news
Be informed daily with these free e-newsletters
You May Also Like
---