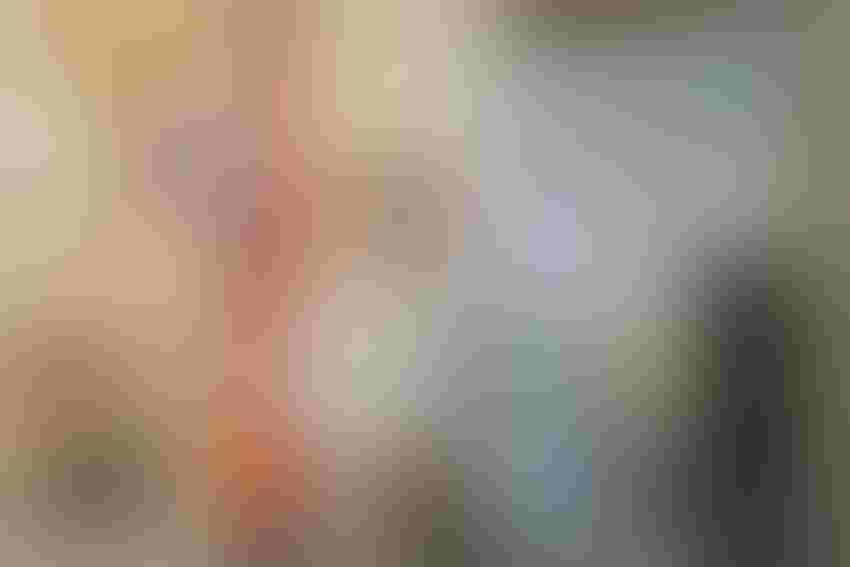 After much trial and error, he finally developed a bioreactor that creates the chemical reaction needed to produce the organic fertilizer.
If you want to know the power of persistence, the story of how Dr.  Brian Ward received a patent for the first-ever organic ammonium fertilizer fits the bill.
Ward is an organic vegetable scientist at Clemson's Coastal Research and Education Center in Charleston, S.C. In January, he was granted a patent for a production process to distill ammonium fertilizer from hyper-ammonia-producing, or HAP, bacteria.
In 2004, Ward's mentor encouraged him to find a way to make an organic fertilizer that could be effectively used in organic crop production and meet strict organic farming certification standards.
At first, he began looking at compost as a source of ammonium fertilizer, but discovered that compost contained little valuable nitrogen. "There are a lot of microorganisms in compost but not enough nitrogen to sustain a viable crop," Ward said.
Ward wanted to find a way where organisms in the soil could take and release ammonium to plants where they can absorb it and use it. After painstaking and extensive research, he discovered ammonia-producing HAP bacteria that comes from the stomach of cattle.
After identifying the HAP bacteria as a source for ammonium fertilizer, Ward reached out to Dr. Robin Anderson, a USDA-ARS research microbiologist at Texas A&M University who discovered the HAP bacteria in 1993. Anderson and his colleagues provided Ward with the pure culture of HAP bacteria from the stomach of cattle that he needed.
"I eventually brought the bacteria back to my lab and ultimately was able to get the bacteria growing and maximize their ability to make ammonium," Ward said.
Ward faced many challenges in getting the bacteria to grow. After much trial and error, he finally developed a bioreactor that creates the chemical reaction needed to produce the organic fertilizer.
Ward's bioreactor, engineered in his label at the Coastal REC, creates a reaction that releases four products: ammonium, butyrate, acetate and nearly pure carbon similar to coal. He used the ammonium released to produce a liquid fertilizer that could be fed through drip lines as a precision organic fertilizer.
In his process, Ward begins with a single HAP bacteria from a cow's stomach and then reproduces the bacteria on protein, much as a brewer would brew beer from a single packet of yeast.
"It's much the same principle as brewing beer, except it's ammonium your producing, not alcohol," Ward explains.
The bacteria produced in Ward's reactor reproduces rapidly. Within 96 hours, 100,000 gallons of liquid organic fertilizer is produced. After the reactor produces 100,000 gallons of fertilizer, it is fully cleaned and restocked with another single HAP bacteria and the protein to create another 100,000 batch in 96 hours.
This is the technology that Ward wanted patented.
The patent was long in coming: more than 11 years. In 2006, Ward contacted the Clemson University Research Foundation, which applied for a patent on Ward's behalf. The process provided Ward a lesson on the legal hurdles that must be overcome to bring a new product to market.
"I tried to patent the reactor because I built it and designed it myself, but the patent office said it already exists. Back in 2008, they told me they couldn't grant me a patent because of something called 'obviousness.' They said if something is obvious to a person skilled in that field, someone would have eventually figured it all out. They said my reactor was just common knowledge and there was no originality to it, therefore it can't be patented."
It was then that Ward's knack for persistence came in handy. He was convinced his reactor was a new idea worthy of a patent.
"I'm a horticulturist. I grow vegetables. I'm not a molecular biologist. I'm not a microbiologist. I'm not a cattle ruminant nutritionist. I'm not an engineer. None of this was obvious to me," Ward explains. "I basically had to do a lot of research. I read lots of journal articles and read a lot about producing ethanol and the parameters around all of that and came to the conclusion that my system for producing ammonium fertilizer could be a viable process."
Ward believes his process could easily be worth $1 billion, producing more than 77 million tons of organic ammonium fertilizer that rivals synthetic fertilizer.
But still the patent office would not grant Ward a patent back in 2008 because of the obviousness clause. "I wrote the patent office an extremely long rebuttal that basically said how can you say this isn't original. I told them that this is an original idea and you have to patent it," Ward said.
In December 2017, the patent office notified Ward that he would receive a patent and the patent was awarded in January of this year. "It took me 11 years to get this little piece of paper here," Ward said, holding his patent.
Ward wants to scale up production and find a company willing to license it and then produce, market and distribute the organic fertilizer. He hopes to have small-scale production in about a year and hopes that large-scale production will begin in three years. He hopes to the fertilizer will be commercially available by 2021.
"I'm looking for commercial partners. I'm beginning to pursue funding to get a 100,000-gallon reactor to distill and make pure organic ammonium. It also has to be OMRI certified organic. Once it is certified organic, we can scale up production to a commercial level," he said.
Once he finds a company to produce and market the fertilizer, Ward would then supply the bacteria needed to make the fertilizer. "I would consult them. They would license the technology form Clemson. They would pay me a consulting fee on the side to teach them how to use the reactor."
For the technology to be profitable, he said, it must be done on a large scale by a large company to produce a fertilizer that will be affordable.
Until now there was no organic ammonium fertilizer available to farmers. "There is basically no difference between my fertilizer and synthetic fertilizer. It's primarily the same product. It provides the same nutrients. Plants can't tell the difference," Ward says.
The product will be targeted to organic vegetable growers and eventually large-scale row crop farmers. It's a big goal and a big vision, but Ward has the persistence and passion to make it happen.
Subscribe to receive top agriculture news
Be informed daily with these free e-newsletters
You May Also Like
---