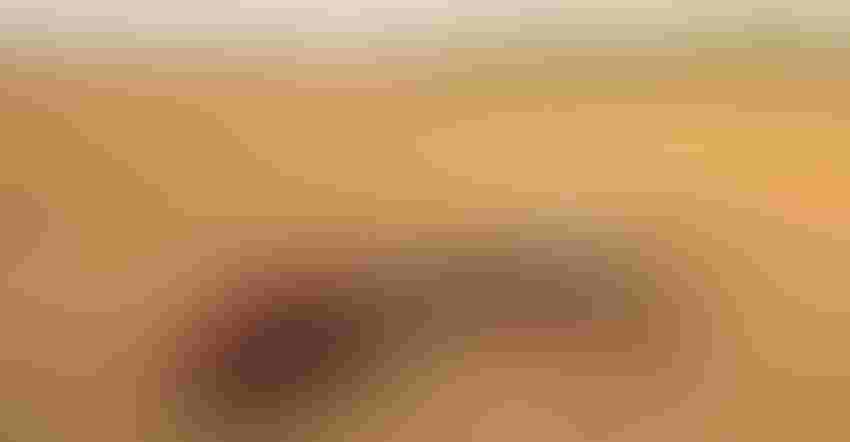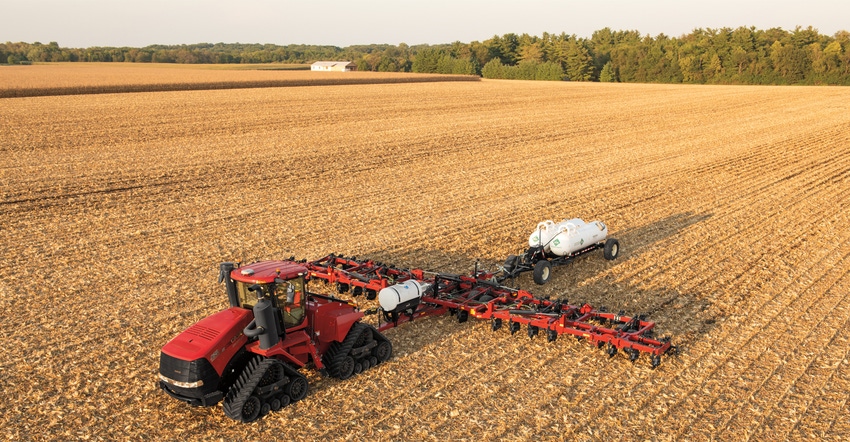 NITROGEN OPTIONS: While many farmers found the weather just right for fall application of anhydrous, with rising nitrogen prices, considering other choices in 2022 may help the bottom line.
Courtesy of Case IH
The eye-opening rising price for all inputs in 2021 puts pressure on everyone's bottom line. As fall fertilization started, the big surprise was the jump in N prices, which hit new highs depending on the type you use. But there are new alternatives coming to market that may help take some of that price pressure off and could bring added benefits, too.
The move to products that either bring biological nitrogen boosters to the plant, or those that turn on biological process to create more available nitrogen, has been growing the last couple of years. With higher N prices, how will they fare in 2022? Farm Progress caught up with the CEO of Sound Agriculture to discuss the issue.
The challenge is just how much of a difference this new class of products can make. "The charge of new technology and the obligation on any of us in the space is to provide something that is ultimately cheaper or makes growers more money," says Adam Litle. "So it should cut the fertilizer bill, and we're seeing now that our product can drastically cut your fertilizer bill and protect yield."
He's talking specifically about Source, a Sound Agriculture product available for corn and soybeans. At a minimum it can replace 25 pounds of N per acre, but the company has found in some soils the number rises to as much as 50 pounds per acre. The opportunity of Source, and other products in this space, is to be applied at a time when the plant may need that boost from more nutrients.
More than nitrogen
The focus of most biobased products is nitrogen. Source is different. It's not a biological. This is a chemical product that "turns on" a biological process in the soil that makes nitrogen more available to the plant. In addition, the product makes phosphorus more readily available. Up to 80% of phosphorus is locked in the soil, and Source activates soil microbes to solubilize this phosphorus, making it available to the plant.
These products are relatively new, and while they come to market with specific targeted benefits, there are added features that come to light. The boost in available P to the plant at a key time can enhance root response.
The company is still promoting the ability to replace a certain amount of N applied to the crop with a tool that is not essentially nitrogen. That has some added benefit, including a potential boost in income from firms compensating farmers for reducing carbon. Nitrogen is seen as a potentially key greenhouse gas, so providing N to a crop without using synthetic fertilizer may show per-acre income benefits from those programs.
"We also have examples where we're increasing yield," Litle adds. "We know we increase nitrogen and phosphorus activity, and early data shows that Source even increases some micronutrients. The product works by increasing the metabolic rates of dozens of microbes in the soil, resulting in a lot more nutrient-boosting activity. "
He can point to other benefits, from higher-tonnage yields for a Texas crop to corn that withstood high winds where Source was used. Those added benefits bring more than a cut in N-use rates for 2022.
Looking at alternatives
If you're considering filling in your crop's N requirement in 2022 with an alternative, check with your local agronomist to learn more. And see what your local Extension has found. Note these are new products, and their impact is still being explored, but they can offer a benefit.
Litle promotes one feature from Sound Agriculture that's not offered by all in the market. "We have a performance guarantee," he says. "We're standing behind our product."
You can learn more about Source at sound.ag.
Subscribe to receive top agriculture news
Be informed daily with these free e-newsletters
You May Also Like
---