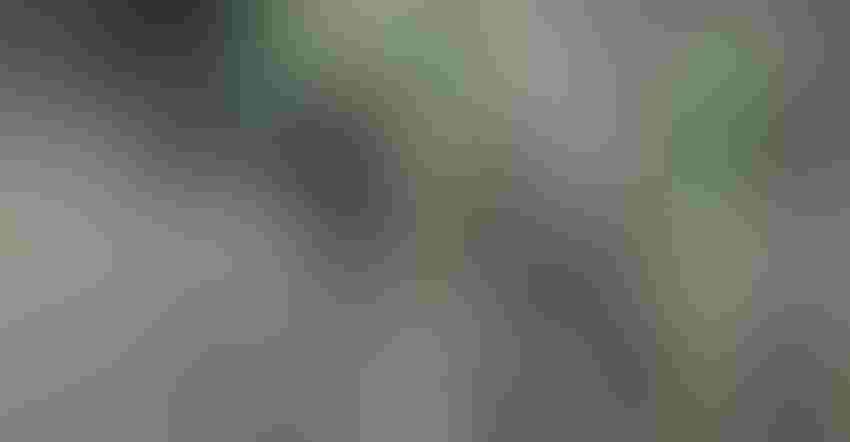 CAUTION: Using UAN as a herbicide carrier enhances foliar activity of herbicides and can cause corn leaf injury.
With continued wet weather, corn planting this spring has been start-and-stop, and generally delayed. In some situations, farmers decided to go ahead and plant corn and not apply nitrogen until later. In other situations when fields dried out for a day or two, planting progressed so quickly that applications of liquid nitrogen and herbicides couldn't keep up with the planters, and now there is emerged corn.
While liquid UAN fertilizer and many preemergence herbicide products can be applied to emerged corn, keep in mind that using UAN as a herbicide carrier enhances the foliar activity of products and may result in leaf damage to corn. "Check herbicide labels for restrictions on use of UAN as a carrier," says Bob Hartzler, Iowa State University Extension weed management specialist.
Liquid nitrogen alone
Urea-ammonium nitrate solution alone can be applied to emerged corn, and the risk of injury to the corn depends on UAN rate, corn growth stage and weather conditions. Conservative suggestions are to limit postemergence applications of UAN to 90 pounds N per acre when corn is at the V3 to V4 stage of growth and to 60 pounds N per acre at the V7 stage.
"Applications of UAN beyond the V7 stage are not recommended," says ISU Extension soil fertility specialist John Sawyer. Also, he reminds farmers that the risk of injury increases during hot, dry conditions.
UAN as herbicide carrier
"The combination of herbicides with UAN greatly enhances the foliar activity of these products and poses a real threat of killing all emerged tissue contacted by the spray," Hartzler says. "Some farmers might try to rationalize this combination if corn is at the VE to V1 growth stage since the growing point is still underground. While corn often can recover quickly from loss of the shoot at this growth stage, the herbicide may influence the plant's ability to recover and therefore result in uneven plant size and yield loss."
Farmers are also asking questions about applying foliar fungicides on corn, and the timing that will work best. "The 2019 planting season has been one to remember and not necessarily in a good way," notes Alison Robertson, ISU Extension plant pathologist.
Fungicide at V5?
Some fields are showing symptoms of anthracnose leaf blight on corn. "Although we suggest there is little reason to fret about the early symptoms of this disease, there have been some conversations around whether to apply a fungicide at corn growth stage V5, to mitigate the disease and also to perhaps mitigate stalk rot later on," Robertson says. "In addition, if they'll be spraying herbicide, farmers ask: Why not throw a fungicide into the tank as well?"
Robertson admits, "I'm not a fan of applying fungicides at V5, and even more so with low corn prices — not to mention the additional issues we have seen with delayed planting, slow emergence, cool start to growing season, etc., that will affect yield potential. 
ISU's Robertson shares these thoughts:
First five leaves. The first five leaves of a corn plant die and fall off the plant soon after canopy closure. They do not contribute to yield. These are the leaves that receive almost all the V5 fungicide application.
Leaves and fungicide. A fungicide is only active on the leaves to which it's applied. The fungicide may move through the leaf tissue to the margins of the leaf, but it will not translocate through the whole plant or to new leaves that emerge from the canopy. Also, a fungicide is usually only effective for 14 to 21 days, although some of the newer products may last longer.
Anthracnose leaf blight. Fungicides are used to manage foliar diseases. It is extremely unusual to see foliar disease on these first five leaves of corn in Iowa. In corn-on-corn fields, anthracnose leaf blight may be present. 
"In my experience, this disease rarely moves up out of the lower canopy," Robertson says. "There have been suggestions that anthracnose leaf blight can lead to stalk rot later in the season. Research at ISU and Wisconsin found no relationship between anthracnose leaf blight and stalk rot. This is probably not surprising since resistance to the leaf blight and stalk rot phases of anthracnose are controlled by separate genetic mechanisms." 
Physiological benefits. Some farmers use fungicides for physiological benefits that translate to yield benefits. "I've measured yield increases in my fungicide trials in Iowa since 2010," says Robertson. "The yield benefit associated with a V5 application ranged from–2.5 bushels per acre to +6 bushels per acre (average was 2.1 bushels per acre), compared to 1.2 bushels per acre to 17.7 bushels per acre (average 6.0 bushels per acre) with an application at tasseling. Consequently, there is little chance of a return on investment, or ROI, with an application of fungicide at V5, unless corn prices bounce back to $7 per bushel."
Fungicide at V5. An application of a fungicide at V5 will not negate the application of a fungicide later in the season. Most corn diseases in Iowa start to show up in July as corn approaches tasseling. Thus, if weather is conducive for disease development (gray leaf spot, northern corn leaf blight, tar spot, etc.), and particularly if a corn hybrid is susceptible to foliar disease, an application of a fungicide around tasseli
Subscribe to receive top agriculture news
Be informed daily with these free e-newsletters
You May Also Like
---