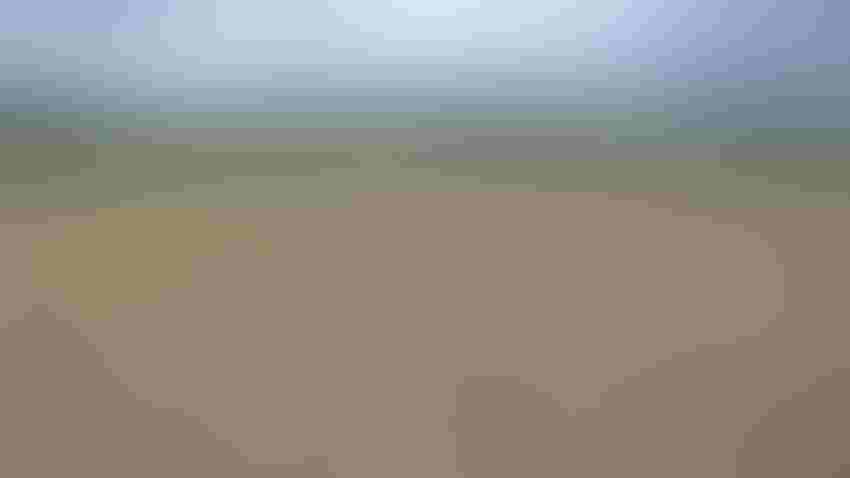 KEEP WEEDS AT BAY: Could you hold weeds off until these soybeans close the canopy? Some weeds are already breaking through. A postemergence pass with residuals at full rates will be needed.
Tom J. Bechman
Do you have all your plans in place for weed control in corn and soybeans this year? Jami Loecker, a specialist with Golden Harvest, says there is so much at stake in terms of eliminating weeds and giving your crops an advantage that you need to be sure.
"Start clean, either with tillage or an effective burndown herbicide application coupled with residual herbicides," she says. "That's the first step. You don't want crops competing with weeds as they emerge."
Applying two passes during the season, preemergence and postemergence, with overlapping residual herbicides is also key to controlling weeds all season long, she adds. By applying residual herbicides with the postemergence pass before effectiveness of the first residual herbicides run out, you refresh herbicide activity in the soil.
"For a while, you should have more than 100% effectiveness from the two passes combined," Loecker says. "The goal is to control weeds until the crop canopies and provides help on weed control."
Including herbicides with multiple effective sites of action is also key, she says. Be sure to include more than one herbicide to act on each significant target weed.
Key herbicide questions
How can you make sure your plan will accomplish these important goals? One strategy is to ask yourself key questions about your weed control program before the season arrives, Loecker says. Here are five questions she recommends you answer:
1. Do I have two or more herbicides that are effective on sites of action of primary weeds? Having redundancy against target weeds is critical to preventing development of resistant weeds, Loecker says. It's also important to make sure you obtain good control of those weeds this season.
2. Are the active ingredients in the herbicides I intend to use appropriate for environmental conditions? In other words, will you still get control if it doesn't rain for two or three weeks, or are the active ingredients you're banking on for good weed control dependent on adequate soil moisture or other environmental conditions? Active ingredients differ in the conditions they need for best results. Know the strengths and weaknesses of the products you're applying, and be ready to adapt if necessary.
3. What risks of crop injury am I taking with herbicides I plan to use? "You can still use them," Loecker says. "You just need to know what to expect. There also may be things you can do to reduce the chances for injury with herbicides you've selected to control your tough weeds."
4. Am I applying at recommended rates? Can you expect to control both primary and secondary target weeds at the rates you will apply? Have you researched individual product labels carefully? "This is not a time to be cutting rates just to save money," Loecker says. "You need the right amount of activity in the soil to control all your target weeds."
5. Are active ingredients compatible in tankmixes? There can be mixing issues and antagonism between certain herbicide active ingredients and specific fertilizers or other tankmix partners. Loecker emphasizes reading labels carefully and following directions succinctly to make sure you will get maximum activity from each active ingredient on target weeds.
Subscribe to receive top agriculture news
Be informed daily with these free e-newsletters
You May Also Like
---