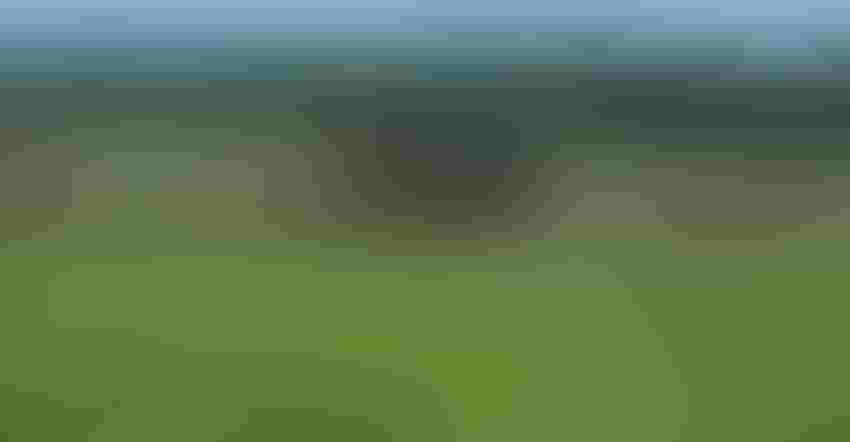 PLANT GREEN: More no-tillers each year seem to be planting into green cereal rye. This rye was crimped before planting to terminate it. Others spray it immediately after planting.
While winter winds blow and snow flies, finalize your termination plan for cover crops that don't winter-kill. Don Donovan works with farmers who have a termination plan that begins as soon as the cover crop is planted. Each cover crop species that overwinters has challenges that need to be considered as a part of the termination plan.
Donovan is a district conservationist with the Natural Resources Conservation Service. He is based in Parke County, Ind. Donovan helps write and prepare information about cover crops and soil health on behalf of the Indiana Conservation Partnership.
Cereal rye is a spring-growing cover crop. Donovan says no matter how much growth you had in the fall, when it warms up this spring, it will take off and grow. You need to scout it frequently. If you're planting corn after cereal rye, you need to adapt to the potential for nitrogen tie-up if the rye gets very tall and mature. 
Successful cover crop farmers throughout Indiana find that if they terminate cereal rye while it's still in the vegetative stage, less than 12 inches tall, they don't see a lack of available nitrogen for their young corn crop. To be on the safe side, these farmers put some nitrogen in their starter fertilizer to ensure that corn has sufficient N in the early growth stages.
Before soybeans
The most common application for cereal rye is as a cover crop before soybeans. Farmers who plant soybeans into a cereal rye have other concerns, Donovan says. Soybeans can do well in a nitrogen-starved environment, but if the rye gets too tall, you may have soil moisture issues. 
When cereal rye is in its rapid-growth stage, it can remove large amounts of water from the soil. This is good if it's a wet spring, but not good if it's dry. Keep an eye on your cover crop and the soil moisture. 
Also, be cautious about terminating cereal rye too far in advance of planting soybeans, especially in mature rye stands. Once terminated, dead rye can get matted on the soil surface and keep it from drying out. To overcome this, many farmers have successfully terminated cereal rye immediately prior to or after planting the soybeans "green" into the standing rye.
If using cover crops for summer weed suppression is a goal, you will need as much growth of the rye as possible. Many successful no-tillers report helping tame marestail with cereal rye. Experts believe it's possibly because cereal rye begins competing with marestail in the fall. However, you still need an effective herbicide program plus cereal rye to control marestail in soybeans.
Be prepared to deal with potential issues that a decaying rye cover crop might bring. Scout for potential pests frequently. Cereal rye is a great cover crop with a multitude of benefits, Donovan says. Making it work for you means management and scouting. Finalize your termination plan today, Donovan recommends.
Subscribe to receive top agriculture news
Be informed daily with these free e-newsletters
You May Also Like
---