South Texas and Lower Rio Grande Valley post good cotton yields
South Texas and Lower Rio Grande Valley post good cotton yields
Part 3: Limited rainfall has fallen in the Coastal Bend and Lower Rio Grande Valley, where harvest is in full swing, and good yield and quality are being reported from both regions. The rainfall timing in the Rolling Plains was very timely and will be helpful to improve yields and fiber quality.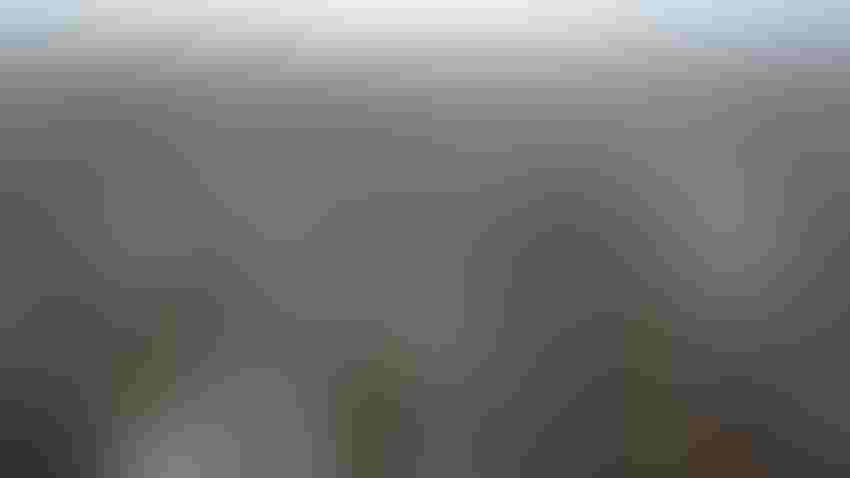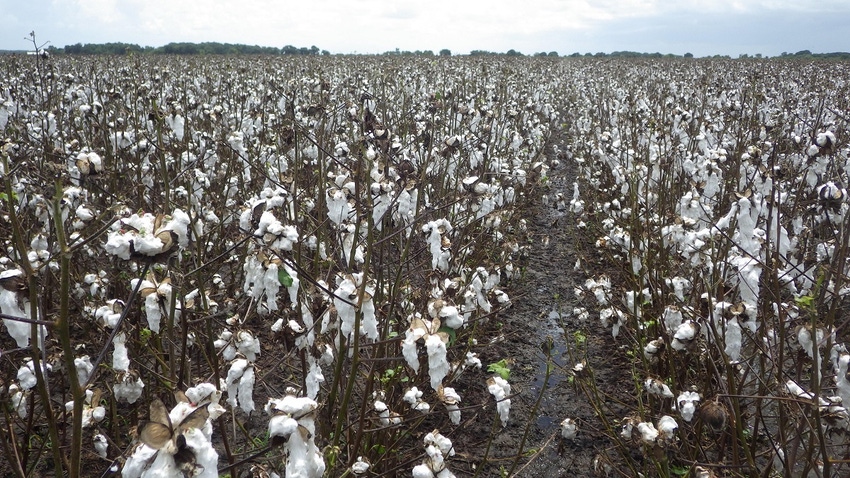 Late rain last year caused significant damage to some of the Texas Blacklands cotton crop. Growers are hoping for a better harvest season for 2017.
Texas AgriLife photo
As most Southwest cotton farmers head into the home stretch to make the 2017 crop, a progress report seems appropriate. Southwest Farm Press contacted cotton specialists this week in Texas and Oklahoma to get their perspectives on crop prospects.
We asked Seth Byrd, Texas AgriLife Extension cotton specialist at the Research and Extension Center in Lubbock; Randy Boman, Oklahoma State University Extension State Cotton Lead, Altus, Oklahoma; and Gaylon Morgan, Texas AgriLife Extension State Cotton Specialist, College Station, for an assessment of conditions. We will provide these updates over the next few days.
 Gaylon Morgan looks at South and East Texas.
We asked:
FP—What effect has recent weather had on development of the crop—good and bad?   
Morgan—Limited rainfall has fallen in the Coastal Bend and Lower Rio Grande Valley, where harvest is in full swing, and good yield and quality are being reported from both regions. The rainfall timing in the Rolling Plains was very timely and will be helpful to improve yields and fiber quality.   
FP— Some areas have had heavy rain. Are you seeing damage?
Morgan—Some persistent rainfall has occurred in the Upper Gulf Coast and Blacklands over the last two of weeks, and will be more detrimental than beneficial due to the maturity of the crop. The exception will be some of the later planted cotton and the northern Blacklands. This rainy period looks way too similar to a weather pattern that the Upper Gulf Coast and Blacklands went through last year at harvest time, but a couple of weeks earlier.  Hopefully, we will dry-out and it will have a minimal impact on our growers. 
Related:What's the current outlook for the 2017 SW cotton crop?
FP—How much abandonment have we seen or are likely to see? 
Morgan—Some dryland areas in the RGV had some low yields, but abandonment was minimal throughout South and East Texas.  Overall, this has been a good cotton year, but one more rain in July would have made it a great year for South and East Texas.  The Rolling Plains had quite a few challenges early in the season with hail events and dry conditions, which has made the crop highly variable with some good areas and some poor. I am not sure of the percent abandonment, but it will be higher than the past two years.      
FP— Have recent wet conditions had any effect on disease? Any surprises? 
Morgan—We had some Bacterial blight throughout the season this year, but it never really manifested into a problem like in 2016. This is partially due to the adoption of more Bacterial blight resistant varieties in 2016.  We have observed some foliar diseases that are a secondary cause of premature defoliation in the Upper Gulf Coast and Blacklands.  Most of these situations were the result of potassium deficiencies that made the plants susceptible to the foliar fundal diseases. To minimize this problem in the future, growers should soil test and apply potassium as recommended by the soil analysis.
FP—How has introduction of the new technology gone? Are you seeing much off-target damage? Are many growers using the Flag the Technology program? 
Morgan— In South and East Texas, we have observed a lower adoption of the XtendFlex and Enlist cotton varieties than other parts of the Cotton Belt, about 50 percent. This was due to some areas not having the significant problems with glyphosate resistant weeds, the price of the new technology traits, and older technology varieties that growers were happy with because of weed management, yields, and quality. 
The reports of off-target movement of herbicides from the XtendFlex or Enlist fields have been small considering the acreage that received the herbicide applications. Spray tank contamination and self-inflicted applications of the incorrect herbicide has been more common than off-target herbicide movement complaints. The entire industry made a huge educational push to inform the applicators on the correct application techniques and requirements, and we are seeing the benefit of this educational effort. 
One tool for minimizing off-target movement into susceptible crops was the Flag-the-Technology mobile app. There was a lot of initial interest and promotion of this program, but the actual adoption was fairly low. However, Flag-the-Technology can still be beneficial in future years, and will help in minimizing misapplication of the incorrect herbicide on the incorrect variety on growers' farms.
About the Author(s) Senior Content Director, Farm Press/Farm Progress
Ron Smith has spent more than 40 years covering Sunbelt agriculture. Ron began his career in agricultural journalism as an Experiment Station and Extension editor at Clemson University, where he earned a Masters Degree in English in 1975. He served as associate editor for Southeast Farm Press from 1978 through 1989. In 1990, Smith helped launch Southern Turf Management Magazine and served as editor. He also helped launch two other regional Turf and Landscape publications and launched and edited Florida Grove and Vegetable Management for the Farm Press Group. Within two years of launch, the turf magazines were well-respected, award-winning publications. Ron has received numerous awards for writing and photography in both agriculture and landscape journalism. He is past president of The Turf and Ornamental Communicators Association and was chosen as the first media representative to the University of Georgia College of Agriculture Advisory Board. He was named Communicator of the Year for the Metropolitan Atlanta Agricultural Communicators Association. More recently, he was awarded the Norman Borlaug Lifetime Achievement Award by the Texas Plant Protection Association. Smith also worked in public relations, specializing in media relations for agricultural companies. Ron lives with his wife Pat in Johnson City, Tenn. They have two grown children, Stacey and Nick, and three grandsons, Aaron, Hunter and Walker.
Subscribe to receive top agriculture news
Be informed daily with these free e-newsletters
You May Also Like
---