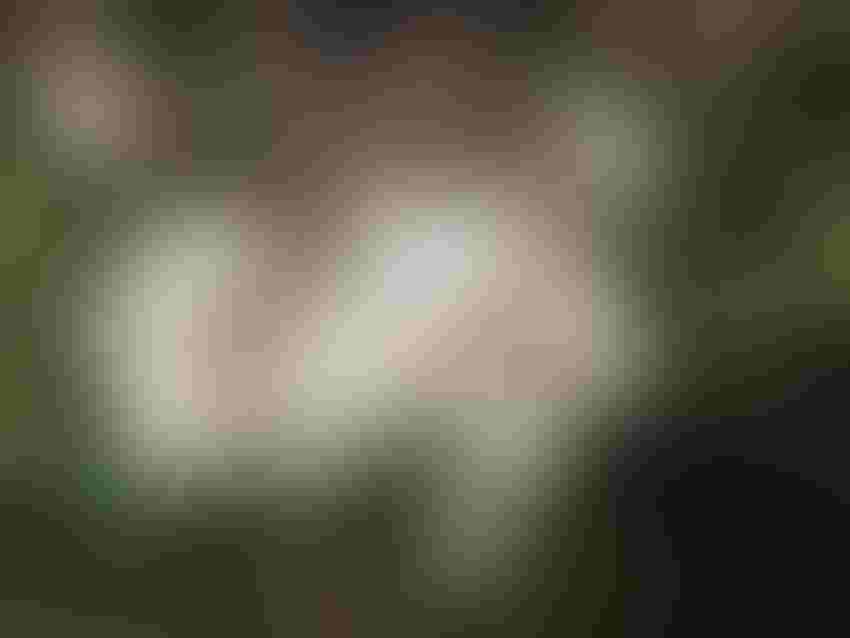 Late rains wreaked havoc on much of the Central Texas cotton acreage.
Some interesting things happened on South and Central Texas farms last spring and summer—many of them not particularly positive.
Crop consultants offered up news of the weird, the depressing and the hopeful at the recent Texas Plant Protection Association's annual conference in Bryan.
Darrin Biediger, a consultant with STX Management, Portland, Texas, offered a "strange but true" account of multiple-eared corn. He explains that Winter Garden farmers often plant a late corn crop, following wheat, vegetables or a hail storm. Typical planting date is July 20, but in recent years producers have pushed that date back into early July or late June, hoping to harvest in late October instead of January or February. They want the extra time for field prep for next season's crop.
Last summer Biediger pulled some roasting ears in late August and discovered a few days later that the field was showing signs of stress—purpling leaves, and ears sprouting additional ears.
The main ear had died, he says, just days after he had collected those roasting ears. Kernels were aborting, and the plant tried to overcome the loss by pushing out new ears. Losing a corn crop to aborted kernels that late is unusual. "The chance of losing a kernel at the milk stage is about 1 percent," he says. "The chance of losing an ear is 'it doesn't happen.'"
Related:Ag expects benefits from new administration
PLANTED TOO EARLY
A combination of factors contributed to the failure, he says, the primary one being planting too early. He says "intense inputs and rapid growth make it possible to mature 115 to 120-day corn in about 90 days. That's with a July 20 planting date for a late December through February harvest. He says the earlier planting date "confused the corn plants," and the photo period was a factor as was excessive heat and rainfall.
Yield loss, he says, was severe. "In the future, we recommend later planting, after July 5."
NEW BUG
Cliff Mock, Cliff Mock Consulting, Alvin, Texas, reported on a new insect pest that showed up in rice fields last year. He identified no recurrence in 2016. "In September 2015 the rice delphacid or brown plant hopper was discovered on ratoon crop rice in Galveston County," Mock says. "I had never seen this pest before."
Weather may have been a factor. "It was an unusual year, with a warm, wet spring and fall, and the crop was late. A number of storms from Pacific typhoons covered South Texas." A higher than expected price for rice encouraged producers to apply the inputs necessary to maximize yields.
The plant hopper is native to Latin America and the Caribbean, but had not been identified in the Southern U.S. rice production area since the 1950s.  It can be extremely damaging to rice, sucking the juices out of plants, causing appearance as a burn. "In high populations, plant death can occur from extraction of these juices," Mock says. Also, the pest injects a virus that causes a disease called Hoja Blanca.
"We applied various insecticides (in consultation with Texas AgriLife entomologists Mo Way and Suhas Vyavhare) in a non-replicated screening trial. Orthene 90S and Tenchu 20SG performed best."
DOWN IN THE VALLEY
Webb Wallace, crop consultant and owner of RGV Ag Science, Harlingen, expects cotton acreage to jump to 200,000 in 2017, "if we get moisture," he says. In 2016, Rio Grande Valley farmers planted 125,000 acres of cotton, 335,000 acres of grain sorghum and 55,000 acres of corn.
For the second year in a row, moisture was adequate. "Before 2015, our major issue across Texas was water," Wallace says. "Most of the Lower Rio Grande Valley had good water resources in 2015 and 2016, but water will continue to be an issue in the Rio Grande Valley."
He says 2016 cotton farmers produced some 4-bale per acre yields and some 3-bale dryland cotton. "Corn yields were good, but growers found that continuous sorghum will not average more than 4,000 pounds."
Cotton benefits from significant progress with boll weevil eradication. "Weevils made a slight rebound in the extremely wet and late 2015 season, but growers  gained back a lot of ground with a normal harvest and plow-up in 2016," Wallace says. He notes that cotton producers across the border are "finally making good progress with their (eradication) program."
PLANT HOPPERS
Dan Bradshaw, El Campo, Texas, reports on a bad outbreak of plant hoppers in 2015. "They like the high humidity," he says. "We mostly sprayed Tenchu."
He says the 2016 corn and cotton crops were set back by early rain. "In mid-May, corn, cotton and rice suffered. We had a lot of dreary weather."
He says in 2015 and 2016, cotton production was dogged by "wet followed by drought followed by more wet."
Prices also disappoint producers. "Nothing looks good, so I don't see a lot of enthusiasm." He expects the area in the Upper Coast from Victoria to Houston to rotate more to rice.
MORE WET WEATHER
Mark Nemick, MJN Consulting Services, Hewitt, Texas, says 2016 started off a lot like 2015—wet. "Producers rushed to get corn planted. They got it in and it turned wet, clouds moved in and it turned cold. About 30 percent to 40 percent was replanted."
Nemick says some fields were flooded, including one field with 5 feet of water over the crop. Flooded corn, he says, was stunted and yellow; it never grew out of it. Farmers sidedressed during dry spells. "In June it stopped raining and in three weeks it started again. It was hard to catch up."
He says pest pressure was also high. "Sugarcane aphid infestation was light early, and we had a lot of beneficials. Aphids did come in late, but available products (Sivanto and Transform) made a difference."
He saw some worm pressure in early cotton, including on Bollgard and WideStrike varieties.
Nemick says frequent rains made cotton hard to manage. "In August, the clouds came back. Cotton sprouted in the boll, and we saw hard lock, stained lint and a lot of regrowth. We made multiple sprays on late cotton for stink bugs that hurt the top crop."
Nemick sums up the challenges farmers across Central and South Texas faced in 2016. "It was a challenging year, but we made it through."
About the Author(s) Senior Content Director, Farm Press/Farm Progress
Ron Smith has spent more than 40 years covering Sunbelt agriculture. Ron began his career in agricultural journalism as an Experiment Station and Extension editor at Clemson University, where he earned a Masters Degree in English in 1975. He served as associate editor for Southeast Farm Press from 1978 through 1989. In 1990, Smith helped launch Southern Turf Management Magazine and served as editor. He also helped launch two other regional Turf and Landscape publications and launched and edited Florida Grove and Vegetable Management for the Farm Press Group. Within two years of launch, the turf magazines were well-respected, award-winning publications. Ron has received numerous awards for writing and photography in both agriculture and landscape journalism. He is past president of The Turf and Ornamental Communicators Association and was chosen as the first media representative to the University of Georgia College of Agriculture Advisory Board. He was named Communicator of the Year for the Metropolitan Atlanta Agricultural Communicators Association. More recently, he was awarded the Norman Borlaug Lifetime Achievement Award by the Texas Plant Protection Association. Smith also worked in public relations, specializing in media relations for agricultural companies. Ron lives with his wife Pat in Johnson City, Tenn. They have two grown children, Stacey and Nick, and three grandsons, Aaron, Hunter and Walker.
Subscribe to receive top agriculture news
Be informed daily with these free e-newsletters
You May Also Like
---