SJV cotton harvest under way
SJV cotton harvest under way
Growers optimistic despite slow start in picking.Unseasonably cold, wet weather rolls through state as cotton crop opens up.Repeat of last season's rare territory prices not likely this season, but prices should remain strong for 2011-12 crop marketing year.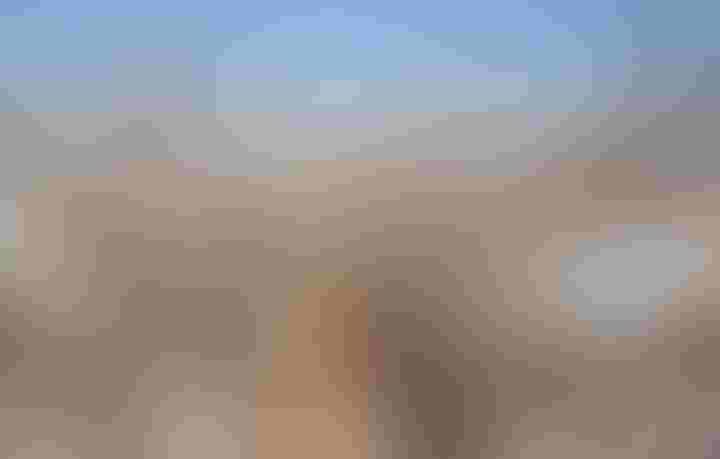 An unseasonably wet and cold weather front may have slowed California's early cotton harvest, but it did not necessarily dampen grower and marketer enthusiasm for another good cotton year.
"Growers seem to be pretty optimistic," said Earl Williams, president of the California Cotton Ginners and Growers Associations.
Harvesting started a bit late with pickers rolling in the southern San Joaquin Valley in late September gathering the valley's 431,000 acres of cotton (273,000 Pima; 158,480 Acala/Upland).
The harvest was interrupted briefly last year, as well by early rains, but growers managed to gather a good 2010 crop. Williams is hoping for the same this season. "We made a good crop last year after some early harvest delays, and I think this crop is a little better than last year," Williams remarked earlier this fall.
"You always have to worry about the weather, especially with Pima," said Williams. Rain and fog are much more damaging to ELS cotton than Acala/Upland. Pima is a longer season cotton than Acala/Upland and rain and fog can inflict major economic downgrades in quality.
Like most California crops this year, cotton has been characterized as roughly two weeks late through the season, but nice weather in August and September helped it not only get some of that time back, but set more cotton.
"I think the cotton crop in the northern part of the valley has caught up," remarked Bill Weir, UC Cooperative Extension farm advisor emeritus.
Williams said he has had no reports of damage from the two days of rain followed by fog in several areas.
"I think you will see most growers back in the field around Oct. 10. The forecast calls for highs into the mid-80s," he said.
A few fields were harvested ahead of the rain and modules are showing up on gin yards.
With a sharp increase in acreage this year after a slow decline in acreage over the years, Williams continues to be concerned about picking capacity.
"We have the ginning capacity. It is the picking I am worried about. There are apparently no custom pickers left in the valley. Many growers who got out of cotton several years ago sold their equipment. And there are a lot of new growers who do not have harvesting equipment," Williams said. Hopefully, neighbors can share equipment as the season progresses.
"I have been getting calls from Texas custom harvesters wanting to know if there is business in California this year," he said.
Williams believes growers share his weather and equipment concerns in the wake of last season. Growers dodged the bullet in 2010 and they know that, he acknowledged. He is convinced growers are moving as quickly as possible to get the crop to gins.
High prices
And just like last year's weather, cotton prices are high once again — in the $1 range as the harvest begins. From there in the fall of 2010, they went into the stratosphere to above $2 per pound for Acala and more than $3 for Pima.
When they reached those levels, there was little cotton to be bought and those prices were unrealistic, supply "rationing" prices, according to Bruce Groefsema, sales and marketing consultant for the San Joaquin Valley Quality Cotton Growers Association.
Groefsema recapped the "rare territory" cotton prices ventured into over the past season. He does not expect a repeat of those record prices, but there also is "no need to despair" at cotton price prospects for the 2011-2012 crop.
The scenario that created the 2010-2011 perfect price storm is gone. For five straight years, world cotton consumption exceeded world production and that depleted supplies to unprecedented stocks to use ratios.
This spawned a worldwide planting frenzy with acreage worldwide increasing dramatically chasing those prices. However, Groefsema told association members at their annual meeting that stocks for both Acala/Upland and Pima are not burdensome going into this marketing season.
He believes many of those additional bales will be used by mills to rebuild stocks.
Prices may be where they started a year ago before the rocket ride, but Groefsemadoes not expect a repeat of last season, which for the SJV Quality Cotton Growers marketing pools averaged $1.8607 for Pima; $1.3462 for roller Ginned Acala; and $1.2462 for saw ginned Acala. Nevertheless, he expects prices to be "reasonably good for this year's crop."
San Joaquin Valley cotton growers and this quality cotton association find themselves in a unique position where the high quality attributes of both Pima and Upland cotton are more important price factors than New York Futures.
The San Joaquin Valley Quality Cotton Growers Association was formed in 1998 in response to the end of the valley's one quality/one variety law, according to Greg Palla, executive vice president of the association.
It is made up of a group of prominent growers who organized to guarantee mills Acala quality cotton. Since the association was formed, Pima cotton has become the dominant cotton in the valley and Acala cotton has benefitted economically from that.
Both Pima and Acala cottons are longer and stronger than traditional Upland cottons.
Pima cotton is exclusively roller ginned versus saw ginned. Mills have discovered that roller ginned Acala will substitute for Pima in premium yarns and are willing to pay a premium of up to 10 cents per pound for roller-ginned Acala.
As much as 50 percent of the valley's Acala cotton is roller ginned. Last season it was lower than that due to weather concerns.
Groefsema says this is decoupling both saw-ginned and roller-ginned Acalas from the New York Futures market as a pricing mechanism and more closely tying both to the fortunes of Pima cotton.
Subscribe to receive top agriculture news
Be informed daily with these free e-newsletters
You May Also Like
---