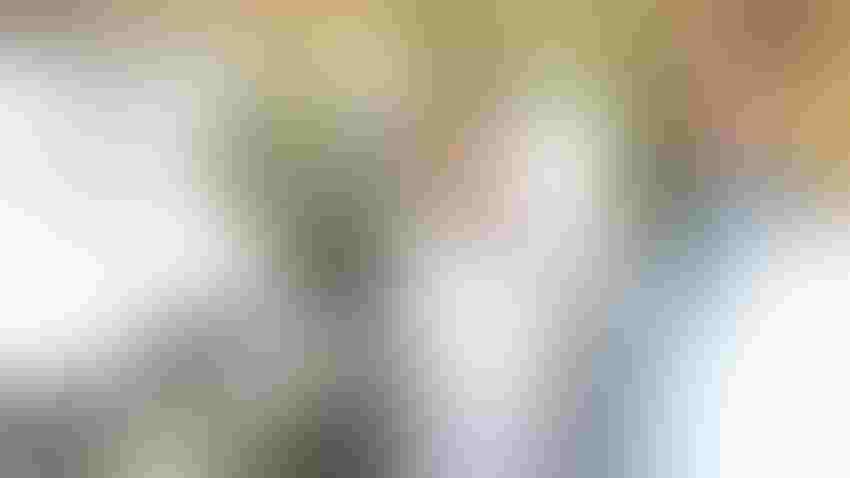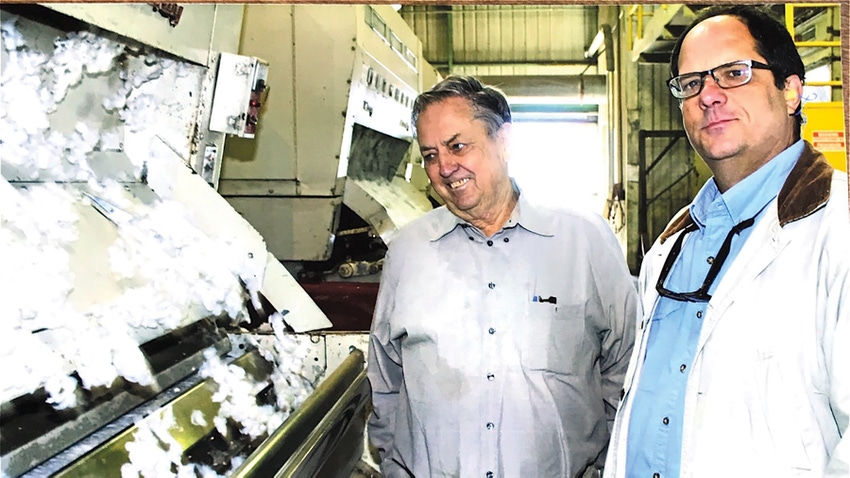 Buddy Cochran and son, David, at an Avon Gin gin stand.
David Cochran
This article also appears in the 2023 Mid-South Farm and Gin Show program. The farm and gin show takes place in Memphis at the Renasant Convention Center on February 24 and 25. Admission is free, but advance registration can be made at: www.farmandginshow.com
Most anyone who walked into Avon Gin in Avon, Miss., was welcomed with open arms. It was probably one of the warmest, friendliest places along the Mississippi River, south of Greenville.
The soul of the place was David T. "Buddy" Cochran.
"Dad always looked forward to meeting a new friend and sharing a story with him," said his son, David Cochran. "People that knew him would definitely remember the fact that he was a storyteller and never met a stranger."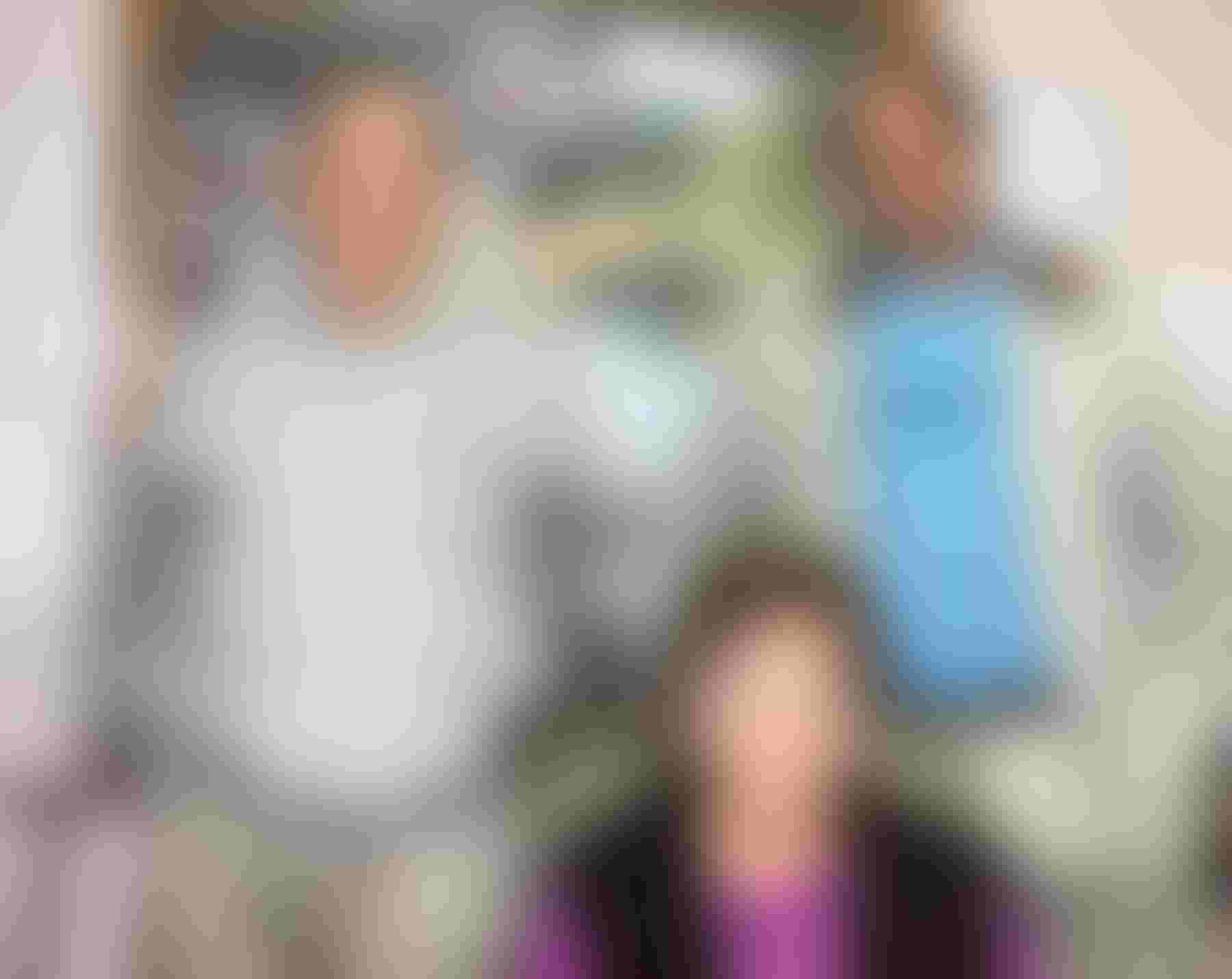 From left, Buddy Cochran, Carolyn Cochran and David Cochran inside the Avon Gin office. (David Cochran)
The Southern Cotton Ginners Association named its 2023 Memorial Scholarship in Buddy's honor. He passed away on Dec. 6, 2021.
His dedication to the association and commitment to make the industry safer for all involved have left its mark on the association and the industry at large.
"He did have a sense of conscientiousness that extended beyond his operation to all those that he felt he could have an influence on," said Tim Price, association executive vice president. "He was a real good old traditional southern guy, a core man of faith."
Giving person
Price paints him as a man who gave to the association, especially in his role as chairman of the safety committee.
"It was clear that work and safety for those in the gins across our region was as important as it was in his own meticulous gin," Price said.
Cochran was also the association's ginner of the year in 2009.
Avon Gin was a landmark in town for about 100 years. Cochran farmed cotton in the area and was a member of the cooperative that owned the gin. Cochran ended up purchasing the gin from the cooperative owners in 1994 after they decided to shut it down and sell it.
"He always wanted to own a gin," said his wife, Carolyn. "The fact is that he loved his gin. He wanted one and he got one."
Carolyn admits she was nervous at first when the family purchased the operation, but she pitched in any way she was needed. She even remembers picking up cotton off the side of the road one Sunday to get it back into the module builder.
Center of community
The gin was the hub of the community and the Cochrans were at the center of it. Carolyn and Buddys' sister began cooking lunch each day. Lunch was open to anyone who wanted to come by, and it soon got out of hand.
"We were so busy in the gin, and we were taking too much time cooking. We had to hire somebody or not have lunch anymore."
Buddy would not give it up. He wanted those in the small community that could be there for lunch to be able to come by for the meal. He enjoyed the fellowship.
"We hired a cook and we had lunch every day," Carolyn said. "We invited anybody that wanted to come. If someone stopped by, we fed them lunch. It was just a good place."
Everyone was given a friendly welcome. Buddy and the family insisted that everyone was made to feel welcome.
"We had several salesmen who made a point to make their visits around lunchtime," Carolyn said.
Welcome environment
Other times of the day, those who stopped by the gin were not made to feel any less welcome. One visitor stopped to talk to Cochran one afternoon. He approached the front desk, introduced himself and declared the business he was there for.
He was told to slow down, relax and visit for a while. He did as many others had done, visiting in the gin office until the initial business he was there for ended up getting done.
But Cochran knew what needed to be done.
"We all knew who was in charge," said son, David. "He was good about it. He would listen, but he was the one who made the final decision."
He made sure the operation ran efficiently and his employees were treated well. Most years new equipment installs, or upgrades were made to keep the gin running at peak performance, which often added value to the crop for his customers.
"He was an innovator and had a lot of foresight to build things that helped around the farm and gin," David said.
Cotton Retriever
He designed and built The Cotton Retriever to alleviate the need for a module truck on the gin yard. It had a wider wheelbase than a module truck, which also allowed it to be used in a muddy field without making ruts.
Cochran was also devoted to his local church.
"We had one farmer/ginner, who was retired and came in one day," Carolyn said. "We always prayed before our meals, no matter who was here. The man said, 'I've been in a lot of gins in my life. I've never been in one that prayed like y'all do.'"
She noted again that the gin was just a good place to gather.
Cochran served as a Mississippi delegate to the National Cotton Council and a member of the Cotton Advisory Committee for the Delta Council. He served on the board of the Farm Service Agency for 12 years and was on the board of trustees of State Bank and Trust.
"His strong suit was in who he was as a person," said Price. "He personified what Paul Harvey said in his God Made a Farmer speech. Buddy epitomized that.
"Buddy treated his customers right. And he showed others how to be safe and courteous."
Subscribe to receive top agriculture news
Be informed daily with these free e-newsletters
You May Also Like
---