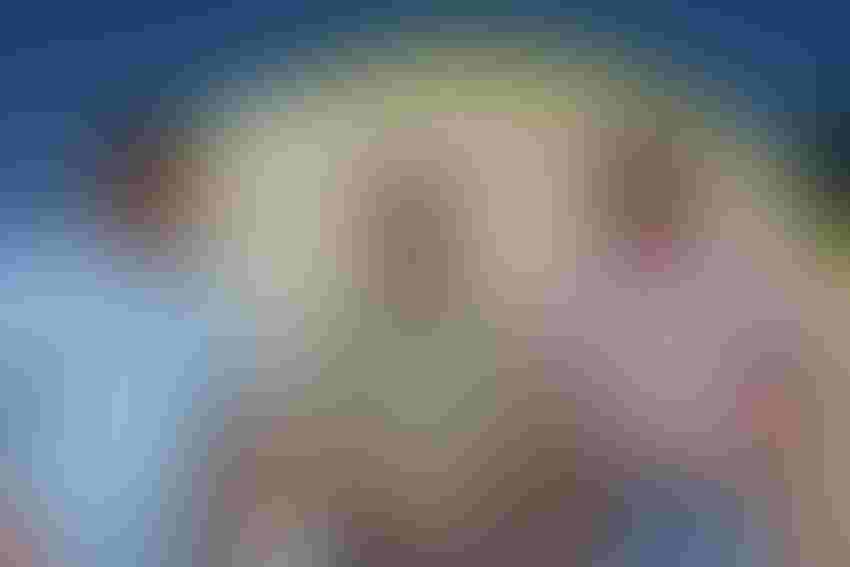 Randy Boman, center, checks cotton harvest with Altus producers Clint Abernathy, right, and his son Justin following the 2016 season.
Unfortunately, I had to miss Randy Boman's moving-on party. He is officially retiring from Oklahoma State University Extension, after about a hundred years of Extension work in Oklahoma and Texas.
Perhaps I exaggerate, but the volume of work he's done in the years he's plied his trade as an Extension cotton specialist likely adds up to about a century's worth of effort. He's probably evaluated every new cotton variety planted in the Southwest for the past two or three decades. He's analyzed all sorts of issues in cotton fields, worked closely with farmers to figure out the best methods to increase yields and efficiency. And he has always been a willing source of information for folks like me, looking for a good story idea, a good farmer interview, or just a guided tour around some promising looking cotton fields.
I call it a moving-on party because Randy Boman is not actually retiring — he's just transitioning from his role with Extension to a new one in the corporate world. He will still be committed to finding ways to make cotton production more profitable for Southwest farmers.
Had I been able to attend his moving-on party Feb. 27, I'd have tossed some barbs at him, and he would have expected nothing less. Folks still, tongue-in-cheek, blame him for the 2011 drought that pretty much wiped out Oklahoma's cotton crop. That was his first year with OSU and the thinking was he brought the drought over from Texas. And 2012 was not much better.
I might have wondered out loud about why he was run out of Texas. He wasn't; he was just going home: Okie, by birth.
But I would have reminded folks gathered at the festivities about how much Randy has contributed to the cotton industry. I would have mentioned the variety trials he oversaw in Texas and Oklahoma and the work he did with reduced tillage, residual nitrogen, and troubleshooting production problems. And that would not begin to cover his body of work.
Randy Boman is a highly respected cotton specialist across the cotton belt. His work ethic is unmatched. He has, according to a few well-regarded farmers and other cotton folk, been a force in the recent resurgence of cotton in Oklahoma.  Oklahoma farmers planted more than a half-million acres of cotton last year. Randy expects 750,000 in 2018.
On a personal note, I have relied on Randy's experience and knowledge of cotton for most of the years I've worked in the Southwest. He's answered my questions and offered ideas for stories. He's arranged interviews with some of the best cotton farmers in the Southwest. And we have recorded crop conditions in good years and bad.
It was always instructive, always enjoyable. All the best, my very good friend.
Subscribe to receive top agriculture news
Be informed daily with these free e-newsletters
You May Also Like
---