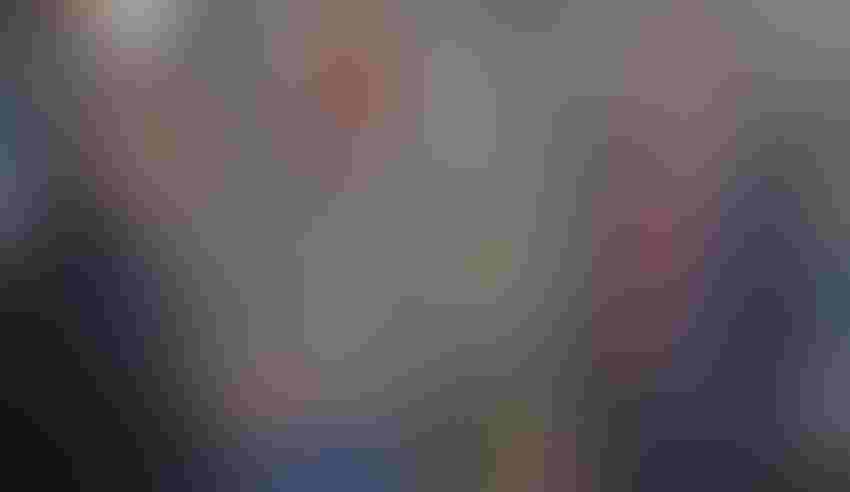 Sam Pardue right the new dean of the University of Georgia College of Agricultural and Environmental Sciences visits Leger and Son Farms owned by Buddy at left and Greg Leger April 14
Sam Pardue is the new dean for the University of Georgia College of Agricultural and Environmental Sciences. Southeast Farm Press spoke with him on a south Georgia farm April 14, one month after he took the post.
Pardue's basic stats:
Formerly the Associate Dean and Director of Academic Programs and Alumni Distinguished Undergraduate Professor at North Carolina State University's College of Agriculture and Life Sciences.

He received his academic start at North Carolina State University where he received a bachelor's degree in poultry science in 1977, a master's degree in physiology in 1979; and doctoral degree in physiology in 1983. At University of Massachusetts Amherst, he did postdoctoral work in genetics.

He's 60 years old and married to Stacy, who is a chaplain at Meredith College in Raleigh.
Southeast Farm Press: You come from North Carolina, a state with a well-established and supported land-grant mission and presence and strong agricultural economy? Why come to Georgia?
Pardue: Agriculture is the biggest driver for the economies in both Georgia and North Carolina. Georgia Commissioner of Agriculture Gary Black said at a recent Flavor of Georgia event that it has about a $75 billion impact in Georgia, and in North Carolina it is around $78 billion. So, the impact is very similar for both states. And that was one of the things that attracted me to Georgia. I wanted to come to a state where agriculture was important, and one that really embraced the land-grant tradition, and a place where people had a high degree of affection and affiliation to the university. UGA has such strong support throughout the state, and people are really invested in the College of Agricultural and Environmental Sciences.
That being said, I remain big on rural access to education. And we have to provide pathways for a student, whether it is a student in north Georgia or south Georgia, who has an interest in being part of the college of ag at UGA, we can figure out a way for them to get there. And that may be as a transfer or as in incoming freshman, but they need a clear path.
SEFP: The investment, or interest, Georgians have can come with a good bit of vocalized opinion or passion on how things need to be done in Georgia, especially with agriculture.
Pardue: It is when people are apathetic, and they don't bother to call anymore is when you've lost the battle. As long as people are still willing to say, "Let's think about X," or "Maybe let's move in a different direction and see what can be done," that's when you are still doing well. It's when they stop talking is when you have to worry. Someone asked me what I was going to do my first 90 day in office and I said the best thing I can do is to go visit as many people as I can and to listen a lot. I think it would be the height of arrogance for me to come in here and say I've got a plan and say here is what needs to be done for the state of Georgia.
The role of Extension?
SEFP: I don't think you'll have to worry about people not calling you. But with that, what do you see is the role of an Extension system now and in the future?
Pardue: You know, it used to be that an Extension agent was primarily in a vehicle driving to meet and greet, delivering information on a more personal basis; and there is still some of that which occurs, but we've tried to use technology to do more to communicate with the farming community. And it is amazing how sophisticated our (farming) operations have gotten. So, we are developing apps for smarthphones for example. If you have a weed in your field, you can take a picture of it and upload it and somebody will tell you what it is and how you can help eradicate it. … It's a 24-7 world. And a lot of the ways in which we can now deliver information needs to meet that demand.
SEFP: You've been on the job a month as of today (April 14). So far, has it been what you though it would be?
Pardue: It has been that and more. I knew that people really cared about Ag and they cared about UGA and the college (of ). … But, Georgia is a big state, the largest land mass on the East Coast; and with that come some real advantages with different growing climates and seasons, and the state is blessed with the ability to produce a lot of different things. And with climate variability and the drought in California, I think Georgia is in a great position to take up some of that slack and produce even more.
SEFP: Do you come from a farming background?
My dad, who is 89 now, was a public schoolteacher and my mother, who is 83 now, was a nurse. And it was one of my father's great regrets that I didn't grow up on a farm, but that being said, I was 'farmed out,' so to speak to my aunts and uncles and family to work on farms. My first real job was making 50 cents an hour working in tobacco for my grandfather. …
The farmers of the state need to know that we are committed to the land-grant mission, committed to agricultural research and Extension, and the commitment to developing that new technology that will help us to remain competitive on a global scale, and transfer that information via Extension. I can think of no other college in the University of Georgia that has the ability to reach out and touch and do that for nearly every person in this state.
Subscribe to receive top agriculture news
Be informed daily with these free e-newsletters
You May Also Like
---