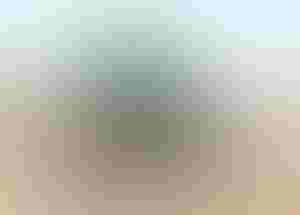 Jim Lapsley's PowerPoint slide opening his 2030 outlook for California wine grapes was a thousand-word photo.
It was a slide of a Caterpillar tractor gouging out a central San Joaquin Valley vineyard with massive ripper shanks. It should have been a new vineyard planting based on Lapsley's assessment that within 20 years, 42,000 acres of new vines could be needed to meet growing U.S. wine consumption.
However, Lapsley, a former winemaker and retired University of California, Davis, wine economist, recognizes the globalization of wine marketing likely will keep the big D8 Cat working more than vine planters as the demand for Central Valley wine grapes is continually filled by cheap imports.
Lapsley was one of a half-dozen economists from throughout the world and California wine industry leaders who offered a sobering outlook for the California wine industry in the emerging global wine market at an outlook symposium at UC Davis.
Outlook and Issues for the World Wine Market sponsored by the Robert Mondavi Institute at UC Davis was held on campus in late June.
Every wine and California grape market prognosticator of late refers to the "global wine market" as a new paradigm. Those are fancy words for the bloodletting many grape growers are experiencing with low prices and no buyers for uncontracted grapes.
It was put into sharp focus by two growers who were looking for solutions during the question-and-answer session. One said he had left unharvested Chardonnay grapes hanging on the vine in the fall for the first time in 22 years, the casualty of 22 percent of the California Chardonnay market being taken by Australian bulk imports in 2009.
Another complained that he was forced to custom crush for the first time last season when he could not sell his grapes. He is now "learning a new job" selling Russian River Chardonnay and Napa Valley Cabernet Sauvignon in bulk to China.
The experts offered a simple piece of advice; get used to it — it's the new world.
The hemorrhaging in the California wine grape market has obviously not been confined to "commodity" wine grapes in the Central Valley. Higher priced coastal wines and grapes have also suffered. Central Valley farmers have alternatives like almonds, walnuts and pistachios to plant after pulling out unprofitable wine grapes. Coastal growers do not.
Wine industry consultant Tom Selfridge, former president of The Hess Collection and Chalone Wine Group, echoed the sentiment in some circles that higher priced wines are showing rebound. It is not robust, but he predicted it will continue. In his optimism for the future of premium wines and wine grapes, he cited shifts in U.S. population dynamics like the Millennial Generation (those turning 21 over the next few years) who are "more apt to read the back label and more likely to take advice (on wine) from third parties." They also are more likely to be Internet wine buyers.
Push toward value wine
In the economic downturn the U.S. has been experiencing, many wine drinkers lowered their expectations, purchasing less expensive value wine.
Selfridge agrees with other industry experts who predict some will return to more expensive wines when the economy finally recovers. However, he also acknowledged some may continue to look for quality bargain wines.
"Long time luxury consumers will come back," he predicted. However, he added many wines from Napa which rode the last cycle to the top of the demand curve, did not deserve their $100 reputations. They will not benefit from the rebound, he said.
Most of the world considers California wine country as the North Coast or the Central Coast. However, Lapsley points out that the majority of grapes crushed last year were from the Central Valley. Almost 68 percent of the 2009 crush came from vineyards between Lodi and Bakersfield.
Meeting what he predicts will be a 3.67 billion liter U.S. table wine market by 2030 will require 1.75 million additional tons of grapes from California or somewhere else in the world. (Last year's total California crush was 4.1 million tons with 3.7 million tons of wine grapes.)
Assuming California supplied 60 percent of that increase and that half the volume retailed for under $5 per bottle, "then the southern San Joaquin Valley would require an additional 42,000 acres at a production level of 12 tons per acre."
His prediction comes in the wake of an ongoing grape acreage decline trend in the Central Valley from a peak of 190,000 acres in 2001 to just 157,000 in 2008.
Growers turned to other, more profitable crops than wine grapes and Lapsley expects that to continue for purely economic reasons. Using UC crop budgets, wine grapes are netting only $80 per acre compared to almonds at $200, walnuts at $1,070, pistachios at $860 and pomegranates at $620.
California: 7 percent of world's wine
These competing crops also command a large percentage of world demand and thus are in control of their markets. Eighty percent of the world's almonds are produced in California; 30 percent of the world's walnuts, but only 7 percent of the world's wine. This leaves California wine at the mercy of other producing nations.
Wine from SJV grapes, said Lapsley, is an "undifferentiated" commodity in the world wine market. "The supply of inexpensive wines from other countries acts as a ceiling on prices for wine grape growers."
That ceiling collapsed on many California wine grape growers last season when 227 million liters of finished bulk wine, valued at less than 70 cents per liter were imported to the U.S. and bottled here. These imports represent about 365,000 tons of grapes.
Not wanting to sound like the cruise director on the Titanic, Lapsley said California's growing water crisis might favor growers shifting to wine grapes over the next two decades since they require less water than other crops.
He noted, however, that Central Valley growers are not planting vineyards now to meet the expected growth in the U.S. wine market, and of the 105,000 acres of wine grapes in the region, 93,000 were planted prior to 2001. These will have reached their productive life span by 2030.
Unless yields can expand substantially and prices improve, when it comes time to replace those vineyards, growers will choose other crops, he said.
Dan Sumner, director of the University of California Agricultural Issues Center, said predicting world wine demand over the next two decades is tenuous.
Based on population/demographic trends and the falling wine consumption in Italy, France, Spain and Argentina he expects world wine demand to decline. This despite projected consumption increases in the U.S., U.K. and Germany.
"World wine markets may still expand as incomes grow gradually in traditional markets and wine consumption is introduced in places with rapid population and income growth," he added.
This includes China where Sumner said the population growth will slow, but will be tempered by rapid per capita income growth. These factors are conducive to rapid expansion of wine consumption. Income growth in Japan and Korea could also bolster world wine consumption.
Subscribe to receive top agriculture news
Be informed daily with these free e-newsletters
You May Also Like
---