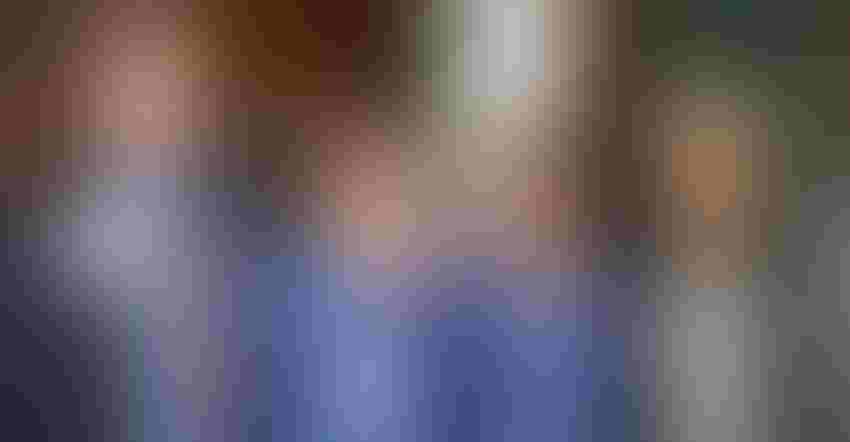 At the 2017 Farm & Gin Show, Tim Price, manager, Mid-South Farm and Gin Show, visited with Cindy Hubbard and Taylor Armstrong, Delta Farm Press, and Jimmie Pearson, for many years one of the station managers for the annual exhibition.
If you're like most, you put off registering for a conference or event until the last minute, squeaking through just in time. But what about those conferences or events where you can register on-site, or where there's no yuuge incentive to register early?
If you're in the latter camp, this is a friendly reminder that registering online for the 2018 Mid-South Farm and Gin Show can save you time on-site, as well as make you eligible for a $1,000 cash prize drawing.
Cash is a great incentive, but other aspects of the South's premier farm show should be enticement for online registration, says Tim Price, show manager. "This is a watershed year for agriculture. For most Mid-South crops, we're in the midst of uncertainty, and we really need to hear what others are thinking about. This is the place to do that."
The 66th annual Mid-South Farm and Gin Show is scheduled for March 2-3 at the downtown Cook Convention Center at Memphis. Sponsored by Southern Cotton Ginners Association and Foundation and Delta Farm Press, the agricultural and educational exhibit attracts thousands of attendees over its two-day run.
"Attendees tell us they come to the show to see new equipment and machinery, and to talk to agribusiness representatives who may have new software or other products and services that can help them solve a production or marketing challenge," Price says. "And they can interact with others from across the U.S. and learn what they're doing to address similar and diverse issues."
This year's show features more than 400 exhibits and 50 new companies, many of which will have items displayed only during this show, he says. "This is going to be an outstanding year for this decades-favorite show — and an outstanding year to attend."
Educational seminars
Educational seminars are scheduled for both Friday, March 2, and Saturday, March 3. On Friday, The Ag Market Network will broadcast its March monthly cotton teleconference from the show's media room, just off the lobby registration area, beginning at 11 a.m.
Panelists, who will discuss the latest outlook for cotton prices, include Dr. O.A. Cleveland Jr., Mississippi State University economics professor emeritus and global cotton market analyst; Jarral Neeper, president of Calcot Ltd.; Kip Butts, senior cotton analyst for lnforma Economics; and Pat McClatchy, executive director of The Ag Market Network. The panel will make marketing suggestions, as well as answer questions from the audience. The program will be rebroadcast at agmarketnetwork.net.
Also on Friday, those who register for a special seminar will be able to attend an in-depth grain marketing workshop at 1:30 p.m. in the Cotton Row room on the mezzanine level of the Convention Center. Brock & Associates will offer tips and techniques for marketing grain in this challenging time.
"It is especially helpful in times of low commodity prices, to be able to know when it's best to market crops," Price says. The workshop includes workshop handouts and a copy of Richard Brock's grain trading handbook. This seminar requires registration; call (800) 558-3431 to register.
Ag Update Seminars are scheduled Friday and Saturday in the Lobby Meeting Room. Hear updates on rice, wheat, and cotton Friday from Carl Brothers, Riceland Foods, and Joe Nicosia, Louis Dreyfus. On Saturday, Richard Brock will provide a market outlook in grains, along with his unique perspective on the economy and politics.
"Attendees also tell us that they come to the show because it's a fun atmosphere, and for chances to win cash and other prizes, including a Labrador puppy," Price says. "These are icing on the cake for those who come for the educational seminars, equipment and machinery, and products and services. If they go home with a Labrador puppy or an extra $1,000, it makes the experience all the more special — and rewarding."
To register for the Mid-South Farm and Gin Show, visit the website http://www.farmandginshow.com/ click on "attendee registration" and follow the instructions. Once on-site, registration staff will help attendees print their name badges and they'll be able to enter the show quickly.
Show hours are Friday, March 2, 9 a.m. to 5 p.m. and Saturday, March 3, 9 a.m. to 4:30 p.m. Attendees who register by Feb. 23 and be eligible for a $1,000 cash prize.
Subscribe to receive top agriculture news
Be informed daily with these free e-newsletters
You May Also Like
---