Gin waste passes "crush test" for packaging material
Gin waste passes "crush test" for packaging material
• Since 1999 Greg Holt, USDA-ARS engineer, has been looking at gin waste — cotton by-product — to determine what value-added uses could be developed to material that in the past had simply been incinerated to get rid of it.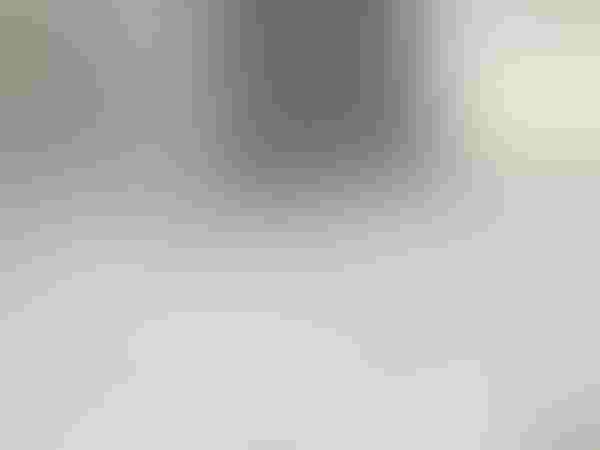 One man's trash is another man's — mulch, livestock feed, fuel source, and now packaging material.
In fact, gin trash has become valuable enough to change its name from gin waste to cotton by-product, says USDA-ARS engineer Greg Holt, at the USDA Gin Lab in Lubbock, Texas.
Since 1999 Holt has been looking at gin waste — cotton by-product — to determine what value-added uses could be developed to material that in the past had simply been incinerated to get rid of it.
He's worked on fuel pellets, particle board and hydro-mulch, among other products. His latest endeavor has been with packaging material, a product that could replace some of the polystyrene currently used to protect fragile goods from harm during shipping and handling. The molded pieces of material that protect the corners and screens of electronic devices, as well as furniture, appliances and other breakables, may be packed in cotton boll hulls.
Advantages are numerous. The material is water insoluble, flame retardant, biodegradable and a renewable resource.
"We can hold a torch to the material and it will turn black but will not burn," Holt said. "It's been flame tested up to 500 degrees centigrade."
Although it's water insoluble, it will break down when it comes in contact with soil. Holt says after a while in the soil spaces in the material open up to allow moisture to penetrate and the material to degrade into organic matter.
It's also lightweight but strong enough to protect fragile objects. "It was the only material that withstood the crush test," Holt said.
He's currently consulting with a company in New York that manufactures packaging materials from gin waste mixes. The company, Ecovative, developed a technology for growing fungus (mushroom) on a biomass. Holt said USDA provides the best biomass blend, "using our experience with gin waste, to assist Ecovative to make the packaging material work for their Fortune 500 Company, Steelcase."
The current formula includes a blend of mostly cotton boll hulls, which is put into molds and inoculated with a fungus that grows into spaces between individual hulls, weaving tendrils and filaments through the blend and holding the pieces together.
"One day after inoculation the fungus begins to grow," Holt said. "It takes five days to complete the process. By day three it's almost completely covered. They pop it out of the mold and put it into an oven to kill the fungus."
Can form any shape desired
He said the process can form any shape desired, depending on the mold. Texture also varies depending on the type of fungi and theparticular blend used.
The main challenge in the growth process is to allow the fungus to bind the hulls together without allowing mold to form. "Mold is the nemesis of fungus," Holt said. The process may be ruined if mold develops.
Holt got started on the project following a presentation on gin waste uses at the Association for the Advancement of Industrial Crops. Someone from Cornel University asked Holt if he was interested in meeting folks in the manufacturing sector.
"Ecovative called," Holt said. "They were looking for a product to use in packaging material. I sent them some cotton hull blends and they liked it. No other biomass passed the crush test."
Holt said partners Eben Bayer and Gavin McIntire, in Green Island, N.Y., developed the company, Ecovative, and the technology of growing fungi on biomass materials for insulation and biodegradable packaging materials.
The potential could be significant, a $2.5 billion to $3 billion a year business. Adding other potential uses, including insulation and core materials, could push annual business to $8 billion.
The R-value of insulation boards made from a gin waste blend "exceeds insulation value of fiberglass of the same thickness but not of foam board," Holt said. "We're working on it." Core material can be used to manufacture things like surfboards and may be used in the transportation industry.
He said Ecovative and a hydro-mulch company, Landmark, located in Brownfield, Texas, which uses gin-by products for the mulch formula, are considering working together on sourcing.
The seminar was crucial in finding a new use for gin waste. "We spend a lot of time (in the cotton industry) talking to each other," he said. "Sometimes we have to get outside our traditional area to find new opportunities."
He said bio-fuel has been a significant end use for value-added farm products but he thinks gin waste offers potential in different arenas.
"The gin by-product is bio-mass and has value. We are trying to find how to utilize it effectively. I think markets are available. We see a lot of unique properties in gin-waste materials, but we need to segregate it to use it successfully."
For instance, Ecovative doesn't need stems, lint or sticks, just hulls. Other users may be less specific about the blend. "We need to identify who needs what," Holt said.
Adding value to hulls and other waste material could change the way cotton farmers manage harvest, he said. "Various materials can be separated for different applications. Farmers may turn off field cleaners so more of the cotton by-products are brought to the gin for segregation instead of being left in the field."
Holt believes some material may be segregated and stored in the field. "If the product is valuable enough, it will be worth taking a little more trouble to separate it," he said.
The amount of gin waste available varies with the crop and the harvest system. With picked cotton, farmers could collect 75 to 125 pounds of waste material per bale at the gin. With a stripper, that could jump to 300 to 700 pounds per bale, depending on whether or not the machine uses a field cleaner. "Field cleaners on the machinery pushes the burrs out, leaving 300 to 450 pounds per bale. Without field cleaners, gin waste could be 700 pounds per bale."
Holt said the shape, size, rigidity and light density of cotton burrs make them unique. Adding other by-products — stems, etc. — can make the blend more dense.
Even without the potential for packaging material, Holt said markets for gin waste have been promising. "The livestock feed market (roughage) has been growing and now we have interest from manufacturing.
"Even minor uses help. A small percentage of gin waste included in a product adds value," he said. "It makes a difference. We have to let people know the value of the product.  We have not approached the potential and a lot of things we haven't even looked at yet."
Most of the operations so far have been mechanical manufacturing processes. "We haven't researched chemical applications," Holt said. "We want to help producers get everything they can out of the crop."
Subscribe to receive top agriculture news
Be informed daily with these free e-newsletters
You May Also Like
---