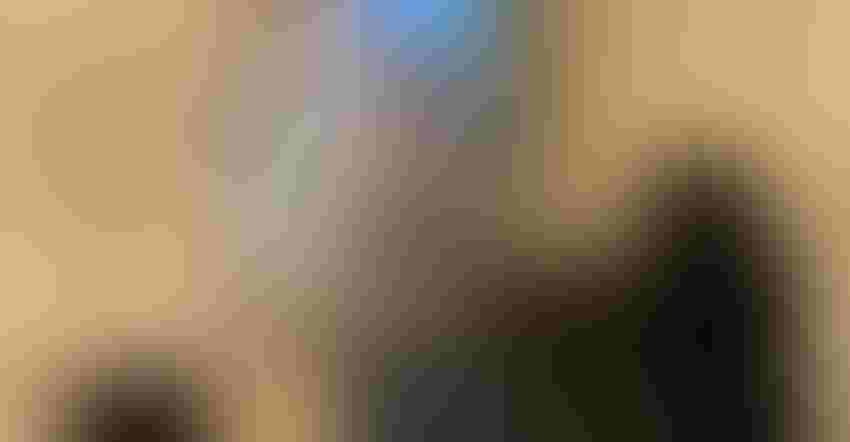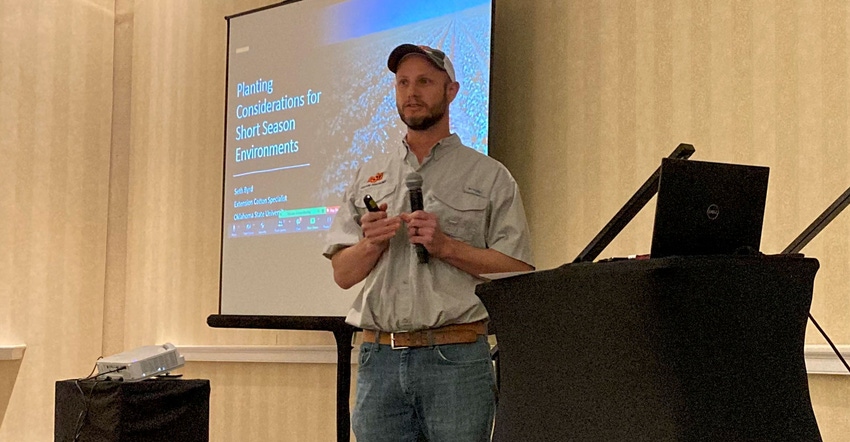 PLAINS COTTON: Oklahoma State Extension cotton specialist Seth Byrd came out to the Great Plains Cotton Conference March 3-4 in Wichita, Kan., to offer advice on raising short-season cotton in Kansas and Oklahoma.
Jennifer M. Latzke
As cotton production expands in Kansas and Oklahoma, farmers have questions. And the Great Plains Cotton Conference was organized to bring them answers.
The third year of the conference was March 3-4 in Wichita, Kan., and brought experts from Extension and the private sector together to share insight into growing and marketing cotton.
Oklahoma State University Extension specialists offered advice for growers before they head to their fields to plant the 2022-23 cotton crop.
Brian Arnall, precision nutrient management specialist for OSU, reminded cotton farmers that in this environment of high costs, they need to be more mindful than ever about applying just the amount of fertilizer they need and no more. He said a good fertilizer strategy looks like a ladder. Start at the bottom rung with soil sampling fields.
1. Soil test and then start to adjust the soil's pH if you need to, and make recommendations for applying nitrogen and then secondary micronutrients. In some fields, by using a soil test to know what's in the ground, a farmer could drop to half a replacement rate and still not lose yield, Arnall said.
2. Cotton farmers might consider an in-season potassium application just before pinhead square and based on root growth. A healthy root system that isn't constrained by that hardpan layer will better use the potassium.
3. Unlike other crops, a little bit of stress at the right time is a good thing for cotton. You can overfertilize and have poor lint quality, Arnall said.
Other considerations
Seth Byrd, OSU cotton specialist, said to ensure a good start for short-season cottons in Kansas and Oklahoma, start with good-quality seed — preferably larger seeds with more oil content that will provide early-season fuel for that seedling growth, he said.
"I look at it this way: Every plant you get up, there's a dollar value on it," Byrd said. "If you have 90% of a stand up, those are cheaper plants. But if you just have 20% of a stand up, those are really expensive plants."
Byrd said farmers need to plant at a shallower depth and plant in moisture. Dusting in cotton when it's hot and dry may cause the seed to germinate, but it won't emerge, he said. Going deeper into the soil and chasing moisture may get germination but will limit emergence as well.
A new pest also cropped up last year in Oklahoma cotton: wireworms.
"You see feeding injury on the hypocotyl and cotyledons," Byrd said. Farmers might want to consider a seed treatment insecticide and rotation with their grain crops because some spikes in wireworm activity were seen in fields that had previously been in grain crops.
Kansas cotton research
Chris Little, Kansas State University professor of plant pathology, reminded growers that quite a few seedling diseases can affect young cotton plants. From fusarium wilt and verticillium wilt to cotton root rot, growers need to be sure they're starting with quality seed that has been treated with fungicide. Plant in warmer soils to minimize seedling damage.
"Seedling pathogens take advantage of poor germination," Little said. Cold, wet, heavy soils promote seedling disease. K-State is working on research projects that will help Kansas growers better understand the disease complex they face and how to fight back, he added.
Dan Devlin, director of the Kansas Center for Agricultural Resources and the Environment, said the Southwest Research-Extension Center at Garden City, Kan., has plans to expand its cotton research to help western Kansas growers and answer their questions. In the past year, he said, cotton at the research farm yielded very well. It had revenues comparable to irrigated corn and used one-third of the water of the fully irrigated corn on the farm.
To support this cotton research, the hope is to hire a new Extension agronomist focusing on cotton to be located at Garden City.
Subscribe to receive top agriculture news
Be informed daily with these free e-newsletters
You May Also Like
---