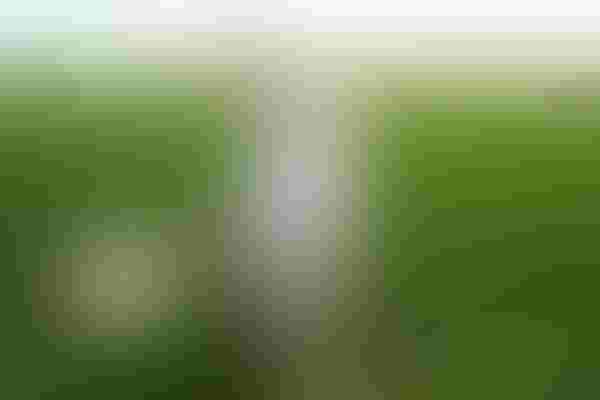 Counting whiteflies, sweep net use, and counting natural enemies are excellent tools to better manage the whitefly populations in Arizona cotton fields.
Counting whiteflies
To count whiteflies, it is important to follow these guidelines:
·  Sample 30 leaves (15 from two areas in the field).
·  Score leaf with three or more adults as infested.
·  Score disk (7/8 inch diameter) as infested if large nymphs are present.
·  Sum infested leaves.
·  Determine the percent of infested leaves and disks.
·  Obtain corresponding average number of adults per leaf and nymphs per disk.
·  Use insect growth regulators when there are at least one nymph per disk and 3–5 adults per leaf.
·  For all other chemistry, spray at five adults per leaf.
Sweep net
The standard sweep net used in Arizona cotton should be 15 inches (38 cm) in diameter with a strong galvanized metal hoop frame and a sturdy wooden two foot (60 cm) dowel handle with a strong, reinforced canvas bag.
Guidelines depend on 100 sweeps total - usually taken as four subsamples of 25 sweeps each.
Counting natural enemies
Invert the net and push the pinched off tip of the net through the opening of the net, slowly releasing your grip to allow insects to crawl or fly out.
Count the natural enemies (Geocoris big-eyed bugs, Orius minute pirate bugs, Collops beetles, and crab spiders).
Plant material can be slowly lifted out, inspected, and discarded. Once all the plant material is sorted, thoroughly inspect the net seam for any remaining natural enemies using a hand lens if necessary.
Compare counts of each of the four natural enemies per 100 sweeps to the tables provided.
The referenced tables are available here, courtesy of the Arizona Pest Management Center.
Subscribe to receive top agriculture news
Be informed daily with these free e-newsletters
You May Also Like
---