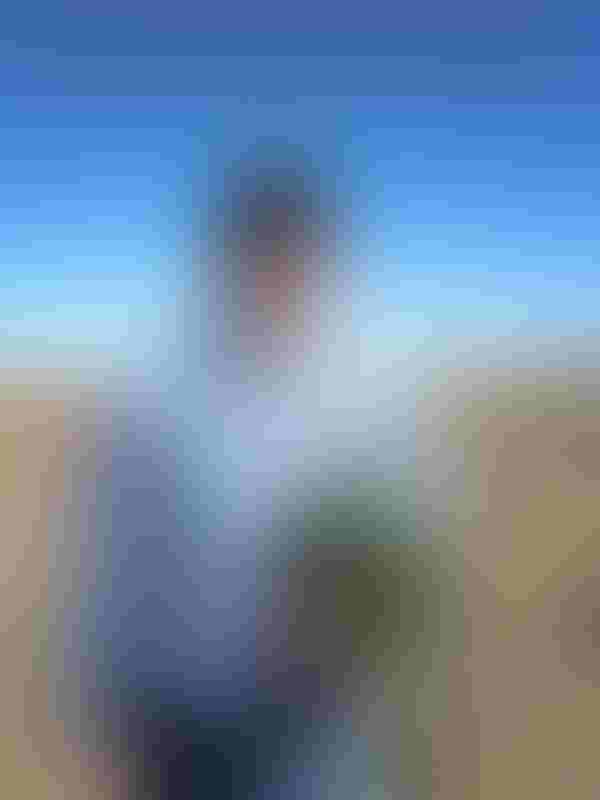 Outside of being deeply involved in production agriculture, Matt Braun and Robert Williams have little in common.
Matt is single and farms with his father, Bill, near Hobart, Okla., in Kiowa County. Robert is married, farms near Gould, Okla., in Harmon County, and is the father of four children ranging from the oldest, a senior at Oklahoma State University, to the youngest, an eighth grader at Gould.
What they do have in common is each owns approximately 1,000 acres of winter canola, a relatively new crop grown in the Southern Plains. Both farmers like what they see in the crop; particularly its ability, due to a large root system, to seek subsurface soil moisture under severe drought conditions.
This is the third canola crop for Matt and the second for Bill. They recently moved to no-till farming, choosing to replace steel plows and leave crop residue in their fields to better manage wind and water erosion and soil nutrients.
"We knew we would have to find a crop to rotate with our winter wheat," Bill said. "Along with its ability to combat perennial weeds in wheat grown on the same land year after year, we like the price the crop brings at harvest."
"Winter canola's crop insurance program has been an incentive for us to start growing the crop during this drought," Matt said.
The Brauns are currently working with a rotation where two-thirds of their acreage is planted to wheat and one third to canola. One of their fields will be planted to wheat for two years and the third year, canola will be planted there.
Being able to use the same equipment to plant and harvest both crops is another reason they chose to invest in the new crop. When harvest time comes, they hire other producers to swath the crop and then harvest it with their own combines.
They planted Pioneer Roundup Ready varieties this time.
This is Williams' second winter canola crop. Like the Brauns, he attended farmer meetings conducted by OSU agricultural extension specialists and Producers Cooperative Oil Mill representatives where the benefits of growing the new crop were explained. Also a no-till farmer, Williams is finding the crop can endure a dry, cold winter and still give him a harvestable yield in the spring. He rotates it with his dryland winter wheat. He says the crop insurance program for canola gives him confidence in a time of long-term drought.
"I planted DeKalb Roundup Ready varieties this year," he said. "We have been fortunate this winter; we received a little rain right after we planted the crop last September. And in mid-February a few more inches of rain fell across this area and gave the crops a drink of water that was really needed."
Williams is a fourth generation farmer in the Gould area. Braun's great grandfather settled in the Hobart area in 1904 and was one of the settlers making the 1889 Oklahoma Territory Land Run.
Williams grows wheat and canola. He has a cow and calf herd and runs stocker cattle when the conditions are right. Bill and Matt farm wheat, canola, sudan, milo and sesame. They own a cow/calf herd. Matt buys pregnant heifers, calves them out and sells them as pairs.
Williams and his wife, Nikki, are the parents of Kelsie, an OSU freshman and state FFA officer and three sons, Mitch, the OSU senior, Dal, a ninth grader, and Austin, an eighth grader.
These families are typical of Southern Plains farmers from San Angelo to Dalhart, Texas, over to Kansas and back down through the entire western portion of Oklahoma who grow winter canola. Weed control is a big advantage with canola.
"Weeds such as winter rye and cheat grass cause farmers to take a real beating when they sell their wheat," said Gene Neuens, PCOM field services representative. "Weed seed found in winter wheat at the grain elevator results in a serious price dockage. Aggressive growing characteristics and good prices for the canola oilseed are other good reasons for growing the crop. The crop insurance program really helps in this drought and it helps farmers starting to grow the crop make up their minds to try it."
For several years canola has been bringing from $3 to $4 per bushel more than winter wheat. With a 41 percent oil content, canola is highly sought for nutritious cooking oil, biofuel production and livestock feed.
Subscribe to receive top agriculture news
Be informed daily with these free e-newsletters
You May Also Like
---