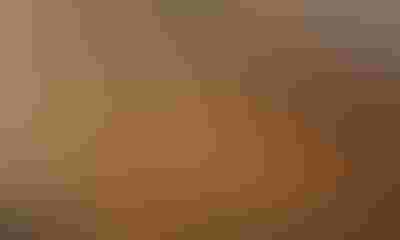 Farmer sales of corn and soybeans were light this past holiday week but a few dealers predicted that sales could increase later in December as farmers may need to raise cash to take advantage of seasonal discounts on next year's chemicals and fertilizers.
Weekly Grain Movement 11/23: Snow blankets Midwest; farmers hold tight to grain
"We are not buying anything today and we were not buying anything before the holiday," said a central Illinois dealer.

Farmer sales of corn and soybeans were light over the holiday, but could pick up steam into December (Thinkstock/RGtimeline)
Rain in Iowa prevented farmers from harvesting the last few acres of corn and a freeze may be needed before that can been finished. The abundant rain the past few weeks has saturated fields in central Iowa with the water now running off into streams and rivers rather than soaking into the ground.
"It has been raining off and on for five days now," said a central Iowa dealer. "The ground is saturated and the rivers have come up."
Farms north of I-80 in Illinois received snow last week, but that should melt soon with milder weather forecast.
USDA on Monday suspended its weekly crop progress reports for the season, but had suspended its corn and soybean harvest readings a few weeks ago. Harvest of both those crops was well past 90% when reporting ended. 
End users are taking delivery of the corn and soybeans they ordered months or weeks ago, but not making new purchases. Most of the interior shipments are by truck to local processors or ethanol plants. The few trains being loaded also are staying local.
River dealers said corn and soybean basis levels have been firm and barges of both are being loaded for shipment to the Gulf. On the upper Mississippi, southbound barge shipments will halt near mid-December when a river lock near Keithsburg is closed for the season for maintenance.
USDA's weekly export inspections on Monday showed soybean shipments at 67.4 million bushels, which beat trade forecasts but down from the week before. China was again the largest recipient. Year-to-date shipments for the crop year were 733.6 million bushels, down 7.3% from a year ago.
Corn export shipments of 11.8 million bushels were down 39% from a week ago and missed trade forecasts.  Japan was the largest market. Year-to-date shipments for the crop year are 264.3 million bushels, which are down 26% from a year ago.
Weekly wheat shipments of 10.1 million bushels were up slightly from a week ago and matched forecasts.  The Philippines was the largest market followed closely by Japan. Year-to-date shipments for the crop year that began June 1 are about 375.3 million bushels, down 16% from a year ago. 
Subscribe to receive top agriculture news
Be informed daily with these free e-newsletters
You May Also Like
---