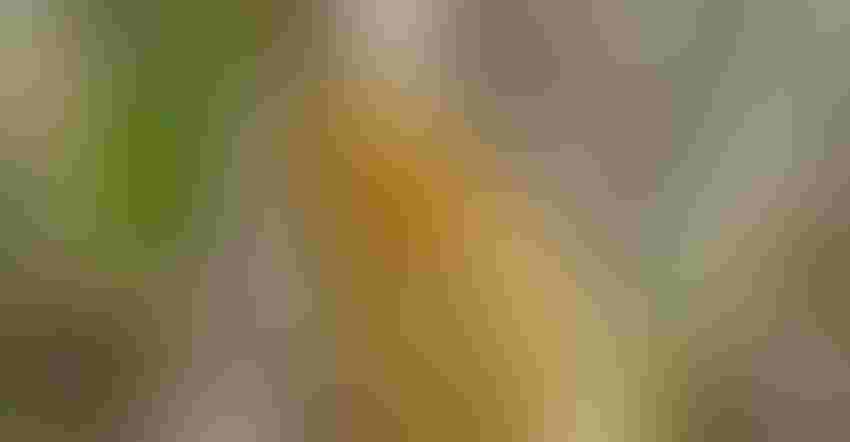 JUST 1 MORE: If you can get just one more kernel per row on every ear, it's worth 6 bushels and over $20 more revenue per acre.
Why do you want corn plants evenly spaced and uniform in size? Because plants that are too close together or that emerge late may make important decisions on ear size that could cost you money.
"One of the first important decisions comes when corn plants are at about the V5 leaf stage," says Joe Rollin, a regional manager for Precision Planting. "That's when a plant decides how many rows of kernels to put around the ear on the cob."
It may happen anytime from V4 to V6, depending upon the hybrid. The V5 growth stage means there are five leaves with full collars exposed.
Genetics play a key role in number of rows of kernels per ear, notes Dave Nanda, a plant breeder by trade and director of genetics for Seed Genetics Direct. Even some high-yielding hybrids only put on 14 rows of kernels, while others put on 16, 18 or even 20. However, Nanda acknowledges that environment can impact number of rows.
If conditions are good and the plant doesn't see extra competition from weeds or another corn plant, it's likely to put on the full number allowed by genetics. If it's stressed, it may cut row number.
Corn math
Rollin does some simple math to help growers at planter clinics realize why uniform plant spacing and emergence, leading to a good growing environment, matters.
He notes that work by Precision Planting indicates each row of kernels per ear is worth about 11 bushels per acre, on average, depending on ear length. Since rows differ in pairs, a two-row change would be 22 bushels per acre.
"If plants are stressed and you get 16 rows instead of 18, that's a 22-bushel-per-acre hit," Rollin says.
At 22 bushels per acre and $3.68-per-bushel corn, that's $80.96 per acre less. Put differently, if you could protect the 18-row potential versus ears dropping to 16 rows, you would gross $80.96 per acre more.
How much is one kernel more per row on each row of each ear of corn across an entire field worth?
"It's about 6 bushels per acre," Rollin says. "If you're after top yield and could get just one more kernel per row on every ear, you could pull in another 6 bushels per acre."
At $3.68 per bushel, that's $22 per acre. On 1,000 acres, it's $22,000. As the old saying goes, that's real money.
Don't believe it? Here's the math, using the corn yield formula from the Purdue University Corn and Soybean Field Guide, with 85 as the division factor representing kernel size. Assume 30,000 ears per acre, at 18 rows per ear, with 37 kernels per ear. The math is: 20 times 18 times 37 equals 19,980 divided by 85 equals 235.1 bushels per acre.
Add just one more kernel per row: 30 times 18 times 38 equals 20,520 divided by 85 equals 241.4. That's 6.4 bushels more. Every kernel counts.
Subscribe to receive top agriculture news
Be informed daily with these free e-newsletters
You May Also Like
---