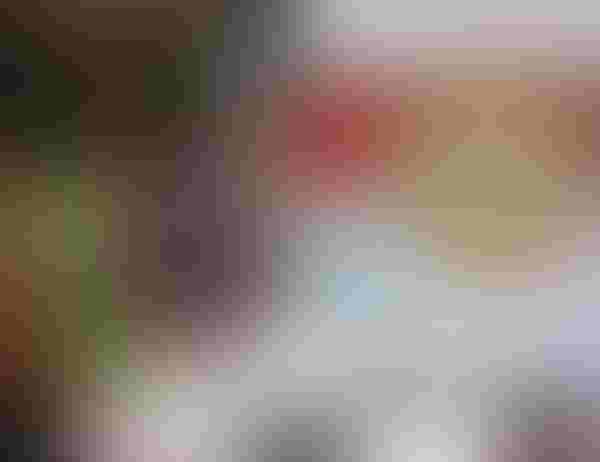 Cotton oils come in flavors
If the recent U.S. Food and Drug Administration's announced ruling that trans fats are unsafe in foods results in bans, vegetable oils may make more inroads into the market.
"Most vegetable oils are free (or have minimal) trans fatty acids unless they are hydrogenated," says Jenna Anding, Texas AgriLife Extension  associate department head and program leader – department of nutrition and food science and associate professor and Extension nutrition specialist inCollege Station. 
"Basically, if you hydrogenate (vegetable oils), you are adding hydrogen to the fatty acids in order to make them more saturated," Anding said.  "If they are saturated, they are more shelf stable (which is good for the manufacturer) but you change the fatty acid content in the process and end up with trans fats (which are not good).
"Thebottom line is that a lot of processed foods and a lot of fried foods have trans fats in them.  Some dairy and meat foods have trans fats (naturally present) but the amount is small.  Many food companies have already done this (removed trans fats) because we now know that trans fats are not good for us."
Several vegetable oils offer good options, including cottonseed oil, canola oil, peanut oil, corn oil and soybean oil.
Cottonseed oil holds promise, says Tom Wedegaertner, director of cottonseed research and marketing for Cotton Incorporated in Cary, N.C.
Wedegaertner says other vegetable oils have tried to emulate cottonseed oil by manipulating linoleic acid levels to be "more like cottonseed oil."
He said cottonseed oils' "ability to last longer got around the problems of partially hydrogenated oils."
If you are enjoying reading this article, please check out Southwest Farm Press Daily and receive the latest news right to your inbox.
Following findings that trans fats may cause health problems, "cottonseed oil enjoyed new interest," he said. "(Companies) turned to cottonseed oil, which has naturally good shelf life and stability in the fryer." Shelf life and stability are reasons for partially hydrogenated oils, he added.
"The best way to get rid of partially hydrogenated oils is to replace them with cottonseed oil. If oils are not very stable and do not have very good shelf life, they will not be used."
He says cottonseed oil has been used for more than 100 years as a "good frying oil."  
A few facts about cottonseed oil:
Cottonseed oilis one of the few oils considered acceptable for reducing saturated fat intake. Cottonseed oil is among the most unsaturated oils. Others include safflower, corn, soybean, canola and sunflower seed oils.

Cottonseed oilhas a 2:1 ratio of polyunsaturated to saturated fatty acids. Its fatty acid profile generally consists of 70 percent unsaturated fatty acids including 18 percent monounsaturated (oleic) and 52 percent polyunsaturated (linoleic) and 26 percent saturated (primarily palmitic and stearic).

Cottonseed oilis rich in tocopherols, natural antioxidants, which have varying degrees of vitamin E activity and contribute to stability, giving products that contain it a long shelf life.

Cottonseed oilis described by scientists as being "naturally hydrogenated" because of the levels of oleic, palmitic, and stearic acids. These make it a stable frying oil without the need for additional processing or the formation of trans fatty acids.
http://www.cottonseed.com/publications/facts.asp
Soybean oils
Soybean oils may get a boost from research at the University of Missouri. Researchers who have been working for years to create healthy alternatives to trans fats say they have found a way to create soybean oil that has no trans fats, according to a recent release from the American Soybean Association.
Currently, manufacturers use hydrogenation, which creates the trans fats to preserve soybean oil for cooking. Oils with high levels of oleic acid, like olive oil, may be preserved for much longer without having to add trans fats, the release said.
Grover Shannon, a professor of plant sciences in the MU College of Agriculture, Food and Natural Resources, along with Kristin Bilyeu, an MU plant sciences adjunct assistant professor and USDA molecular biologist, have found a naturally occurring gene in soybeans that, when combined with another natural gene, increases the amount of oleic acid in the oil from 20 percent to 80 percent.
"By raising the levels of oleic acid in soybean oil, we can effectively create a healthy alternative to foods with trans fats," Shannon said. "We are working with researchers around the country to begin growing these healthier soybeans and get the soybean oil into the market as soon as we can."
Shannon hopes the first crops of these healthier soybeans will be available in 2014, with plans to expand production in the next few years. Currently, he and Bilyeu are working on increasing the crop yields of these healthier soybeans so that farmers are able and willing to grow them.
A few facts about soybean oil

:
Liquid soybean oil is low in saturated fat, contains no trans fat, and is high in poly- and monounsaturated fats.

Soybean oil is the principal source of omega-3 fatty acids in the U.S. diet.

Soybean oil is the primary commercial source of vitamin E.

For baking and frying applications, food manufacturers can choose from a range of enhanced soybean oil traits. The first of these enhanced oils, low linolenic soybean oil, is commercially available and already used in several food products without trans fats.
http://www.soyconnection.com/soybean_oil/index.php
Corn oil
Corn oil is regarded highly for its functionality, exceptional flavor, economy, and health benefits, according to the Corn Refiners Association website.
"It is a concentrated source of energy, is very digestible, provides essential fatty acids and Vitamin E, and is a rich source of polyunsaturated fatty acids, which help regulate blood cholesterol levels and lower elevated blood pressure," the site says.
The site also notes that removing free fatty acids and phospholipids from crude corn oil, "gives corn oil one of the qualities consumers value most: its excellent frying quality and resistance to smoking or discoloration."
A few Facts about Corn oil:
Corn oil is an effective component in lowering blood cholesterol levels.

Numerous human studies show that diets enriched in polyunsaturated fatty acids can significantly lower elevated blood pressure in individuals with high blood pressure.

Corn oil is a rich source of linoleic acid, which is one of two essential acids necessary for growth and good skin and hair.

Corn oil is also recognized as an excellent source of tocopherols, which function as antioxidants and provide a good source of Vitamin E.
http://www.corn.org/products/corn-oil/health-benefits/#sthash.N8jTYeJT.dpuf
Peanut oil
Peanut oil helps consumers keep "total fat intake between 20 to 35 percent of calories, with most fats coming from sources of polyunsaturated and monounsaturated fatty acids, such as fish, nuts, and vegetable oils," like peanut oil, according to the Peanut Institute website.
The site quotes the American Heart Association: "Most of the fats you eat should be the 'better' fats – monounsaturated or polyunsaturated fats." Vegetable oils (canola oil, olive oil, peanut oil, sunflower oil), avocados, nuts and seeds, and seafood are recommended sources of these fats.
The website also addresses peanut allergies. "Research shows that highly refined peanut oil, which has had all of the allergic proteins removed, does not cause an allergic response in severely allergic individuals. A controlled human study published in the British Medical Journal that tested refined peanut oil in 60 severely allergic individuals, found that "refined peanut oil did not pose a risk in any of the subjects" who were allergic to peanuts.
"Peanut butter that does not contain any added fat would be fine," says Ryan Lepicier, vice president, marketing and communications, National Peanut Board
"Many peanut butter manufacturers do not use partially hydrogenated fat in their product," Lepicier said. "However, some products still contain very small amounts of trans fats.  Any company that still uses partially hydrogenated fat in their formulation would have to switch to another fat to eliminate the trans fats," he said.
A few facts about peanut oil from The Peanut Institute:
Peanut oil is one of the healthiest oils.

It is a vegetable oil that is naturally trans fat-free, cholesterol free, and low in saturated fats.

Peanut oil is high in unsaturated fats, especially monounsaturated fat, like olive oil.

It is also a source of the antioxidant, vitamin E and phytosterols, which benefit heart-health.

Peanut oil is also a perfect choice for healthier frying because it can be heated to a higher temperature than other oils, and this results in lower oil pick up in the food.
http://www.peanut-institute.org/peanut-products/peanut-oil.asp
A few facts about canola oil: From WebMD
Canola oil, which is made from the crushed seeds of the canola plant, is among the healthiest of cooking oils.

It has the lowest saturated fat content of any oil commonly consumed in the U.S., at just 7 percent.

Although it's low in saturated fat, canola oil is very high in healthy unsaturated fats. It's an excellent source of the omega-6 fatty acid, linolenic acid, and it is higher in the omega-3 fatty acid alpha-linolenic acid (ALA) than any other oil commonly used. These fats are particularly important in the diet because the human body can't produce them.
Subscribe to receive top agriculture news
Be informed daily with these free e-newsletters
You May Also Like
---