Sesame crop looking to find a home in lower Southeast
Sesame crop looking to find a home in lower Southeast
Alabama growers are discovering that sesame is a low-input fit on their farms.Farmers contracted to grow a record 7,500 acres of sesame in the state in 2013.Variable costs of production for sesame are from $100 to $130 per acre.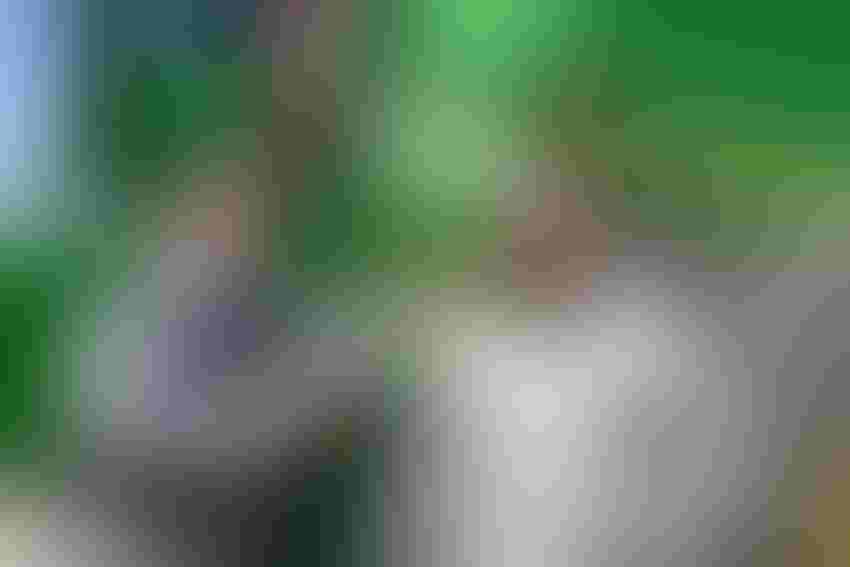 <p><span style="font-family: &quot;Times New Roman&quot;,&quot;serif&quot;; font-size: 12pt; mso-fareast-font-family: Calibri; mso-fareast-theme-font: minor-latin; mso-ansi-language: EN-US; mso-fareast-language: EN-US; mso-bidi-language: AR-SA;">SESAME ACREAGE IN Alabama hit a record 7,500 acres in 2013. Shown are, left to right, Ben Ingram, sesame contract agronomist, and Harris Sistrunk, east Alabama farmer. </span></p>
East Alabama farmer Harris Sistrunk has successfully grown cotton and peanuts in the past, but now he's looking for crops that require lower inputs, and sesame might just fit the bill.
"This will be our second year for growing sesame, and we're hoping to plant about 180 acres," he says. "This past year, we planted nearly 550 acres, and I was pleased with the results."
While there were a few morningglory and other weed issues, Sistrunk averaged about 1,235 pounds of sesame per acre in 2013, and that's counting more than 50 acres that were drowned out by excessive rainfall.
"The weather in 2013 made us a lot of sesame and took out some. It was all under irrigation, but we only watered it to get the crop up. It was a wet year, so we never irrigated it again."
Sistrunk says he intended to grow more sesame this year, but certain chemical restrictions prevent him from planting it in places on his farm for 12 to 18 months.
"This year, they're paying me 50 cents per pound for irrigated sesame, and I'm following wheat. I'd rather plant it full season, but that was the only place I could put it," he says.
In 2013, Sistrunk grew sesame, corn and wheat. This year, in addition to sesame, he'll grow "wall-to-wall" soybeans. It's a change from his traditional crop mix.
"Last year, we went with crops with lower inputs. I haven't grown peanuts or cotton in a while because of the costs. When you have to make an above-average yield to break even, it's just not worth it. I usually make above-average yields, but if you have to do that to break even, it'll catch up with you."
Sistrunk had friends who grew sesame, and they liked it enough to try it again. "It fit really well into our rotation and it made us money. We're just trying to stick with low-input crops that'll make us fairly decent profits," he says.
Boost seen in sesame acres
In Alabama, farmers contracted to grow a record 7,500 acres of sesame in 2013, up from only 1,500 in 2012, according to Ben Ingram, Sistrunk's neighbor and a contract agronomist with Sesaco Corp., a Texas-based sesame seed company.
Sesame primarily has been grown in Texas and Oklahoma, but drought conditions have reduced that production, says Ingram, who is a sixth-generation farmer in east Alabama.
Limited production hasn't been able to supply the U.S. demand, so the Southeast seemed like a natural fit for expanding acreage, he says.
"Our rainfall in the Southeast – averaging 50 inches per year – would be more than the irrigated water amounts in Texas. Last year, of course, we received 100 inches of rainfall in some areas. But when you average 50 inches of rainfall per year, you don't even have to irrigate sesame, so it would fit well, especially in dryland situations."
There are other positives for growers in the Southeast, including the fact that sesame is not a nematode host, says Ingram.
"It's also a very low input-cost crop. The fertilizer requirements are not that great, at between 50 and 60 units of nitrogen and about 30 to 40 units of phosphorus. Those are the only requirements we've seen up to now to have a possible 1,500-pound crop."
Ingram says Alabama growers have the potential to set an average crop of 1,000 to 1,200 pounds per acre, and 1,800 pound yields have been achieved in some dryland situations.
"Like anything else, we've had some good crops and some poor crops. This is a crop with inputs between $100 and $130 per acre on variable costs. Of course, that doesn't include your fixed costs, or if someone has to combine it for you," he says.
Also, producers can plant Sesaco sesame with any planter, he adds. "You can plant it from 7 ½ inches all the way up to 40 inches. You can plant it with an air planter, a plate planter or a grain drill, and you can combine it with a grain platform. If you already have those things, then you're not talking about any special equipment just to do the harvesting and planting like with some of the other commodities."
Another advantage, says Ingram, is that wildlife doesn't necessarily like sesame.
"We've had sesame planted in some very high populations of deer, and they will go around the edge and trim off some leaves, but they won't destroy the crop. We don't always have the option of growing soybeans in our area because the deer will completely destroy it. Deer will take out half or 60 percent of a cotton crop in some of our fields. You can't stop feral hogs from tearing up anything, but they won't seek out sesame as a food source."
Sesaco buys all of the sesame a farmer can grow, so there are no marketing requirements, he says.
Farmers grow sesame on a per-acre contract, says Ingram. "After it's harvested, you take it to a receiving point. In east Alabama, it has been the state docks in Montgomery, but other areas have their own receiving points. Samples are pulled, and it's graded by an independent lab. When those grades are completed, Sesaco compiles a settlement sheet, and that's how you're paid – off of your weights and grades."
The primary shortcoming, he says, is that the herbicide package for sesame currently is lacking.
"That is definitely a weakness, and Sesaco is trying desperately to get labels for chemicals. There are a lot of restrictions because it's a food-grade product. You have to jump through a lot of hoops to get labels, and there are new weeds in the Southeast that they haven't seen in the Southwest. If we can get the herbicide package stronger, it'll be attractive to more producers."
A preemergence material is labeled that will take care of grasses and some of the broadleaf weeds, says Ingram, and growers can use glyphosate as a desiccant to help kill the plant and take care of weeds that may be troublesome at harvest. Select is also labeled as a grass herbicide for sesame.
"Sesame is not the silver bullet of farming, but it is an option we haven't had. It's a good dual crop. For example, you can go in behind wheat when soybeans may not be a fit for you. It's a 120 to 130-day crop, but the crop is physiologically mature at about 90 days."
Sesame fits in well with the traditional Southeastern cotton climate, notes Ingram. "You can plant it as a primary crop when soil temperatures get to 70 degrees or above. You want to make sure it's warm enough and that there's enough moisture to get it up and going."
In south Alabama and north Florida, it's recommended that sesame is planted by at least July 15. In central Alabama, it shouldn't be planted past the first of July to insure there's enough time to harvest.
"It absorbs moisture quickly, but it'll also release it if you've got hot, windy days. Make sure the moisture is low when you harvest because there isn't an adequate way to dry sesame. Heat can't be put to it."
This year, most contracts are at 40 cents per pound, and that's at 45 pounds per bushel, says Ingram.
"You're looking at an $18-per-bushel crop. Hopefully, the market will continue to increase. Sesaco only wants to work in the confectionary market for speciality bread, crackers and Chinese food. But there's potential to grow the market from the healthy foods angle."
Sesaco and its breeders, he says, have developed the only sesame that can be mechanically harvested.
"All other sesame around the world is harvested by hand. This crop will stay in its capsules, with 80 percent seed retention at 90 days after optimal harvest. It gives you leeway as far as getting another crop out of the field. It holds in the pod better than other sesames that have been grown for wildlife."
It's a low-labor intensive crop, says Ingram. "You'll do your burn-down treatment and then your pre-emergence right at planting, and then you'll plant. Some growers – if the weeds are not bad – haven't had to go in with a herbicide program. Fertilizer needs to go out before planting or at sidedress. You can cultivate if you need to, but after sesame is in the flowering stage at day 45 or so, you're pretty much done until harvest."
About the Author(s)
Subscribe to receive top agriculture news
Be informed daily with these free e-newsletters
You May Also Like
---