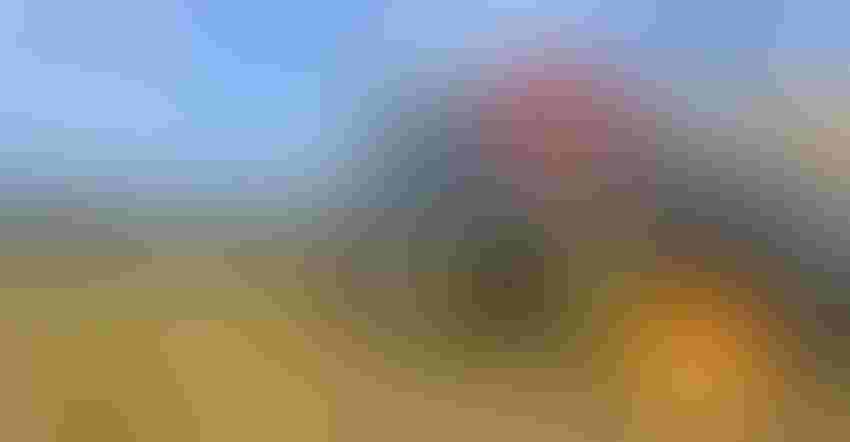 SEED INTO STANDING CROP: Growers experienced with seeding cover crops into a standing crop have discovered that in soybeans, it works best if leaves are beginning to fall so seed reaches the surface and gets sunlight.
Natural Resources Conservation Service
Now is the time to start making plans for your fall cover crops. How you plant them is one of the most important factors to consider. There are numerous methods. Here is a closer look at one: broadcast-seeding with a high-clearance sprayer.
The primary benefit of using a high-clearance seeder is seeding the cover crop into standing corn and soybeans. This allows the cover to be planted much earlier. Getting cover crops planted early is important — especially in northern climates, including the northern half of Indiana, that get colder much earlier in the fall.
Seeding in August or early September increases the number of species and mixes that can be planted. Popular cover crops such as radishes, clovers, oats and annual ryegrass aren't always feasible options if they don't get planted until following harvest, especially if harvest is delayed. Even if harvest is timely, there is only so much sunlight and heat to get annuals like oats and radishes growing.
The earlier legumes are planted, the more nitrogen they can produce the following spring. Radishes planted in August can scavenge more leftover nitrogen that may be lost through winter months.
Even species such as barley and cereal rye provide more advantages when seeded earlier. Overwintering small grains planted earlier offer better protection against soil erosion, grow more tillers and accumulate more biomass in their growth the next spring.
Prepare to seed covers properly
When preparing to seed with a high-clearance rig, there are key items to consider. Soil moisture, seed rates and available sunlight are critical. Because cover crop seeds will be applied to the soil surface, adequate moisture is critical for germination.
Try timing cover crop application with rainfall events. Look at recent weather patterns for your area. Many areas of Indiana get some measurable rain in August, which will benefit a high-clearance cover crop seeding.
Also, it's important to increase seeding rates 15% to 20% over drilled rates to allow for loss that comes from less seed-to-soil contact and seed consumption by wildlife. New seedlings will respond better with some sunlight. Try to seed when corn and soybeans are drying down, allowing more sunlight to hit the soil surface.
You can cover lots of acres fast with this method. Depending on boom length and seeding rate, you can seed hundreds of acres per day. High-clearance seeding is considered a broadcast spread. However, a high-clearance seeder tends to have more even coverage and deals much better with smaller seeds that are more difficult to spread uniformly versus aerial application.
Compared to a drill, a high-clearance seeder can cover acres much faster. If you've never tried the highboy method before, now is a good year to consider it. The last two falls have been problematic for getting acres planted to cover crops after harvest. Consider diversifying your seeding methods to increase your chances of success and of maximizing your cover crop acres. Visit your local Natural Resources Conservation Service office to inquire about seed mixes that are best for high-clearance seeding.
Harrison is a district conservationist with the Natural Resources Conservation Service in Bartholomew County, Ind. He writes on behalf of the Indiana Conservation Partnership.
Subscribe to receive top agriculture news
Be informed daily with these free e-newsletters
You May Also Like
---