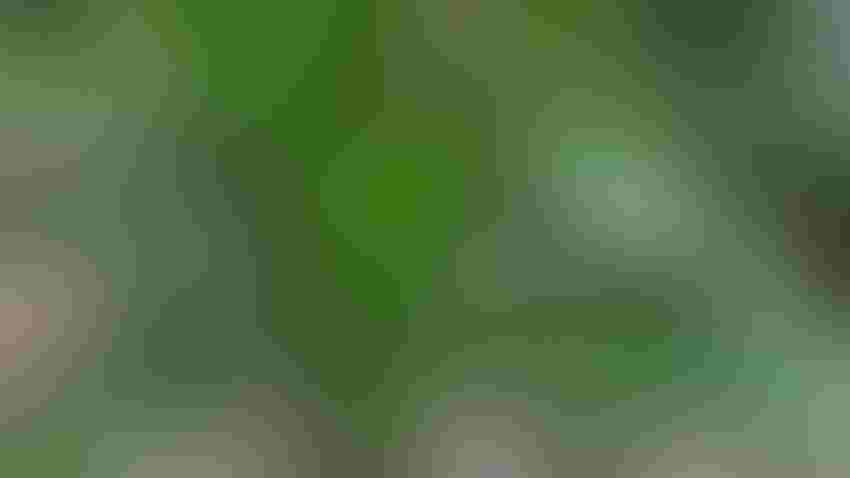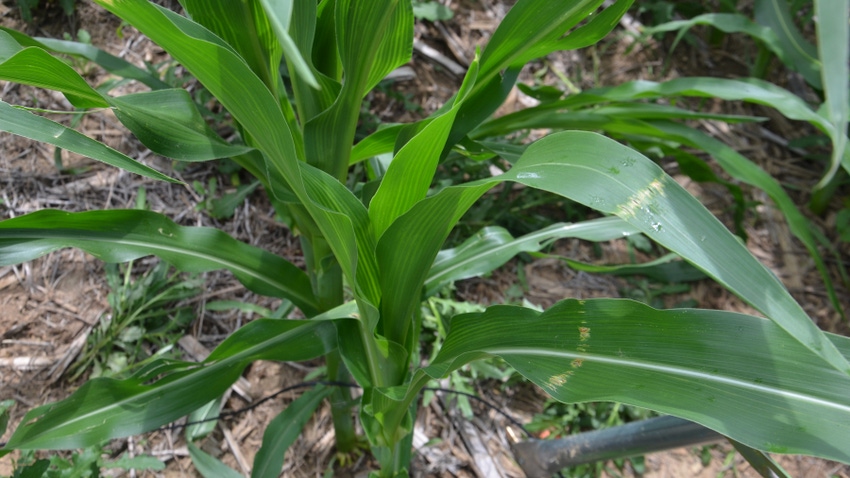 RECOGNIZE THIS PATTERN? Shot-hole feeding in leaves of young corn plants usually indicates presence of European corn borer. There can be other explanations, but start your sleuthing work there.
Tom J. Bechman
If you scout cornfields every year, you may have Page 62 of the 2023 Purdue Corn & Soybean Field Guide committed to memory. It's the corn scouting calendar. For insects alone, there are over 20 potential pests shown on the calendar, which indicates the typical dates when you should start looking for each individual pest, and the expected end date for that season for each insect.
Dave Nanda doesn't expect you to find all 20-plus insects bugging your cornfields in any one year. But don't be surprised if you find half a dozen. Occasionally, one or more may reach levels justifying treatment.
"You want to know what is out there," Nanda says. "The goal is to find them, identify them and then determine if they're capable of causing enough damage to justify treating them." Nanda is a retired plant breeder and director of genetics for Seed Genetics Direct, sponsor of Corn Watch '23.
Corn insects
Here are three insects to watch for in your fields. Refer to the Purdue Corn & Soybean Field Guide for more information about identification and treatment thresholds.
Corn borer. The first generation of corn borer forms the shot-hole pattern you see on corn leaves, Nanda says. A single larva eats through the whorl of a young plant before leaves unroll, so when leaves unfurl and separate, it looks like there were four insects eating through a leaf. You are most likely to find this type of damage today on non-GMO corn, because most GMO corn carries a trait to protect it.
Scout 20 plants in five areas of the field and determine number of plants with fresh whorl feeding. For a full description of thresholds, see the Purdue field crops entomology website.
Corn rootworm. If lightning bugs light up the sky, odds are corn rootworm larvae are hatching. Tom Turpin, a retired Purdue entomologist, says that timing is usually in sync. There are no in-season or rescue treatments, and sampling is recommended only for high-risk fields because it is labor-intensive.
You are looking for white larvae with a brown head and dark plate on the posterior end. It usually takes washing roots in a bucket or examining roots over black cloth to see the tiny insects. Damage on roots from feeding scars may be easier to spot.
If you do sample because you suspect damage, dig up a 7-inch cube of soil with each plant, and sort soil or wash roots in a bucket in an attempt to find larvae.
Armyworm. This insect made a gallant march across various crop and forage fields just a couple of years ago. According to the Purdue Corn & Soybean Field Guide, it can attack anytime from when corn emerges up to about the V12 stage, which is waist-high or above. If fields aren't stripped, they may be soon, so you need to act quickly.
Leaves still on plants will have ragged edges due to the insect's feeding pattern. If greater than 50% of plants show fresh feeding and larvae are less than 1.25 inches long, consider treating. Large larvae are difficult to treat effectively. See the Purdue field crops entomology website for treatment options.
Subscribe to receive top agriculture news
Be informed daily with these free e-newsletters
You May Also Like
---