Reduced irrigation can improve economics, yields on corn
Reduced irrigation can improve economics, yields on corn
Profitable irrigation study shows more is not necessarily better when it comes to water.Producers involved saw anywhere from 1 inch to 3 inches of savings on their corn crop with no reduction of yield and even an improvement of yield in three cases.Adoption of the EPIC pattern should be considered by other Texas corn production regions to demonstrate an additional method of economic, water conservation.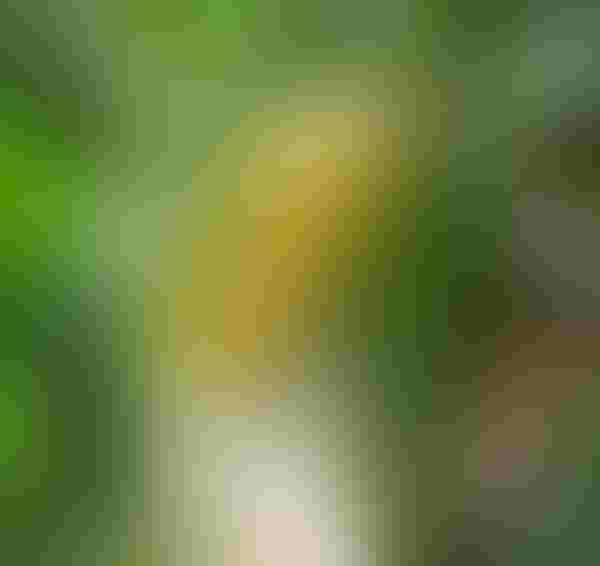 <p> THIS EAR of corn was grown with 3 inches less water than the control plot within an EPIC result demonstration and still provided excellent yields, according to Nich Kenny, Texas AgriLife Extension Service irrigation specialist in Amarillo. (Texas AgriLife Extension Service photo by Nich Kenny)</p>
Reducing irrigation can actually improve economics when growing corn. Not only does it save water, but it also can improve production in some cases, according to Nich Kenny, a Texas AgriLife Extension Service irrigation specialist in Amarillo.
 Last summer Kenny, along with AgriLife Extension agents in five counties, cooperated on the "Efficient Profitable Irrigation in Corn" or EPIC project, as it is known to producers. The project is a result demonstration effort conducted by AgriLife Extension and funded primarily by the North Plains Groundwater Conservation District.
"We know there are about 900,000 acres of corn grown in the High Plains," Kenny said. "We also know that at least half of those acres are managed by producers who are shooting for the highest yield. If we can reduce irrigation annually by 1 inch on the half of the acres aimed at high yields, it would equate to saving 37,500 acre feet of water or 12 billion gallons of water annually." 
And if this past summer's demonstrations are any indication, that is a possibility, Kenny said, adding that the producers involved saw anywhere from 1 inch to 3 inches of savings on their corn crop with no reduction of yield and even an improvement of yield in three cases.
The premise behind EPIC is to manage irrigation water for maximized water efficiency, he said. The project is targeting corn producers who historically employ efficient irrigation systems and solid agricultural practices in a production strategy focused on maximized yields.
"There's a tapering-off point in the relationship of production and water applied," Kenny said. "Yield will increase with each increment of water only up to a point, and then the law of diminishing returns applies.
"Our question was 'If you manage for maximum profitability instead of yield, will you be able to save water,' and initially the answer we believe is yes," he said.
This past summer, Kenny and the agents conducted demonstrations with producers in Dallam, Hartley, Hutchinson, Ochiltree and Sherman counties. The Dallam County demonstration was under such extreme drought it could not be completed.
In all the locations, situations were selected where side-by-side plots were used, one as a "control" and the other as the "EPIC" plot. On the EPIC plots, three technologies—AquaSpy, AquaPlanner and Pivotrac—were used to manage irrigation application without producer knowledge or access to maintain the purity of the control.
The control plot was titled the "legacy" plot and was managed according to the specific producer's standard practice. The EPIC plot was managed with AgriLife Extension inputs based on best management practices and information from management tools, Kenny said.
Steady or improved yields
In all five cooperator plots, corn yields were maintained or increased with a corresponding reduction in irrigation water applied, he said. 
The Hartley County producer realized a 3.2 inch reduction in water applied with no change in yield; the Hutchinson County producer, 2.6 inch reduction and10 bushel-per-acre yield improvement; Ochiltree County producer, 1.2 inch water savings and 20-bushel improvement per acre; and the Sherman County producer, 3 inch reduction and a 30 bushel-per-acre yield improvement. 
The Hutchinson County plots utilized subsurface drip irrigation. Kristy Synatschk, AgriLife Extension agriculture and natural resources agent for Hutchinson County, said her cooperating producer could see a noticeable difference between the EPIC and legacy plots. 
"Drip irrigation proved beneficial in the extreme weather of 2011 because of the ability it provides to water daily and keep all of the irrigation water accessible to the roots," Synatschk said. "Both the EPIC and legacy plots looked the same to the visible eye, but the yield results confirmed the original concept."
Scott Strawn, AgriLife Extension agriculture and natural resources agent for Ochiltree County, said his cooperating producer, through the EPIC program, was better informed and able to make management decisions that saved on his bottom line. 
"By utilizing the technology, the producer was given the confidence to go ahead and make the decision to cut late-season irrigation," Strawn said. "He was able to save one last watering with the knowledge that his yield would not be negatively impacted." 
Kenny said while this was not a scientific, replicated study, but more for the purpose of demonstrating a scientifically sound approach to managing water, it had "very compelling results." 
"From the preliminary results this first year of the EPIC project, the implication is that corn yields can be maintained or increased with a reduction in applied irrigation water," he said. 
Kenny intends to prove this concept further and verify the 2011 results by continuing the EPIC project for at least three additional seasons. 
In the next step producers who have participated in one season of blind technology utilization will be advanced to full exposure of the management tools with appropriate training. New cooperators will still be expected to participate in one season of blind participation to ensure a control. 
Kenny said the blind participation is required, since it is human nature, as multiple cooperators admitted, to want to alter management of the "legacy" plot to match the EPIC strategy. 
In the future, Kenny hopes to include at least one producer from each of the eight North Plains Groundwater Conservation District counties. However, he said, adoption of the EPIC pattern should be considered by other Texas corn production regions to demonstrate an additional method of economic, water conservation.
Subscribe to receive top agriculture news
Be informed daily with these free e-newsletters
You May Also Like
---