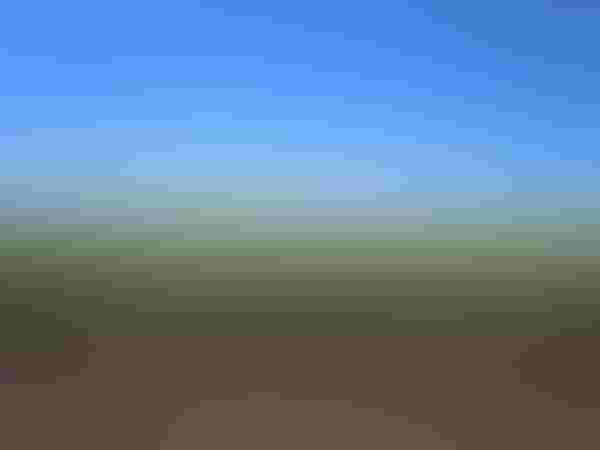 Oklahoma farmers nearly doubled their planted acreage of winter canola this fall compared to the 2011 crop, according to Gene Neuens, field services manager for the Producers Cooperative Oil Mill in Oklahoma City.
"We believe more than 250,000 acres of winter canola have been planted in Oklahoma in the last few weeks," Neuens said. "We believe 25,000 acres were planted in Texas and 35,000 acres in Kansas in the same period."
More than 170,000 acres of winter canola were harvested from the 2011/2012 crop in all three states, he said. Rising interest in the crop's agronomic and cash benefits are mainly responsible for farmers' growing interest in planting this year.
"The two main go-to people who have been helping farmers start planting winter canola are Josh Bushong, Oklahoma State University Extension canola specialist, and Heath Sanders, our agronomist here at PCOM.
"They have driven hundreds of miles across the Southern Plains to help farmers who have only planted the crop once or twice or just started this year."
There are several reasons why winter canola's planted acreage in the Southern Plains has increased so rapidly, Neuens said.
"The first reason has to do with the crop's original purpose for being developed," he said. "In the 1990s, OSU agronomist Dr. Tom Peeper, who was a weed scientist looking for ways to combat perennial weeds growing in continuously planted winter wheat in the Southern Plains, decided to take a closer look at canola, an oil seed crop then grown as a spring crop in the northern U.S. and Canada."
Interest in the crop grew as plant breeders developed varieties that could be grown in the winter months like winter wheat. Growing trials demonstrated winter canola, which is a completely different crop than winter wheat, interrupted the growth cycles of such weeds as ryegrass and wild oats. Increasing presence of these weeds in wheat fields has become a major problem for wheat farmers. When selling their harvested wheat seed, having weed seed in the wheat causes serious dockages in prices paid to farmers at the grain terminals when they market their crop, Neuens said.
"Wheat farmers are doing their best to clean up their fields and get rid of the weed problem. Using herbicide applications is helpful, but the cost of the chemicals and application is high. Anything that helps farmers to successfully grow a crop and not cost a lot really gets their attention. Growing winter canola in rotation with wheat has proven to be a winning arrangement for them."
Secondly, and just as important, winter canola brings more per bushel than wheat when sold at the elevator, Neuens said.
"Winter canola is selling for $12 per bushel or 24 cents per pound. Winter wheat is averaging around $8 per bushel. So the price paid for canola is about 50 percent more per bushel than wheat is bringing," he said.
Another reason for the increased acreage planted to winter canola this year has to do with new growers, Neuens said.
Good prices
"Good prices paid at the grain terminal, the ability to add another cash crop to their production schedule and a really good crop insurance program have all convinced more farmers to try the crop," he said. "This is the reason I said Josh and Heath have been burning up the roads this year. While winter canola, and this is another reason for its popularity, can be planted and harvested with the same equipment as wheat, that is, the same grain drills for planting and combines for harvesting, we have found winter canola demands closer management than winter wheat."
Neuens explained establishing seed beds before planting and becoming adept at harvesting the crop, depending on the weather, requires farmers to refine their farming methods. "Growing the crop isn't difficult," he said. "But it is a different crop than wheat and we are still tweaking seedbed preparation and how to best harvest the crop."
Farmers have learned winter canola can be swathed and then harvested with a combine or directly harvested with the same harvester.
While many farmers grew a quarter section of the crop last year to get started, many this fall, Neuens has learned, increased acreage to two or more quarter sections. To begin with, Neuens said, OSU and Kansas State University Extension agronomists led farmers to plant winter canola in a rotation of one year to plant canola and then three years of wheat on the same fields.
"Today, a lot of the larger farmers have started planting canola in a 50-50 rotation with wheat," he said. "That is, planting canola every other year on the same field. Good prices and better weed eradication have allowed them to do this, along with the crop insurance approved by the USDA Risk Management Agency."
Popularity in growing the new crop has had led to other changes as well. Neuens points out farmers who have started growing the crop have been buying more equipment, such as drills, spray rigs, swathers and harvesters. Country grain elevators that normally handle winter wheat for sale and storage along with one other crop like corn, grain sorghum or soybeans, are dealing with the increasing popularity of winter canola.
"More country elevators have decided to receive canola as well as the more familiar crops," he said. "It is a growing experience for all of us."
More information about planting winter canola, growing the crop, crop insurance and growing contracts for farmers can be obtained by contacting Neuens at 405-232-7555. His email address is [email protected].
Subscribe to receive top agriculture news
Be informed daily with these free e-newsletters
You May Also Like
---