No-till saves nitrogen costs
No-till saves nitrogen costs
Think DifferentLong-term no-tillers know that their soil uses nitrogen more efficiently over time. That's now been scientifically documented by Dave Franzen, North Dakota Extension fertility specialist.When nitrogen is 50¢ per lb. and corn is $3, the efficiency bonus of no-till is 36-100 fewer lbs. of nitrogen per acre needed to be cost-efficient than the same soil conventionally farmed."This nitrogen efficiency happens because soil microbes' predator-prey cycle concentrates nitrogen into a plant-available form as they eat," says Jill Clapperton, root-zone expert and Rhizoterra principal scientist, Spokane, Wash. "For the first five years of no-till, the microbes build the biomass infrastructure of soil structure. Once the predator-prey cycle reaches full efficiency, it recycles nitrogen more efficiently, and you require less commercial nitrogen."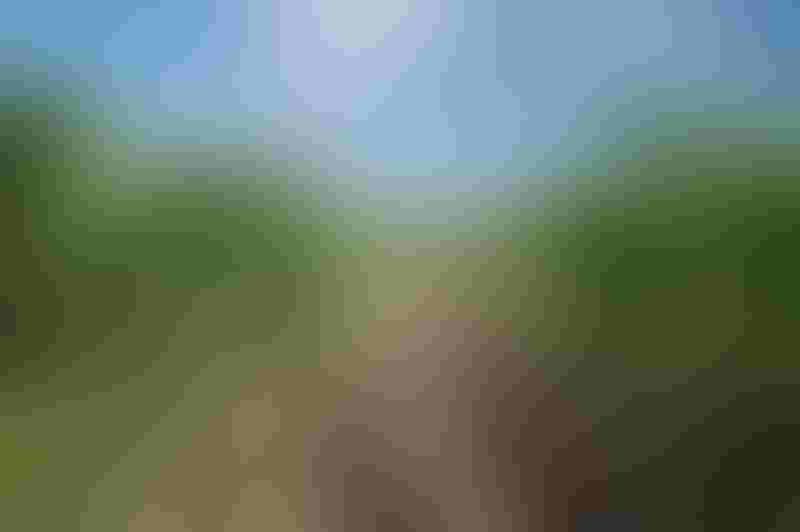 Soil tilth saves you money. After six years of continuous no-till, a field can produce more yield per unit of nitrogen than a conventionally tilled field. Think of it as better fuel mileage, smarter nitrogen use and better nutrient recycling. High-tilth, no-tilled soil reaches Maximum Return to Nitrogen (MRTN) 36-100 pounds/acre nitrogen sooner than conventionally tilled soil, according to North Dakota Extension Soil Science Specialist Dave Franzen. That's soil that's been continuously no-tilled for six years.
Your underground, invisible soil microbes eat one another and, over time, condense soil nitrogen into plant-available form. No-till soils have a better soil structure, allowing predator–prey interactions to rapidly release nitrogen taken up by soil microbes. The soil structure reaches peak performance in about six years, explains Jill Clapperton, root-zone scientist and principal of Rhizoterra, Spokane, Wash. "This is what nitrogen-use efficiency is all about: the predator-prey interaction at work."
 "This happens because no-till soil uses nitrogen more efficiently, thanks to the diverse soil organisms," says Franzen, who documented this soil efficiency boost. He changed North Dakota's MRTN recommendations accordingly. "After about six years . . . you double the amount of microbes there, and they are more diverse," he says.
"When you apply nitrogen, it's used by microorganisms; they slime and they poop, so it's in a more organic (carbon-intensive) form for a longer time, acting like a slow-release nitrogen. Only in those situations do you get this enhanced biology and nitrogen efficiency."
Your soil microbes "are truly a recycling system," Clapperton says. "These protozoa, collembola, mites, insects and nematodes hum along efficiently." This is why the research cites six years of continuous no-till, she notes. "The cycle concentrates microbe wastes, and crop residue components into soil organic matter. That becomes your bank, saving extra fuel (carbon) in the organic matter. You can live off the interest of surplus carbon recycled by these microbes."
Tillage reduces nitrogen efficiency
"Your underground microscopic livestock live on carbon," she says. "But not just any carbon: The coarser fraction of carbon—the active carbon—has soil pore spaces, or soil highways for water, nutrients and air. No-till protects this heavy fraction of soil organic carbon from being used by microbes. That means more carbon and nitrogen recycling by tiny predators, leading to greater nitrogen efficiency.
"To reach this level of nitrogen-use efficiency, you need the buildup of particulate organic matter, which is more associated with aggregates and is protected from microbial activity," she adds.
"Microbial biomass carbon is also the most responsive indicator of nitrogen-management efficiency. Otherwise, microbes use the most available carbon form and then immobilize nitrogen. Tillage exposes the aggregate-protected carbon to microbial attack, and this would use up, or immobilize, nitrogen.
How to get there
As Franzen explains, soil microbes convert commercial fertilizer nitrogen into nature's slow-release fertilizers (or intermediately mineralizeable organic compounds, as scientists call them). "No-till soil aggregates become more stable, and you have higher nitrogen-use efficiency," he says.
Cultivating a diverse soil organism community requires more than just zero tillage. "You need a varied crop rotation, perhaps with five or six crops," Franzen adds. Cover crops help diversify soil microorganisms' diet for a more diverse microbe population.
"Everyone's trying to get a glimpse of soil's productive capacity, and we all know that what we do affects our capacity to recycle, along with the weather and the temperature," Clapperton says. "The Haney Test, for example, is one indicator of a soil's capacity to recycle crop residue into nutrients, and of its microbial activity.
"Soil organic matter holds onto nitrates, ammonium sulfate, calcium and other nutrients. This organic matter 'sponge' is a porous lattice snagging minerals and nutrients before they can be leached from the soil," she says.
"Everything we do has a consequence, and sometimes a consequence is delayed," Clapperton says. "For example, dry weather delays soil-residue recycling, and wet weather accelerates it. So it could take six years for your soil microbes to break down enough residue and store the carbon as soil organic matter in your soil.
"This is the same mechanism that changes or improves your soil texture," Clapperton adds. This been documented by Ohio State University on Dave Brandt's farm in Carroll, Ohio. "Cover crops, intercropping and a diverse crop or cover crop rotation can accelerate this process.
 "But this is a system, and a system doesn't like to be disturbed."
A new way to look at nitrogen needs
According to North Dakota's latest soil fertility recommendations, long-term, no-tilled corn needs about 36-100 fewer lbs. nitrogen per acre to reach maximum return to nitrogen (MRTN) than conventionally tilled soil. The MRTN is the economic threshold where adding more N no longer pays for itself in increased yield. (See  (http://bit.ly/FranzenNDSU)
It's more efficient at using nitrogen. This is based on data from 77 North Dakota nitrogen-rate trials from 2010 to 2013, plus additional data from northwestern Minnesota, southern Manitoba and northern South Dakota counties dating back to the 1970s.
The state's nitrogen calculator now assigns continuously no-tilled soil (for six years or longer) to a different category than tilled soil.

About the Author(s) Before joining Corn and Soybean Digest, Susan was an agricultural magazine editor for Miller Publishing, a newspaper reporter for Gannett newspapers and Manager, Marketing Publications for Cenex/Land O'Lakes Ag Services. She graduated from Colorado State University with a Bachelor of Science degree in Agricultural Journalism.
Subscribe to receive top agriculture news
Be informed daily with these free e-newsletters
You May Also Like
---