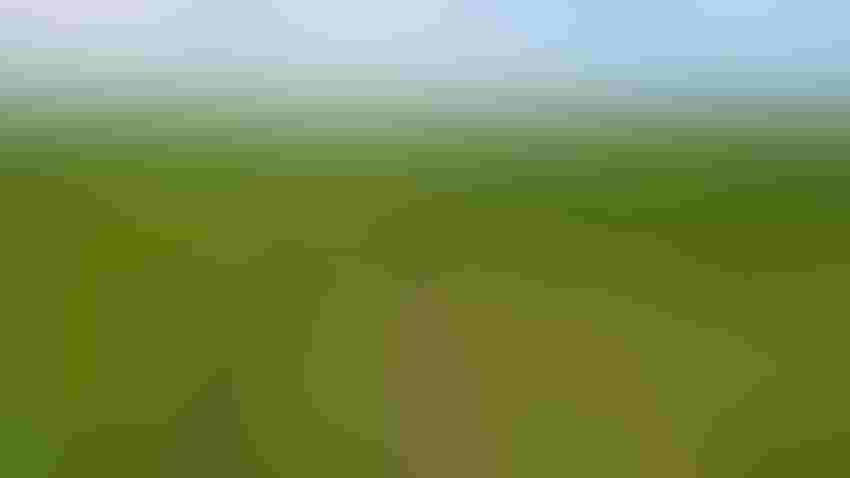 SEND NITROGEN SOON: All nitrogen was applied preplant in this field and soils stayed saturated too long. Large amounts of N were lost through denitrification. Rescue applications should help.
Tom J. Bechman
What frustrates farmers in Indiana more than anything else? If you listen at coffee shops, farmer meetings and wherever farmers mingle, you will hear them complain about wet fields that don't have enough drainage tile. It's one of the most common concerns for crop production in Indiana, especially in the spring and early summer.
While the talk may focus on busted tile lines, replacing old clay tiles and the like, some talk may link concerns about nitrogen loss on wet soils. Unless all your fields are pattern-tiled, the potential for nitrogen loss often ranks high on the list of concerns each spring.
Jim Camberato, Purdue Extension soil fertility specialist, fields questions about nitrogen loss each spring, and especially during wet springs. Here are his answers to questions about nitrogen and wet soils.
Is N loss more likely on soils that are not tiled well? Nitrogen loss is more likely on fields that need tiling because the soil will be saturated more frequently and for longer periods of time than if it were tiled. Saturated soils result in nitrate being lost as N gases to the air. It's a natural reaction process in the nitrogen cycle, and it moves at a faster pace in warm, wet soils.
Is fall application of N as ammonia more of a risk on these soils? Yes, especially if the temperature stays warmer longer in the fall, and you apply before temperatures drop below 50 degrees F. Whenever you apply N a long way before the crop will use it, you increase risk of N loss. If soils are more likely to be saturated for longer periods, the risk increases.
I have a silt loam soil with a few tile lines — no pattern tile. Most of my fields are mostly somewhat poorly and poorly drained. I put all N on preplant. If it is a wet May and June and I see N loss symptoms in corn, can I rescue it? With what product for N? With what equipment? Corn that is N deficient but otherwise healthy can be rescued with N applied until about silking or shortly thereafter. The earlier the supplemental N is applied, the better. The success of the rescue treatment is dependent on rainfall conditions after application, as well as healthy leaf and root tissue.
Rescue N can be applied as liquid N dribbled or coultered-in, or as broadcast urea. Usually rescue N necessitates a high-clearance applicator. The crop canopy will reduce ammonia loss from these sources. Further loss of nitrate from leaching or denitrification is not likely with a fully rooted crop that is growing rapidly and using plenty of water.
For a rescue application, what rate should be applied? Rate of N needed is dependent on severity of the N deficiency and the potential for good growing conditions after application. Both are hard to estimate. Typical application rates are 50 to 100 pounds of N per acre for rescue N. Higher rates can be effective, especially if the crop had not been fertilized with N at all.
Subscribe to receive top agriculture news
Be informed daily with these free e-newsletters
You May Also Like
---