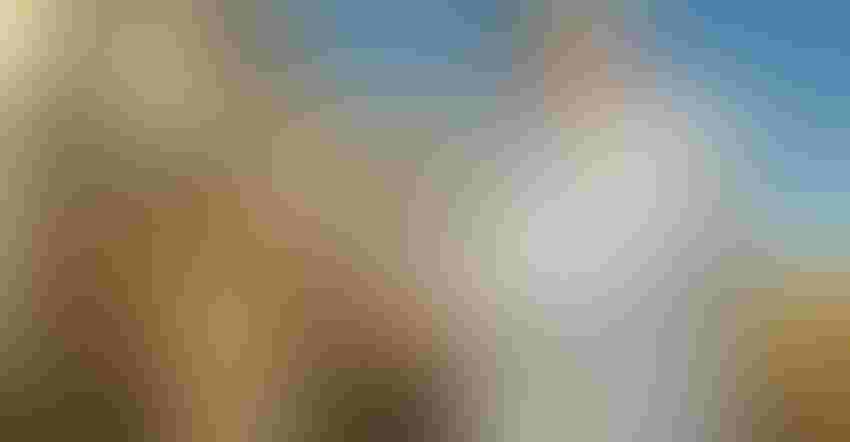 SCOUTING CORN: Andy Buttles of Lancaster, Wis., scouts his cornfields for tar spot. He's looking for hybrids that stood up well to the new corn disease to plant next year.
David Timmerman
Andy Buttles farms 1,800 tillable acres and milks 1,200 Holsteins near Lancaster, Wis., with his wife, Lyn; their two young daughters, Christina and Kayla; and his parents, Elam and Barbara Buttles.
The Buttles family grows 900 acres of corn, 700 acres of alfalfa and 200 acres of soybeans on their Grant County dairy farm.
Grant County is in southwestern Wisconsin, where more and more corn is being infected with a new disease called tar spot. Tar spot first came to Wisconsin in 2016.
"Tar spot was worse south and east of us, near Platteville," Andy Buttles says. "We are in the moderate-affected area."
Buttles plants brown midrib corn for silage and conventional hybrids for field corn.
"We sprayed some of our silage corn with Headline Amp fungicide just after it tasseled," he says. "Typically, we do a little more, but the crop looked really healthy, so we sprayed less just to save money. In hindsight, I wish we had sprayed more."
Buttles says he had some tar spot in every cornfield.
"Where we sprayed the fungicide, tar spot was still there, but it wasn't as prevalent. I don't think the yield was affected in the fields where we sprayed the fungicide," he says. "But the plants died so fast, and it was when it was really wet in early September, so our corn silage got a lot drier than what we typically like to make it."
Related:New disease impacts Wisconsin corn

BIG DIFFERENCE: Grant County, Wis., farmer Andy Buttles left a test strip in his cornfield (right) where he did not apply any fungicide. The rest of the cornfield was sprayed with Headline Amp in July just after tasseling. The entire field was infected with tar spot. As this aerial photo taken in September shows, the unsprayed strip next to the road dried down much earlier than the rest of the field.
The Buttles family was combining their corn in mid-October.
"Tar spot makes the stalk quality bad," Buttles explains. "The standability is not good. It varies from hybrid to hybrid. Gray leaf spot got the plant sick, and the tar spot came in and hit it hard. Our BMR corn was affected more severely than the other corn. The BMR corn looked really rough."
Buttles isn't sure how much yield they lost. Tar spot has "definitely gotten my attention," he says.
He doesn't know how tar spot affected his corn silage quality.
"We won't start feeding that until mid-November, so we don't know how that will affect fermentation," he says.
Buttles says he plans to take a good look at his hybrid selection for next year and use only hybrids that demonstrated good standability this year, "and we'll probably spray all of our silage corn for sure next July."
About the Author(s)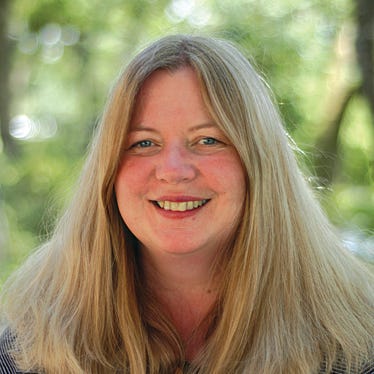 Wisconsin Agriculturist Editor
Even though Fran was born and raised on a farm in Illinois, she has spent most of her life in Wisconsin. She moved to the state when she was 18 years old and later graduated from the University of Wisconsin-Whitewater with a bachelor's degree in journalism.
Fran has 25 years of experience writing, editing and taking pictures. Before becoming editor of the Wisconsin Agriculturist in 2003, she worked at Johnson Hill Press in Fort Atkinson as a writer and editor of farm business publications and at the Janesville Gazette in Janesville as farm editor and feature writer. Later, she signed on as a public relations associate at Bader Rutter in Brookfield, and served as managing editor and farm editor at The Reporter, a daily newspaper in Fond du Lac.
Subscribe to receive top agriculture news
Be informed daily with these free e-newsletters
You May Also Like
---