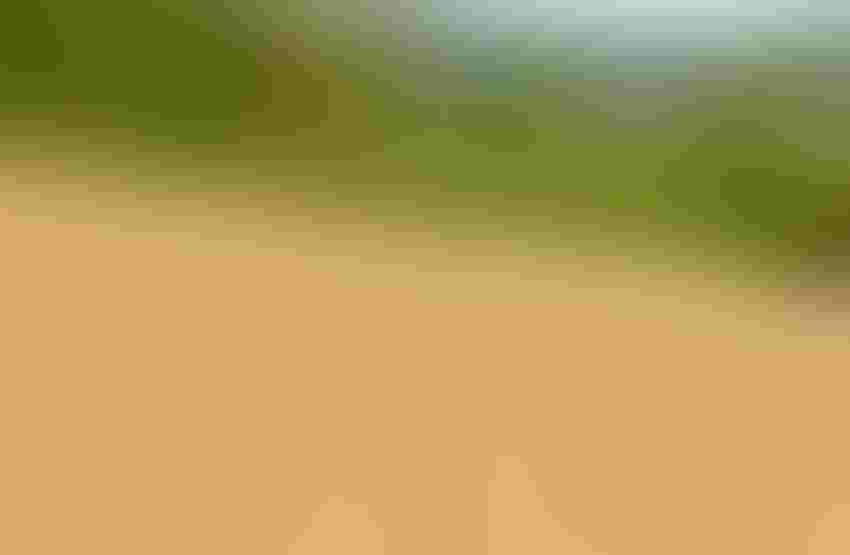 As they've been brought in from the fields, 2017 yields in the Delta have largely been satisfying. It wouldn't be a typical harvest season without some worry, though. In October, a source of concerns was low Mississippi River levels hampering river traffic.
Vicksburg District
The Army Corps of Engineers Vicksburg District "is the middle section of the lower Mississippi – from around Tunica south to the Old River Control Structure," says Greg Raimondo, with the Corps' Vicksburg District. "Below that is the New Orleans District."
As of Oct. 18, "all our ports are what we call 'green.' The port with the lowest water level right now is Madison Parish with a draft of about 13.6 feet. All the drafts are going up because the river's on the rise."
It wasn't so easy earlier in October.
"We had a bit of trouble about two weeks ago," says Raimondo. "It was looking pretty rough in this stretch. There was some light-loading of barges that was necessary.
"It's important to understand the water levels were just too low in the ports, not the river itself. Normally, we'd have had all dredging already finished by the time the low water occurred here. However, because of how the federal budget fell out so late this year it meant we had to go through the contracting process to get the dredges in place. We were working right in the middle of the low water."
Luckily, "we were able to get a bump on the river and that began last week and really helped out. The dredges are still at work, finishing off the job."
Things are now looking good. "The Vicksburg harbor is almost at 20 feet of draft. For the next 10 days, that will go up to almost 24 feet of draft. Greenville is running at 16.5 feet.
"Even the 28-day outlook provided by the National Weather Service looks good: the lowest draft we'll see in the district is 13.3 feet at Madison Parish."
Memphis District
Mississippi River levels have been down but "they're now coming back up," says Jim Pogue, with the Corps' Memphis District. "Currently, Helena is at around 11.4 feet and it'll hover between there and 12 feet until about Oct. 29. Then, according to the National Weather Service, there is a steady fall predicted through November to about 5.3 feet.
"Greenville is at 18.1 feet today. They'll see a bit of rise and then a slow fall to about 12.5 feet on Nov. 13. Helena and Greenville are rather close so they see some of the same river dynamics."
At the moment, dredging is being done in the Helena harbor. "That began on Oct. 15 and will run through Oct. 27," says Pogue. "The Phillips County harbor dredging will take place from Oct. 28 through Nov. 15."
Riding out low levels
The rising of the Mississippi River is welcome news in east Arkansas.
Interviewed in early October, Robert Goodson, Phillips County Extension agent, said "barge traffic has seriously decreased because of the river level. Keel depths are limited. They've had to slow way down at a granary at the Helena River Park because they can't get a full barge in and out.
"I don't think it's been this low for years – something like seven to 10 years ago."
So, where were trucks dumping grain?
A week into October, the county was "probably 80-plus percent finished with soybean harvest," said Goodson. "Most trucks have found somewhere to dump. Most of the granaries have room for storage but just can't take beans straight to the barge. Actually, one facility south of the bridge has three massive, covered grain piles on the premises. I'm told each pile holds about one million bushels." 
There for a while, the situation on the river "widened the basis for corn at 65 cents and soybeans were at 70 cents. Those have narrowed since.
"It's frustrating but there's nothing that can be done until water arrives from farther north. We need for that to happen."
Most farmers in the county are happy, said Goodson. "This year, the county had 245,000 acres of soybeans up from 220,000 in 2016. Last year, we averaged around 51 or 52 bushels per acre. Right now, it looks the current crop will average 61 or 62 bushels per acre. The crop has some damage but the yield is there.
"Our dryland acreage should give some indication how good a growing season we had. Our irrigated soybeans aren't eye-popping but the dryland beans are sure bringing up the county average – they were at 30 bushels last year and are at 45 this year.
"One farmer said a dryland field he plants just to get it out of the way usually cuts around 30 bushels. It just cut 60."
Currently
Now, heading towards the back end of October, "we're winding up soybean harvest," says Goodson. "Everyone seems to be either praising or condemning dicamba. Those 'farmers need dicamba' signs are starting to pop up around here. There's no shortage of opinions, that's for sure."
The river is coming up and "it's certainly improved transportation. In Helena, there are still a lot of barges still stacked up. But I'm told they'll start loading them with more grain – let them sit a little deeper in the water – now.
"It's still a little tight but if the level gets to 12 feet, we can move just about what we want."
Bill Ussery, who runs Griffin Grain south Helena, confirms "the river got pretty low and there were instances where some commercial grain operators were either not willing to load, or went to some pretty extreme measures to load.
"That falling water did slow down navigation somewhat and resulted in a dramatic difference in the soybean basis for a week, or so. It's recovered now -- I believe the basis today at Helena is at 12 under."
Has Ussery seen an uptick in cotton this year?
"We saw a healthy recovery with cotton this year. There were some good pricing opportunities during planting season and just before. Farmers here really took advantage of it."
Subscribe to receive top agriculture news
Be informed daily with these free e-newsletters
You May Also Like
---