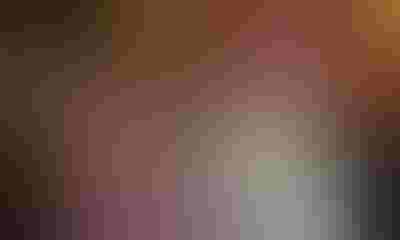 Arnold Sheriff of Orient and the late Lester Galbraith of Montezuma are the newest members of the Iowa Hereford Hall of Fame. They were inducted at a ceremony during the Iowa Hereford Breeders Association banquet at the 2016 Iowa Beef Expo. This honor goes to people who have had a significant impact on the breed in the state. 
The third generation of Hereford breeders to reside on the same farm near Orient, Arnold Sheriff is also the second generation Iowa Hall of Fame honoree. His parents, Wayne and Isal Sheriff, were inducted in 2000.

SHERIFF HONORED: Iowa Hereford Breeders Association president Bill Goehring (left) presented the Iowa Hereford Hall of Fame award to Arnold Sheriff (far right). Also pictured are Arnold's children, Cindy and Brad Sheriff, and Arnold's wife Melissa (with plaque).
The Sheriff herd began with Arnold's grandfather, Harry Sheriff, over 90 years ago. Arnold grew up with Herefords as his father, Wayne, carried on the family tradition. Arnold showed for many years in 4-H and open class shows. He and his Hereford steer, "Shorty", won the grand champion steer title at the 1953 Iowa State Fair.
Long-time leaders in advancing Hereford cattle breed
Arnold's involvement in state and regional Hereford activity included two terms as director of the Iowa Hereford Association and two terms as director of the Iowa Polled Hereford Association. He was also president of the Four State Hereford Association, which held sales in Maryville, Mo. Arnold has served as co-manager of the Hereford Beef Expo Sale. Arnold and Melissa, his wife of 55 years, have hosted three separate annual Hereford tours.
For 20 years, the Sheriff Polled Hereford herd has participated in the Certified Hereford Beef program, purchasing feeder cattle from Hereford producers and CHB sellers. They've been longtime consignors to the Hereford sale at Iowa Beef Expo.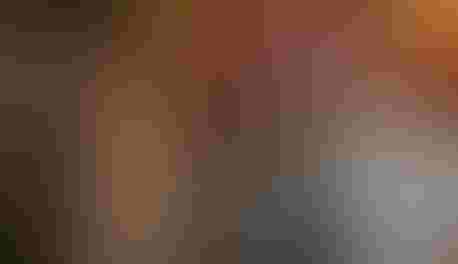 GALBRAITH HONORED: Diane Galbraith Honecker (center) accepts the Iowa Hereford Hall of Fame award for her late father, Lester Galbraith. Also pictured are Bill Goehring, Iowa Hereford Breeders Association president (left); and Mark Honecker, grandson of Lester Galbraith (right).
Performance records are a vital part of the cattle operation.  Nearly every year at least one Sheriff cow can be found on the prestigious national list of Dams of Distinction, recognizing the most efficient, fertile and productive females in the Hereford breed. The Sheriffs have also earned the Gold Whole Herd Total Performance Records designation for the past two years.
Galbraith honored posthumously for beef improvement efforts
The late Lester Galbraith was a pioneer breeder of the Iowa Polled Hereford Association who spent his life farming and raising Polled Herefords. His father, John, started the herd in 1910. Lester began his own herd in 1940 at Montezuma, Iowa.
Lester was active in the different Iowa Polled Hereford associations, especially the Hawkeye association in Cedar Rapids and the Iowa Polled Hereford Association, whose sale held in Des Moines was later called the B.O. Gammon Sale. He was most active with the Southeast Iowa Polled Hereford Association at Oskaloosa, holding every office from director to vice president to president and consigning from three to seven head of cattle to the annual sales every year. In the 1969 sale, Lester had the champion bull with an animal from the CEK Rollo Trend bloodlines. He was a member of the American Polled Hereford Association and the Iowa Polled Hereford Association from the early 1950s until his death in January 1986.
Lester and wife, Merna Sue, raised five children on their farm south of Montezuma. Their daughter, Diane Galbraith Honecker, was the first Iowa Polled Hereford Queen and continues to raise Polled Herefords on her farm near Montezuma.
Subscribe to receive top agriculture news
Be informed daily with these free e-newsletters
You May Also Like
---