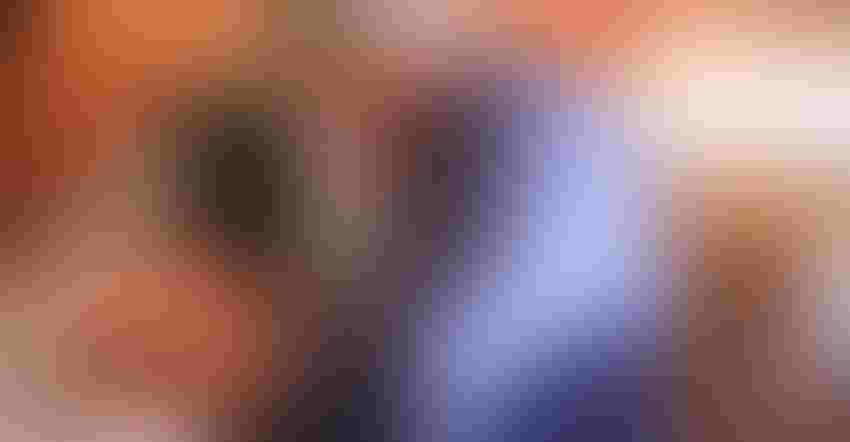 MICROSCOPE ANALYSIS: Pioneer agronomist Matt Montgomery uses a microscope to point out the different types of starch in a corn kernel and to show how the plant develops.
With corn planting underway, Pioneer agronomist Matt Montgomery says it's important to remember that the kernel's seed coat protects against "hungry organisms" waiting to grab on to starch. Uninhibited, they'll use seeds for spawning more fungi or bacteria.
Corn kernels are composed of two other parts outside of the seed coat, or pericarp: the embryo and the endosperm. Together, they make up what Montgomery compares to a "machine" in a five-minute video for Pioneer.
There are different kinds of starch granules inside the kernel's endosperm. In the video, he zooms in with a microscope and points out the darker horny endosperm to the left and the crown starch going through the middle. He says the darker starch is preferred by food-grade producers.
"This is more versatile for them. Crown starch almost immediately breaks apart into individual starch granules, which means that the uses of that material become very limited. They pretty much get broken down into the smallest possible particles, whereas horny starch can be used for many different things," Montgomery says, adding starch is the fuel for the success of the embryo.
He says the first five to six leaves are packed underneath a coleoptile sheath, which serves as protection.
"It's trying to protect that from the hostile environment in the soil," Montgomery says. He notes the first object to leave the kernel, the radical, is similarly protected so that it can anchor the emergent crop.
To learn more, watch the video above.
About the Author(s) Associate Editor, Prairie Farmer
Austin Keating is the newest addition to the Farm Progress editorial team working as an associate editor for Prairie Farmer magazine. Austin was born and raised in Mattoon and graduated from the University of Illinois at Urbana-Champaign with a degree in journalism. Following graduation in 2016, he worked as a science writer and videographer for the university's supercomputing center. In June 2018, Austin obtained a master's degree from the Medill School of Journalism at Northwestern University, where he was the campus correspondent for Planet Forward and a Comer scholar.
Austin is passionate about distilling agricultural science as a service for readers and creating engaging content for viewers. During his time at UI, he won two best feature story awards from the student organization JAMS — Journalism Advertising and Media Students — as well as a best news story award.
Austin lives in Charleston. He can sometimes be found at his family's restaurant the Alamo Steakhouse and Saloon in Mattoon, or on the Embarrass River kayaking. Austin is also a 3D printing and modeling hobbyist.
Subscribe to receive top agriculture news
Be informed daily with these free e-newsletters
You May Also Like
---