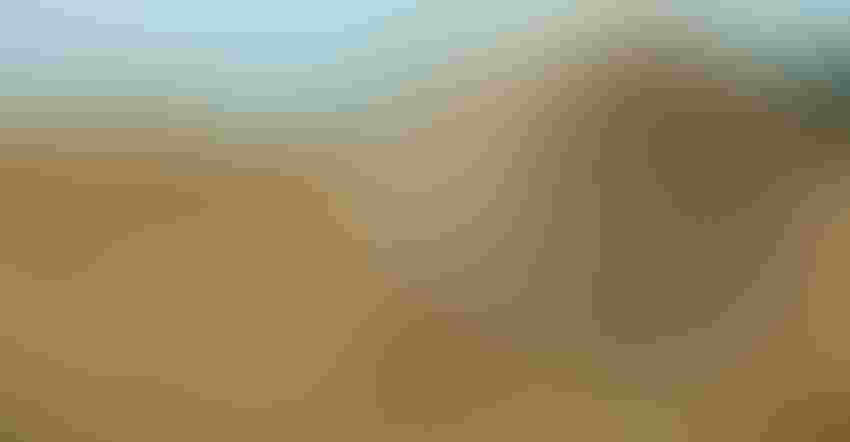 CAREFUL WITH CORN STALKS: Livestock owners who baled corn stalks to extend feed through the winter should test for nitrates before offering it as fodder to cattle. Nitrate levels should be less than 2,500 parts per million to feed safely, otherwise consult a nutritionist to balance feed rations.
You were looking for additional livestock feed to overcome the forage shortfall coming this winter and decided to bale corn stalks. But wait. University of Missouri Extension livestock specialist Gene Schmitz says don't feed those bales until you test for nitrates.
Schmitz recently tested corn stalk bales and found nitrate levels at more than 9,000 parts per million, over three times the recommended rate. "Testing corn stalks for nitrates and seeking assistance in formulating rations will be vitally important for beef producers in upcoming weeks and months," he says.
Farmers should know the amount of nitrate in the stalks in order to determine how many pounds of stalks can be fed per day, how the stalks are fed and if ammoniation to improve digestibility is recommended, Schmitz explains.
"If the nitrate level of stalks is less than approximately 2,500 ppm, the stalks can be fed in round bale feeders with no intake limitations and can possibly be ammoniated to improve feeding value," he says. These bales are safe but offer only low-quality forage.
Nitrate levels of over 2,500 ppm require more caution when feeding. "These nitrate levels indicate the amount of stalks in the diet should be limited," Schmitz says. Farmers should not be feeding free-choice in round bale feeders. He cautions farmers that at these high nitrate levels ammoniation is not wise.
"Ammoniation or use of urea-containing supplements in combination with high-nitrate corn stalks will increase the chances of nitrate toxicity issues in livestock," he says.
According to the University of Nebraska-Lincoln University symptoms of nitrate poisoning in livestock include difficult or rapid breathing, muscle tremors, incoordination, diarrhea, abortions and even death. Since these problems can also be caused by a number of diseases, farmers should test for nitrates to rule it out.
Problem with nitrates
According to Schmitz, rumen microorganisms can incorporate nitrates into microbial protein by converting the nitrates to ammonia, but only so much can be converted in short periods of time. "If large amounts of nitrates are ingested in a feeding, complete conversion to ammonia does not occur, and toxic levels of nitrate are absorbed."
Ammoniation or use of urea-containing supplements adds additional ammonia to the rumen and reduces the amount of nitrate that microbes can metabolize from high-nitrate corn stalks.
"This situation can easily overwhelm the ability of rumen microbes to convert nitrate to ammonia," Schmitz says. "The excess nitrate is then absorbed into the bloodstream and reduces the ability of the blood to carry oxygen."
Feeding grain along with high nitrate feeds can help reduce the effect of the nitrate content. Corn grain or milo should be used rather than by-product feeds in this case, Schmitz says.
Corn stalks containing nitrates must be fed with caution. Schmitz says farmers should contact their local extension center for testing options and help in developing feed rations.
About the Author(s) Editor, Missouri Ruralist
Mindy resides on a small farm just outside of Holstein, Mo, about 80 miles southwest of St. Louis.
After graduating from the University of Missouri-Columbia with a bachelor's degree in agricultural journalism, she worked briefly at a public relations firm in Kansas City. Her husband's career led the couple north to Minnesota.
There, she reported on large-scale production of corn, soybeans, sugar beets, and dairy, as well as, biofuels for The Land. After 10 years, the couple returned to Missouri and she began covering agriculture in the Show-Me State.
"In all my 15 years of writing about agriculture, I have found some of the most progressive thinkers are farmers," she says. "They are constantly searching for ways to do more with less, improve their land and leave their legacy to the next generation."
Mindy and her husband, Stacy, together with their daughters, Elisa and Cassidy, operate Showtime Farms in southern Warren County. The family spends a great deal of time caring for and showing Dorset, Oxford and crossbred sheep.
Subscribe to receive top agriculture news
Be informed daily with these free e-newsletters
You May Also Like
---