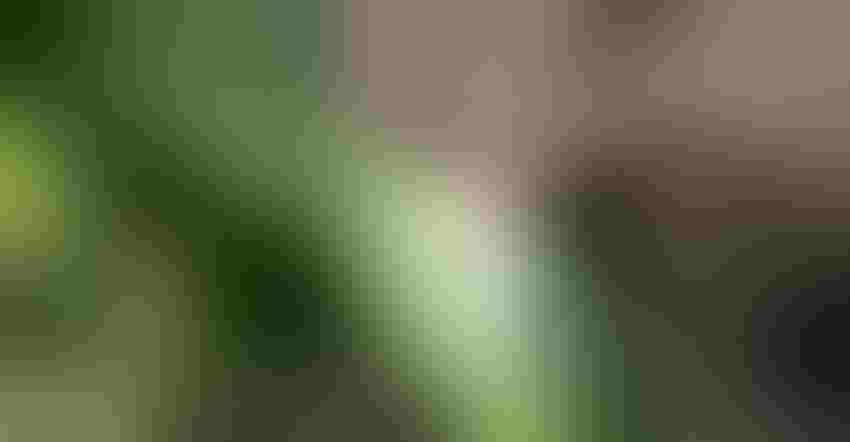 GAIN FOOTHOLD: These gray leaf spot lesions don't look too threatening — there are about three on the leaf. But if conditions are favorable, Dave Nanda says the disease can take off in a hurry.
Corn growers in the southern half of Indiana, Ohio and Illinois got an unwelcome surprise at harvest a couple of years ago when southern rust hit late but hit hard. The disease is only an occasional threat this far north, but early September rains fueled by Gulf storms and perfect temperatures for infection sparked a late outbreak. Significant yield losses occurred in many fields.
"We don't normally worry about foliar disease outbreaks that late, or think they could cause major damage, but it was set up by unusual weather conditions and presence of the fungus that year," explains Dave Nanda, director of genetics for Seed Genetics-Direct, Jeffersonville, Ohio. Seed Genetics-Direct sponsors Corn Watch '19. 
Fast-forward to 2019. The unusual event this year was very late planting. Late May to mid-June corn planting pushed the scouting calendar deeper into the year. Add to that the presence of plenty of disease inoculum, and all that's needed are favorable weather conditions.
"You can go from a few lesions to leaves with lots of infection in a hurry if conditions are right," Nanda says. "The goal is to protect the ear leaf. Once disease destroys a large amount of surface area on the ear leaf or higher, there is less photosynthetic factory left to capture sunlight and produce top yields."
Gray leaf spot
The major lesion present on samples of corn brought to county fairs by 4-H members in mid- to late July was gray leaf spot. Judges reported seeing it on lower leaves, and sometimes on the leaf just below the ear leaf. What was disturbing was that most of these samples weren't tasseled yet or were just about ready to tassel. That means the disease still had a lot of time to work on leaves.
Nanda believes crop judges at fairs were primarily seeing gray leaf spot lesions because of weather conditions at the time. There is plenty of inoculum for northern corn leaf blight in most fields as well, he says, but that disease prefers cooler temperatures. A warm July was more to the liking of gray leaf spot.
Fungicides can be effective, if sprayed in time. If sprayed too early, certain fungicides could have detrimental effects on ear development. If you're still considering fungicides, read labels carefully for caution statements and for the best time to make the application.
Even in a normal year, the Purdue University Corn and Soybean Field Guide suggests scouting for gray leaf spot into September. It lists late July and August as the time when the disease is most likely to flourish. Warm, humid weather with long periods of dew slow to burn off each day will continue to fuel the disease where inoculum is present.
Scout susceptible hybrids first, but pay attention in all your fields, Nanda advises. Should conditions shift to cooler weather, you still need to keep scouting, he says. Then you would more likely be looking for northern corn leaf blight lesions.  
Subscribe to receive top agriculture news
Be informed daily with these free e-newsletters
You May Also Like
---