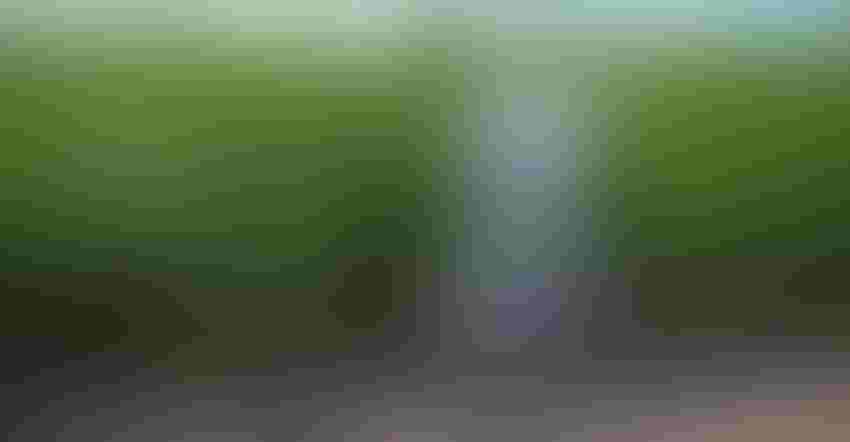 DOWNFORCE COMPARISON: Jason Webster with Precision Planting compared downforce that adjusts automatically row by row to too little or too much downforce in this trial.
Tom J. Bechman
Many planters this spring were still equipped with coil springs to control down pressure. Several companies have sought better options. Precision Planting was a pioneer, introducing AirForce several years ago. The system uses air bags to control down pressure, or downforce. More recently, the company introduced DeltaForce, which uses hydraulics to control downforce exerted on each row independently.
"We believe having the right amount of downforce on row units is critical because it can affect seed depth, and it's one of the things we study at the Precision Technology Institute," says Jason Webster with Precision Planting. PTI is a research farm near Pontiac, Ill., that Webster manages for Precision Planting.
Test the system
Webster and his crew conduct various tests, and then invite farmers to view them during a two-week period in August. They carry trials to harvest and publish results.
In one study in corn in 2019, they compared planting with the DeltaForce system, but at three different settings:
1. The standard automatic setting allows the system to sense the need to lift or exert pressure on individual row units and do it automatically.
2. They set DeltaForce too light on purpose, with a manual setting of up to 175 pounds per square inch of lift and a maximum of 100 pounds of down pressure.
3. They manually set DeltaForce too heavy, at 550 pounds of down pressure and 100 pounds of lift.
Soils were wet early, and the tilled field was cloddy at planting, Webster reports. It turned very dry later. The results proved the benefit of allowing the system to adjust on its own. Compared to the light setting, corn planted at the standard setting yielded 20.7 bushels per acre more, and compared to the heavy setting, it yielded 3.5 bushels per acre more. The advantage in increased revenue was about $775 per acre over the light setting and nearly $13 per acre over running with too much pressure.
Here are the take-home messages from this study:
Down pressure matters. Obviously, how down pressure was set across the planter impacted yield. Note that a system with coil springs only, the standard still on many planters, wasn't even included in the test. Each of the three options included some form of hydraulic down pressure.
If in doubt, go heavy. Going too light in the cloddy conditions meant some row units weren't placing seed deep enough, Webster says. This agrees with results from a planting depth study Indiana Prairie Farmer and Purdue University conducted jointly several years ago. The only depth showing a significant impact on yield, from 1 to 3.5 inches, was the 1-inch depth. With conditions similar to those in Pontiac in 2019, it resulted in a 20-bushel-per-acre yield loss.
Weigh the investment. If you convert from coil springs to DeltaForce on your existing planter, the investment will be substantial. If you're interested, check with a dealer for specific numbers.
Suppose it costs $1,500 per row, or $36,000 for a 24-row planter. Using numbers based loosely on the PTI study and adjusting for lower corn price, suppose making the switch nets $15 per acre. If you grow 1,500 acres of corn, that's $22,500 more revenue for switching. Not counting interest or repairs, the investment would pay for itself in less than two full seasons.
About the Author(s)
Subscribe to receive top agriculture news
Be informed daily with these free e-newsletters
You May Also Like
---